'The Bachelor: Listen to Your Heart': Chris Harrison Shows That He's Team Sheridan
Sheridan Reed was in a love triangle on 'The Bachelor Presents: Listen to Your Heart.' Find out why Chris Harrison is showing him support on Twitter and more.
One person who had a rough time this season of The Bachelor Presents: Listen to Your Heart is Sheridan Reed. That's because his partner, Julia Rae also had a connection with Brandon Mills.
Things came to a head in the latest episode. Chris Harrison showed he's Team Sheridan. Find out what he tweeted during the episode. [Spoiler: for "Week 4."]
Julia, Sheridan, and Brandon were in a love triangle on 'The Bachelor: Listen to Your Heart'
There has been a lot drama surrounding Julia, Sheridan, Brandon, and Savannah McKinley. That's because Julia and Sheridan have been a match since the first episode. Savannah and Brandon also stayed together since the premiere.
However, Julia and Brandon would still talk about exploring a relationship together after the rose ceremonies. This was shocking for Savannah and Sheridan. It seemed like Julia and Brandon were finally over until the rules changed for "Week 4."
Julia left Sheridan for Brandon
Harrison announced that the relationships will be tested in the new episode. Jamie Gabrielle and Ryan Neal, Rudi Gutierrez and Chris Watson, Brandon and Julia went on dates together.
Brandon and Julia had the task of writing a song together and a professional songwriter. The lyrics they sang included "It might be wrong but I still need your love." In the end, they started kissing again. Brandon stayed back at the mansion writing a song about Julia.
Brandon and Julia were the last to come back from their date. They had important talks with their partners.
"I'm sorry," Julia told Sheridan. "I was just able to figure out what I need to know." When Sheridan kept asking her questions Julia said, "I don't know why you're being so mean about it." She finally said, "I just feel like I don't think I can do this with you."
Sheridan said, "Then I wish you the best with Brandon." He was ready to walk away and she got upset. Savannah also wasn't happy with Brandon after their date. Savannah and Sheridan both left and Julia and Brandon moved forward together.
Chris Harrison showed Sheridan support on Twitter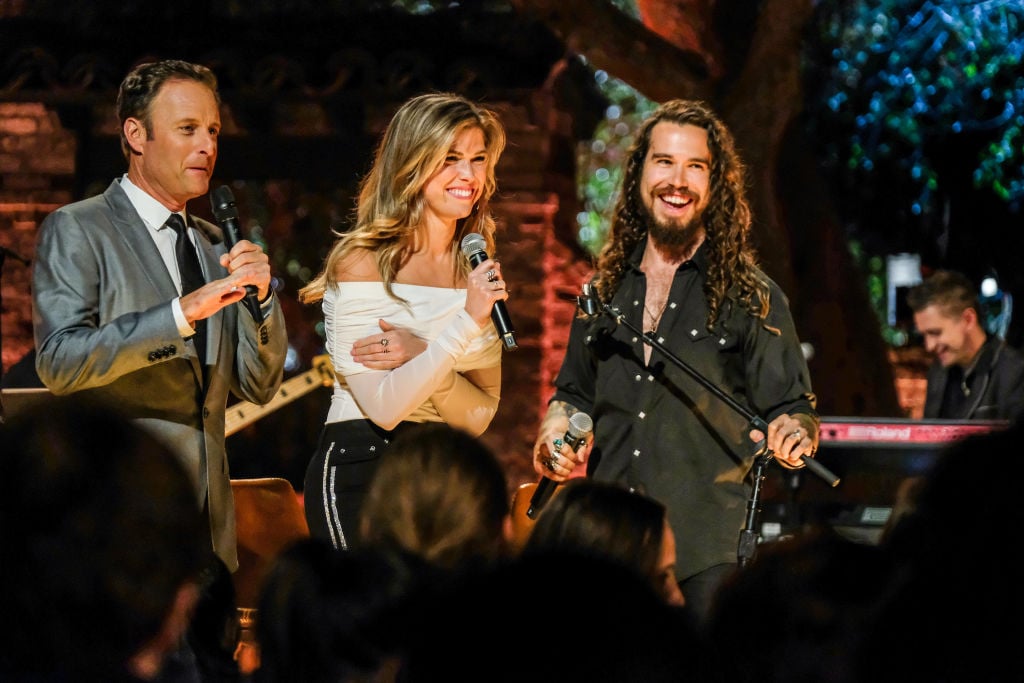 The host had something to say about the brutal breakup scene. He tweeted, "Glad Sheridan is getting some love on here tonight. Poor guy certainly didn't find it in the mansion. #ListenToYourHeart."
Sheridan responded to the tweet with, "I did my best Chris." Harrison then tweeted, "You were a true gentleman my friend! Probably best to be out of that bizarre love triangle. Hope you wrote a great song about it." The host also added, "Note to everyone out there…if you're called mean while YOU are being dumped… Listen to your Feet and RUN!!! #ListenToYourHeart."
Fans showed the singer support by asking Harrison to cast him for Bachelor in Paradise. Another fan tweeted, "You really did do your best! You poured your heart and soul into everything you did. You are a true gentleman and you deserve someone who appreciates you for the great guy you are!" Sheridan responded with two heart emojis.
Harrison also had something to say about Brandon's music taste. One fan tweeted, "As if we needed more proof that Brandon is a garbage person, he just said #PatBenatar's 'We Belong' is 'not my jam at all.' #ListenToYourHeart." He responded with, "That comment by Brandon killed @Millsy11374 then he rolled over in his grave #ListenToYourHeart."
Brandon and Julia were also sent home at the end of the episode. The good news is that Sheridan is getting a lot of support from fans and Harrison.