'The Bachelor: Listen to Your Heart': How Chris Watson and Bri Stauss Recorded an Album During a Pandemic
After winning the hybrid singing-dating competition on The Bachelor: Listen to Your Heart, Chris Watson and Bri Stauss released an album. Find out how they were able to record music together during the coronavirus (COVID-19) pandemic.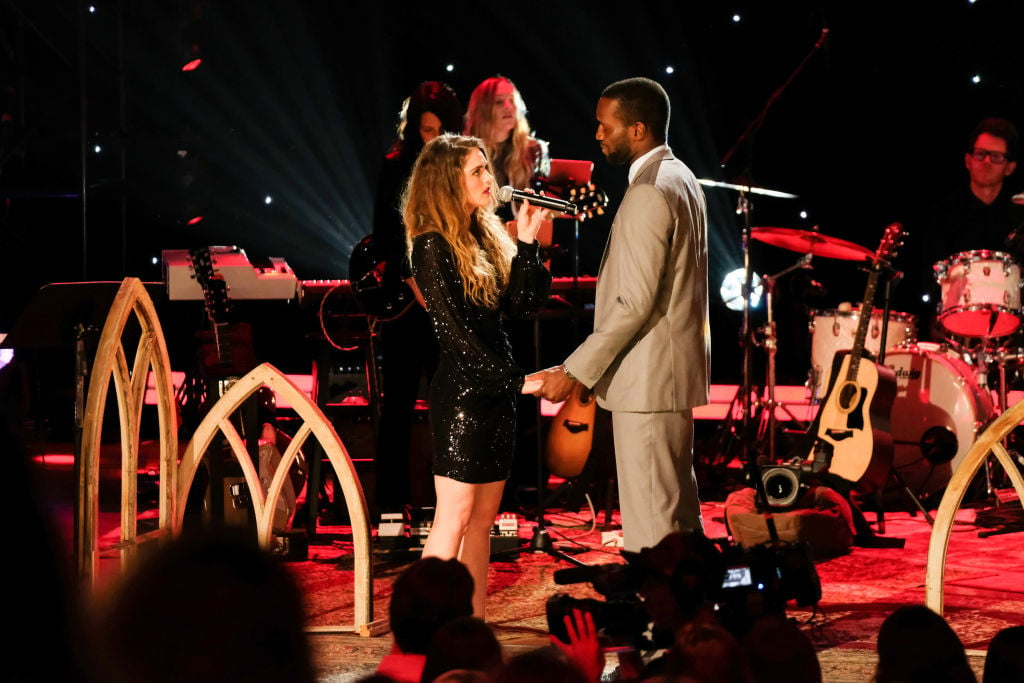 Chris and Bri won season 1
Despite their minimal amount of screen time, the devotion they share for one another was evident from the get-go. One of Stauss and Watson's first solo dates was to Guitar Center. The duo sang "Can't Help Falling In Love." They shared stories of personal loss and bad breakups, and fans learned about Stauss's prior engagement.
Fans were excited when the two finally told each other "I love you" after their performance at The Novo. The two remained bonded for the rest of the competition. After they reprised their Guitar Center song, Watson and Stauss won the competition.
Chris and Bri are still together
Host and producer Chris Harrison is always hopeful that The Bachelor couples will eventually get married. "Some, maybe multiple couples, [will] ride off into the sunset," Harrison told Entertainment Tonight in April 2020. "The ultimate dream of the show is that at the end of the day, we have one superstar couple that is the Listen to Your Heart champion couple, and they are deeply, madly in love."
In the first season of Listen to Your Heart, Harrison's dreams came true. Watson and Stauss are still together — just not physically due to the stay-at-home orders imposed by the coronavirus pandemic. "We really have grown a lot stronger in this time. It's been beautiful," Watson told Us Weekly. "I really do feel like we are prepared for the best and the worst when it comes to like, wanting to see relationship all the way through."
Speaking to where he and Stauss stand as a couple now, Watson said: "I feel like we've just experienced so much together that it's just like we have such a strong trust that if she's going to tell me something, or if I'm going to tell her something, but we know that it's just because we want the best for each other. And that's like, the best thing that you can have at any relationship — having a really strong trust."
Chris and Bri recorded an album over Zoom
The coronavirus pandemic swept the nation as The Bachelor: Listen to Your Heart was recording and, eventually, airing. As such, Watson and Stauss needed to jump through some unique hurdles to record the album Bachelor Nation was promised. 
"Working over Zoom and FaceTime is the least ideal way to work over music," Watson explained to PopCulture.com. "I don't ever want to do it again, but I will if I have to. It was definitely a challenge because some things that could be done in the studio in 15 minutes take two days going back and forth over emails." Regardless of the difficulties, Watson wouldn't trade the experience for anything. 
RELATED: 'The Bachelor: Listen to Your Heart': Fans Were Outraged by 21-Year-Old Jamie Gabrielle
Related post url: 
After the finale, the couple released their album, aptly titled Chris and Bri. "I did not [expect the album's quick success] at all," Stauss explained. "We honestly didn't know what to expect, so to climb that fast was shocking." Watson was happy to put together an album of songs he and Stauss enjoy performing together. For them, it's even better because Bachelor Nation loves the same songs. "To see the response we have has just been incredible," he added.
Stauss and Watson have certainly laid the groundwork for future Listen to Your Heart contestants. "It was really amazing to go on a show that had never done before," Stauss said. "I like doing things like that in my life because [there are] no expectations — you get to write your own story." Stauss is hopeful that her and Waton's love story will inspire future couples in Bachelor Nation that "it's possible for this to work."