'The Bachelor: Listen to Your Heart': Fans Can't Believe Jamie Is Still With Trevor After Cheating Claims
Episode 2 of The Bachelor: Listen to Your Heart brought the drama. In the first episode, we watched Jamie Gabrielle go back and forth between Ryan Neal and Trevor Holmes.
Jamie and Ryan shared a romantic date at Capitol Records where they recorded a John Mayer song and toasted champagne overlooking the Los Angeles skyline. But when they returned, Trevor played his own John Mayer song for Jamie, the two had a bit of a makeout session and that seemed to seal the deal. Jamie gave her rose to Trevor instead of Ryan.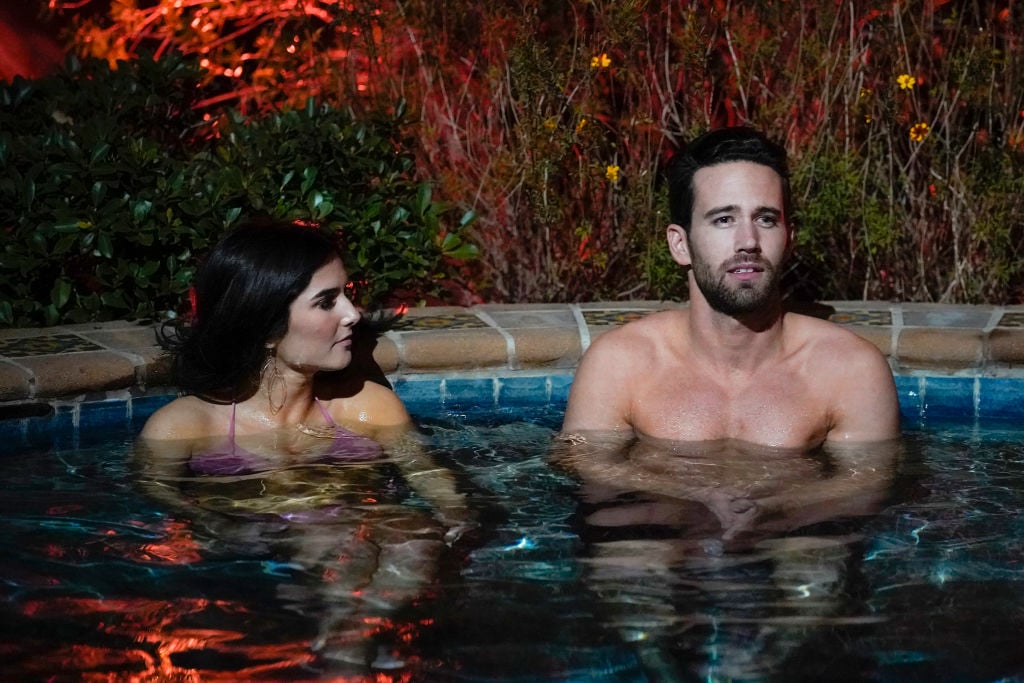 Trevor was accused of cheating on his last girlfriend in 'The Bachelor: Listen to Your Heart' Episode 2
Episode 2 featured some new faces. One of those faces belonged to Natascha Bessez. Natascha walked into the mansion with a mission in mind. She quickly "found out" that Trevor was a part of the cast and proceeded to tell some of the women that she's friends with his ex-girlfriend. According to Natascha, Trevor's ex says that he lied to and cheated on her.
Cut to the clip of Jamie telling the camera she's been cheated on in every relationship she's ever been in and that cheating is a deal-breaker for her.
When Trevor returns to the mansion hand-in-hand with Jamie, Natascha wastes no time pulling him aside and asking him if he's been honest with Jamie about how his last relationship ended. He fumbles around a bit with his answers but ends up admitting to lying and emotionally cheating. He hurries over to tell Jamie before Natascha can get to her.
Once again, we hear Jamie say that cheating is a deal-breaker for her. They seem to end their conversation on an OK note, cuddling on a couch. And, without hesitation, Jamie gave her rose to Trevor. So it seems they've moved passed the cheating stuff.
How Bachelor Nation feels about Jamie and Trevor after the cheating allegations
Bachelor Nation is still wary of Trevor.
Some fans feel like Trevor wouldn't have told Jamie about why his last relationship ended if Natascha hadn't confronted him.
"Natasha: Are you gonna tell Jamie the truth?
Trevor: Yes, that's been my intention all this time. I.E. AS OF THIS VERY MOMENT SINCE OUR CONVERSATION HAS NOW BEEN FILMED," wrote one fan on Twitter.
"But would Trevor have been honest with Jamie if Natascha hadn't confronted him? My money is on no," tweeted another.
"Are we really not gonna talk ab how Trevor checked to see if Natascha could hear him before he decided what story he could get away with telling Jamie," another fan pointed out.
One fan, however, feels Bachelor Nation should cut Trevor some slack. He and Jamie did just meet and just because he cheated on his last girlfriend doesn't mean he's guaranteed to cheat on Jamie.
"Okay I don't think cheating is okay BUT Jamie and Trevor have known each other for like two days so do we really think he should've told her about the cheating by now???? Cut the idiot some slack #ListenToYourHeart," they tweeted.
We'll have to see if Jamie and Trevor work out. A lot can happen in six episodes.
Read more: 'The Bachelor: Listen to Your Heart': Fans Wanted More Ryan Content in Episode 2 but Not Like That