'The Bachelor: Listen to Your Heart' Fans Notice Trevor Wore the Same Jacket as Jed Wyatt Before Cheating Episode
When The Bachelor: Listen to Your Heart was announced, fans thought about all of the musicians who have been in the franchise before. That includes Jed Wyatt who got Hannah Brown's final rose on The Bachelorette. She dumped him for still having a girlfriend, but fans got another reminder of him in the premiere of the new show. [Spoiler: Spoilers for Week 1 of The Bachelor: Listen to Your Heart]
Trevor was in a love triangle on 'The Bachelor: Listen to Your Heart'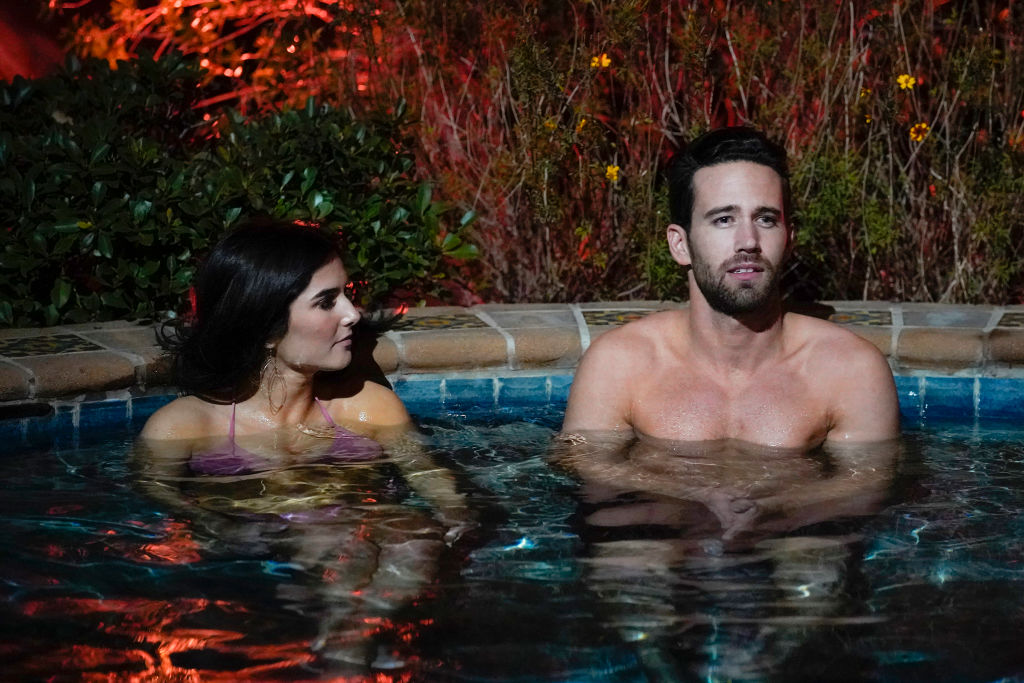 The premiere started off strong with the drama. A big part of that was there was a love triangle.
Jamie Gabrielle is a pop/country singer from Nashville. She first hit it off with Ryan Neal. He told her that he had seizures and a brain surgery when he was younger in their first conversation. Jamie said she had butterflies, but then came Trevor Holmes. There seemed to be attraction between them immediately.
"So far tonight I've been talking to Trevor and to Ryan the most and I've been having so much fun," said Jamie. "Everyone is really nice and I feel so safe. And I'm really excited to find that connection with someone and like I don't know that's going to love me back."
She had another talk with Ryan about their dream date. He told her that she is his favorite so far and they started kissing. Jamie then talked to Trevor again and said she felt like they had so much in common. They later went into the hot tub together and kissed.
Ryan did get an advantage by going on a date with Jamie. They recorded John Mayer's "Gravity" together at Capitol Records. In the end, she gave her rose to Trevor. But Ryan did get to stay another week by getting Cheyenne's rose.
There is a preview showing Trevor being accused of cheating
Outside drama is already invading the house this season. The preview next week shows a new woman joining the cast. She dropped a huge bomb on the rest of the ladies.
"I actually know Trevor 'cause I'm friends with his ex," she told them. In another clip we see her confront him.
"The lying and the cheating, are you gonna tell Jamie?" she asked him. We then see Jamie crying. "I've been cheated on in every relationship that I've ever been in," she said.
Trevor wore the same jacket as Wyatt
Fans were quick to notice that Trevor wore the same jacket that Wyatt wore on The Bachelorette. They are constantly suspicious of coincidences that happen in the dating franchise so there is a fan theory behind this.
"#ListenToYourHeart producers, did y'all purposely dress Trevor to be like a Jed 2.0 because after that 'next week' preview I'm getting serious vibes," one fan tweeted. Trevor isn't the only contestant that is getting compared to alums of the franchise.
"Ryan is to Tyler [Cameron] as Trevor is to Jed #TheBachelorLTYH," one fan tweeted. The fan made sure to add in the replies, "We still like you more than Ryan though don't worry @TylerJCameron3." This actually got Cameron's attention. He tweeted back, "For now I bet."
The comparisons are interesting given both contestants were confronted for cheating. Fans will have to keep watching to see if the musicians have anything else in common.