'The Bachelor': A New Conspiracy Theory Involving Peter, Kelley, & Madison Is Shocking Fans
The Bachelor 2020 may be over, but fans are still keeping up with Peter Weber, Madison Prewett, Hannah Ann Sluss, and the rest of the contestants from the season. In a surprising twist, neither Weber nor Prewett have done any press following their reveal that they would enter into a relationship, taking things one day at a time. In fact, neither Prewett nor Weber have posted to social media since The Bachelor 2020 finale. Some fans are speculating as to why that is and have come up with quite the theory.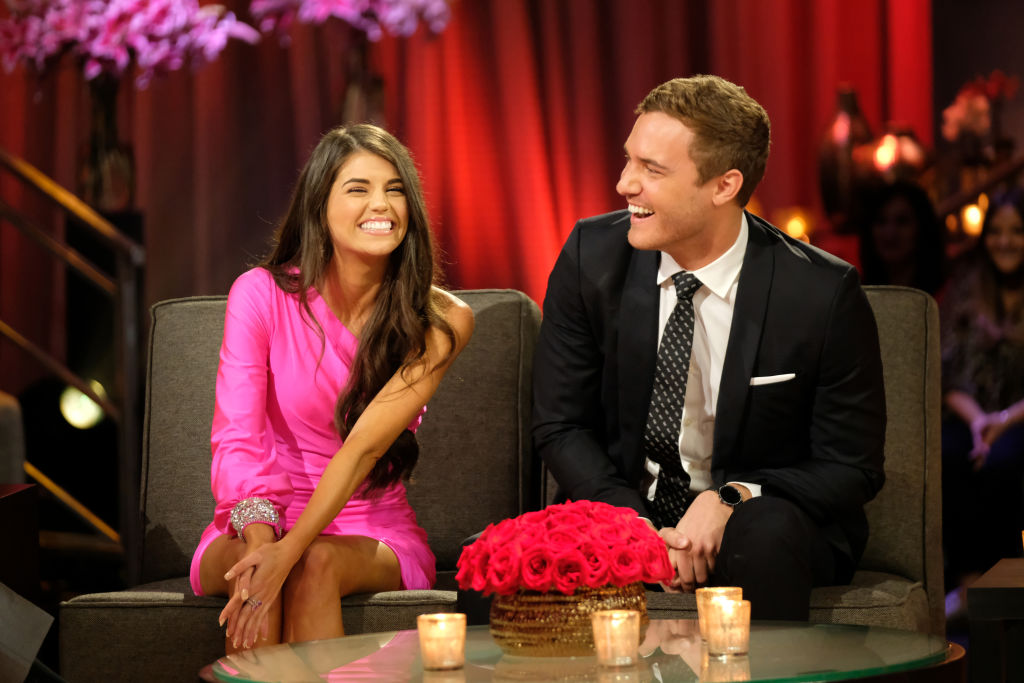 Why was Kelley Flanagan at 'The Bachelor' finale 2020?
During The Bachelor 2020 finale, Weber was faced with not just two women he dated, (Prewett and Sluss) but three. Fans will recall Chris Harrison announcing that Kelley Flanagan (who was sent home right before hometowns) was in the audience. The seasoned host added to the suspense by adding that it was "important that she was there." This surprised fans because the lawyer was not invited to the Women Tell All, despite being a fan favorite which was unprecedented. When probed as to why that decision was made, Harrison gave a flimsy excuse that didn't hold up.
So why was Flannagan in the audience, especially since she didn't say any words during The Bachelor 2020 finale? Some fans believed she was there to support Prewett with whom she is good friends. Other fans believe it's because she and Weber are together now. There was a theory that Flanagan was the winner because she was excluded from the Women Tell All and because Weber's family is following her on Instagram and has been for quite some time. But now more information has come about that further supports this theory.
Are Peter Weber and Flanagan together now?
Several reports have come out that suggest that Weber is with Flanagan rather than Prewett. The biggest one involves Weber's younger brother, Jack Weber. Allegedly he got intoxicated one night and boasted about his bother's love life. The story is that Flanagan and Weber hooked up around the time the Superbowl happened after he broke off his engagement with Sluss and they have been together ever since. This is would account for why Flanagan was present at The Bachelor 2020 final and why she was mysteriously excluded from the Women Tell All.
A quick recap on 'The Bachelor' 2020 finale
But where does Prewett fit into this mess? Apparently she and Weber are currently faking their relationship for Prewett to maintain her Instagram fame and so that The Bachelor franchise can maintain their precious storyline. It is pretty odd that Harrison went to Prewett's hometown on behalf of Weber without his knowledge or consent. Even Arie Luyendyk Jr. (who also pulled a switcheroo) went to Lauren Luyendyk nee Burnham's home to get her after he broke off his engagement with Becca Kufrin.
Fans on Reddit and Twitter believe Madison Prewett is dating someone else
As if things weren't dramatic enough, there is also a rumor that Prewett has moved on from Weber and that she's currently dating a guy in seminary school. This would explain why Weber didn't seem that excited to see Prewett when she popped up at his home unexpectedly. It would also explain why he seemed reluctant to declare that they would enter into a relationship together. Furthermore, it would make Weber's mother, Barbara Weber's open hostility towards Prewett much more reasonable.
At this point, we're not sure what to believe anymore. The Bachelor 2020 has been nothing short of a dumpster fire. In the words of the youth "throw the whole season away."