'The Bachelor': Matt James Reveals if He'd Get Back Together With Rachael Kirkconnell
Usually the finales of The Bachelor end in happy tears and engagements. Matt James did not propose to his winner, Rachael Kirkconnell, but the two did decide to stay together at the last rose ceremony. Unfortunately, by the After the Final Rose special, the pair had gone their separate ways. Last night, James revealed if he would get back together with Kirkconnell in the future.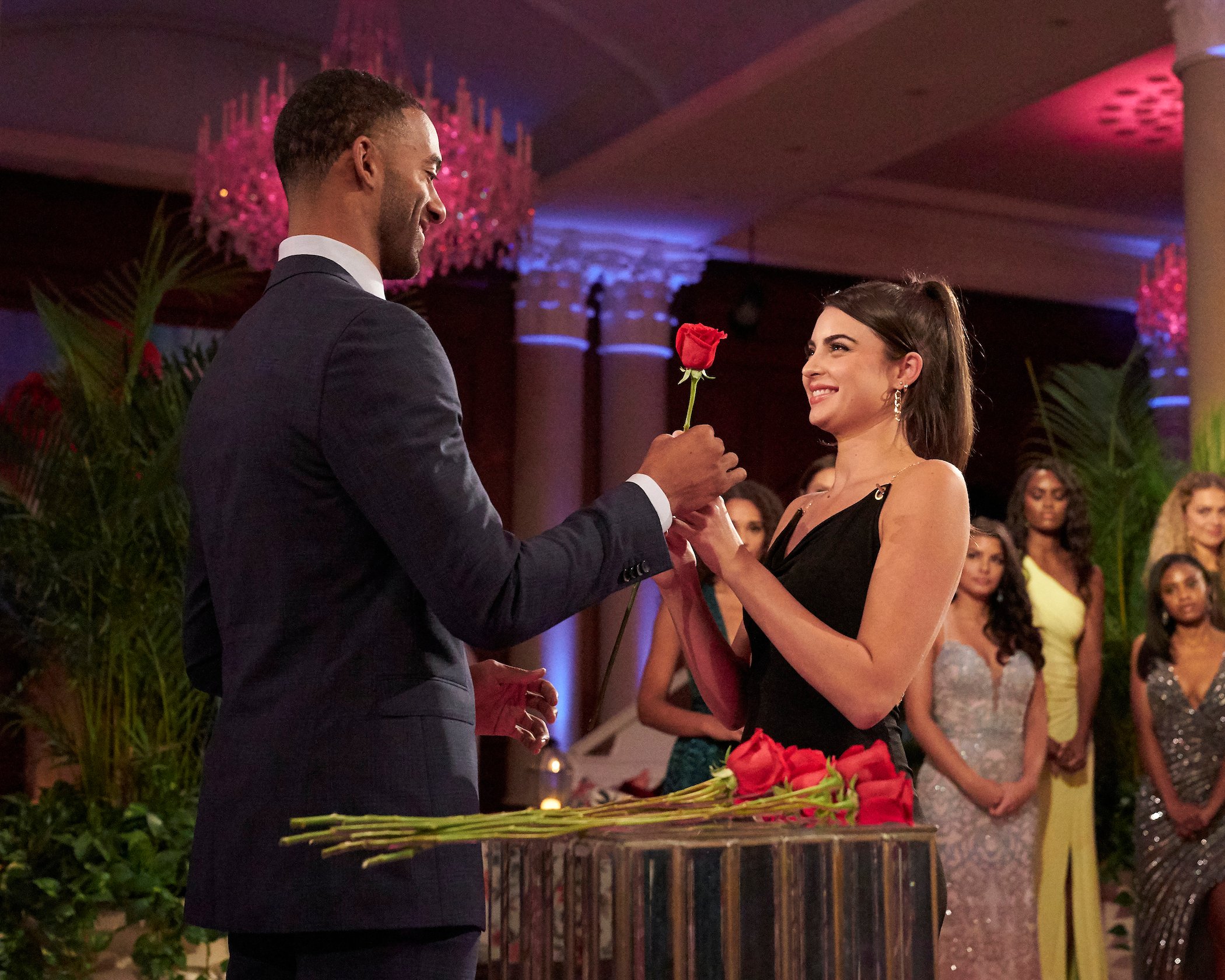 Matt and Rachael's breakup
The After the Final Rose ceremony was much more somber this year than it has been in past seasons. Much of the episode had to deal with Kirkconnell's controversy. During the season, photos of her at a plantation party began surfacing. Though Kirkconnell apologized for her attendance at the party, the damage had been done and it ultimately caused the end of her relationship with James.
When he first called me to end things, my initial reaction was I was very confused," Kirkconnell told host, Emmanuel Acho. "Once that initial reaction went away, I thought about how strong our relationship was, so for him to end things, he must've been very, very hurt by everything. It was hard because I lost the love of my life, but in the process of that, I hurt him by doing so."
Will Matt James and Rachael Kirkconnell get back together?
After the season, James and Kirkconnell's relationship started out perfectly.
"It felt like an extended honeymoon period," James said of his first few weeks with Kirkconnell in real life. "It was super, it was great. Initially, it started out how you would imagine."
RELATED: 'The Bachelor': Rachael Kirkconnell Isn't the Only 1 Hiding a Racist Past, 2 More Alums Have Been Outed
But when the rumors of the antebellum party started surfacing, James hoped they weren't true and tried to treat them as if they were just rumors. Once he saw the pictures, he began to question everything.
When Kirkconnell publicly apologized, James said he was able to finally check in on himself.
"And I wasn't okay, because it was in that moment and the conversation that I had that Rachael might not understand what it means to be Black in America," he said.
When asked if he and Kirkconnell were still together, James said that he was giving her space.
"As Rachael acknowledged in her apology, there's a lot of work that needs to be done. I have to take a step back and allow her to put in that work," said James. "And I'm looking forward to seeing her put in that work."
Though it was hard for James to call things off, he ultimately felt that Kirkconnell didn't know him.
RELATED: 'The Bachelor': Chris Harrison Breaks Silence and Reveals if He's Returning to the Show
"If you don't understand that something like that is problematic in 2018, there's a lot of me that you won't understand," he said. "And it's as simple as that."
At this point, James doesn't see them getting back together.
"The feelings that I have for you don't go away overnight," he told Kirkconnell. "And seeing you like this hurts. But then I ask myself, like, I don't want to be emotionally responsible for those tears 'cause it's like, the work and the reconciliation that needs to be done is work that I can't do for you. And I know that you're capable of doing it."