'The Bachelor': Matt James Explains Controversial Chris Harrison Conversation on Rachel Lindsay and Becca Kufrin's Podcast
Matt James from 'The Bachelor' explains his controversial conversation with Chris Harrison on Rachel Lindsay and Becca Kufrin's podcast, 'Bachelor Happy Hour.'
As the first Black male lead on The Bachelor, Matt James certainly has plenty of expectations to live up to by audiences seeing themselves in him for the first time. When James had a sit-down chat with host Chris Harrison on the first episode of his season on Jan. 4, James discussed what he's looking to gain from the show in a vulnerable conversation. However, viewers took issue with what the lead might have implied.
Read on to see what James said he really meant in that chat with Harrison.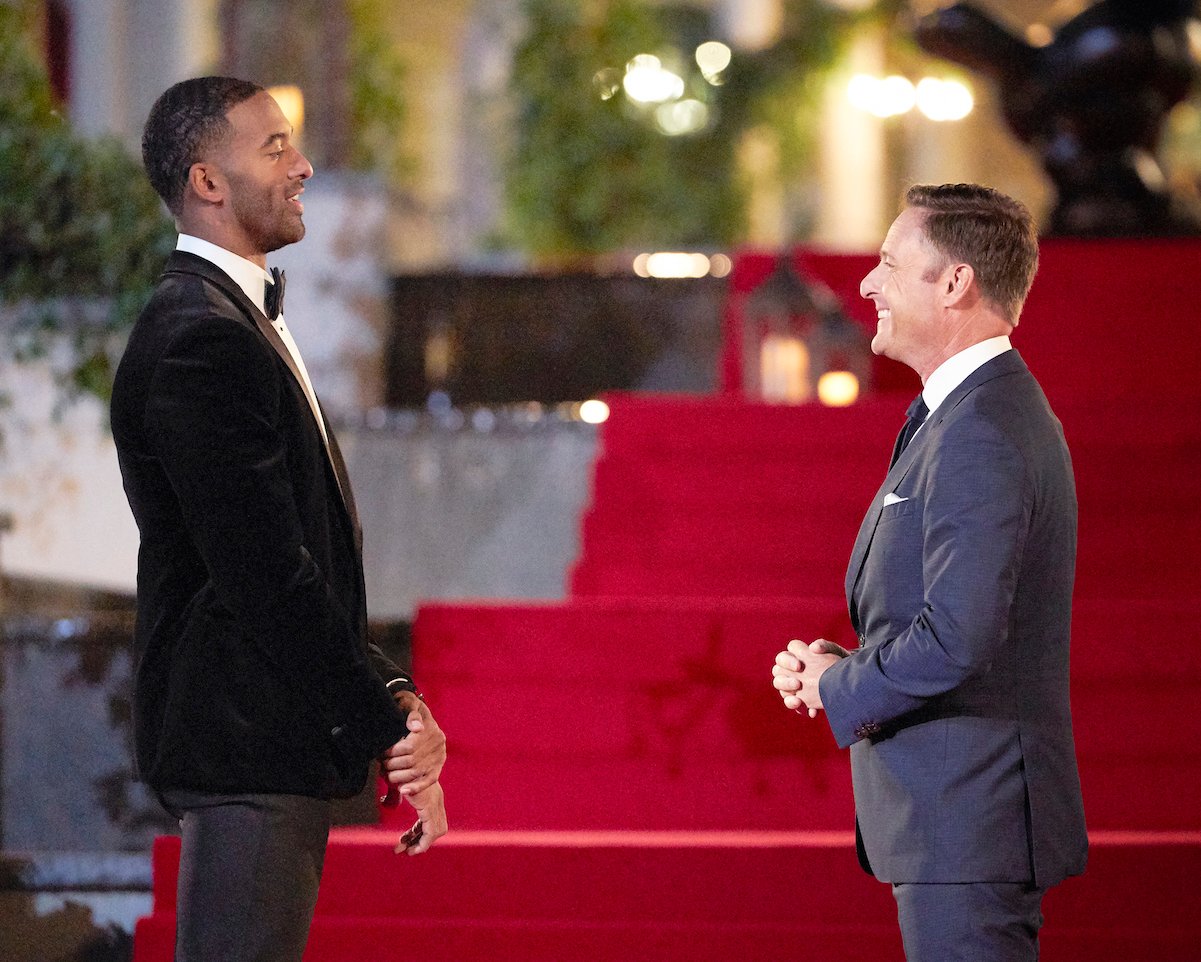 What James said to Harrison
Before James met the women on his season, he asked Harrison if the two could have a conversation to talk some things out. James started the chat by admitting he had thought a lot about what he would say to the contestants and how he would "carry himself."
James then brought up "pressure" he had put on himself as the "first Black Bachelor."
"People want you to end up with a certain type of person," he said. "I get that," Harrison proceeded to ask James to elaborate.
"My moms is white, and my dad is Black, and I experienced what it was like to be a product of interracial marriage," James explained. "It's tough, because you've got people who have certain views — old school views — on what a relationship and what love looks like. And you've got people who are cheering for you to find love and you've got people who are cheering for you to end up with a specific person, a specific person of a specific race."
James concluded: "That's something that kept me up at night. It's like, I don't want to piss of Black people, I don't want to piss off white people. But I'm both of those. How do I please everybody?"
What audiences thought he meant
Fans on Twitter weren't exactly over the moon for James' comments to Harrison. They interpreted James' words to mean that he felt pressured to choose a Black woman but he wasn't intending on doing that.
One fan said on Twitter in response to James' words: "So basically the [Black] women on the show should've just started to pack their bags right there and then. I feel bad for them. The production team set them up to take an L and completely wasted their time."
Another fan weighed in on the conversation after criticizing James: "Love who you love… I personally just enjoy seeing [Black] couples happy and thriving."
What James said he meant while on the 'Bachelor Happy Hour' podcast
James went on Rachel Lindsay and Becca Kufrin's podcast, Bachelor Happy Hour, to talk about his season of The Bachelor. One of the first things Lindsay asked James to speak on was what he meant in his conversation with Harrison.
Lindsay said she understands that James may feel an added pressure because she (the first Black Bachelorette) and Tayshia Adams (the second Black Bachelorette) both didn't pick a Black man on the show. However, Lindsay noted the audience's concern that James was implying that he wasn't going to pick a Woman of Color by what he said to Harrison.
"It's low-key frustrating to even have to address it, because first off, people should, regardless of what they look like, should want you to be happy with whoever you're with," James started. "And if you knew anything about me, if you were close to me, you would know that the last women that I dated were all Black women."
James then shot down the idea that he would not consider dating someone because of their race.
"When you're dating somebody, if you're excluding a race, then I don't even know where to begin on that," James said. He noted that there were white, Black, and Asian women on the first night of his season. "Those are the women that I've dated across the board. What I'm looking for in a woman isn't race-specific."
"I don't think it's on me to explain why that hasn't been the case in the past, I can only speak to my experience and what I'm looking for," he explained. "What I'm looking for may upset somebody. What I'm looking for isn't a race. I don't only exclusively date Black women. I don't only exclusively date white women. I've dated all across the board and I've found redeeming qualities in everybody, which is a blessing and that's why it's so difficult for me throughout this season."
James said there were great qualities he found in multiple women from different races on his season. "I'm trying to explain that to [Harrison] as best I can, and to everybody else tuning in, because that might not be everyone else's experience."