'The Bachelor': Did Mike Johnson Just Hint That He Could Be on Clare Crawley's Season?
Mike Johnson isn't The Bachelor for season 25, and many fans are disappointed. However, Bachelor Nation might get to see the model on a franchise show after all. Johnson gave a few hints about going on Clare Crawley's season of The Bachelorette on a recent podcast with Ben Higgins and Ashley Iaconetti.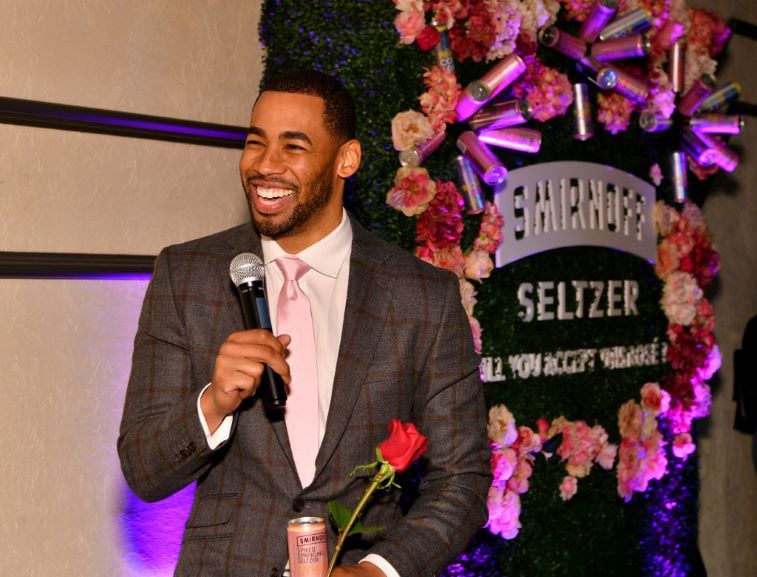 Why wasn't Mike Johnson chosen as 'The Bachelor' Season 25?
The Bachelor's leading role skipped Mike Johnson, again. We first met the 32-year-old from San Antonio, Texas, on Hannah Brown's season. He was a fan-favorite, and many thought he was going to be the next lead. However, Peter Weber went on to be The Bachelor for season 24. 
On June 12, 2020, ABC revealed on Good Morning America that Matt James is the season 25 Bachelor. Johnson went on The Ben and Ashley I Almost Famous Podcast on June 16, 2020, to discuss his feelings on the decision.
"He'll be a great Bachelor. He'll be a great lead," Johnson said about James. "Quite honestly, this isn't the first time I felt rejection in this forum. My mom taught me the serenity prayer, and I accept the things I cannot change."
The hosts ask him multiple times why he thinks he is not the lead on the next season.
"I wish I knew the answer to that," Johnson told Higgins. "I truly do. I can speculate like anyone else. I'm not seeing anybody. I'm in great shape. I think I'm a decent looking guy. I know that I was one of America's fan favorites. I'm professionally in a good place. I'm financially free. I live by myself. I really don't know."
Did Mike Johnson hint he could be on Clare Crawley's season of 'The Bachelorette'?
When asked about The Bachelorette, Johnson commented that it is not fair that Crawley is losing the attention. He believes the focus should still be on her since her season has not aired yet. Iaconetti then asked the question that everyone wants to know.
"A lot of fans have noticed some back and forth between you and Clare on social media — perhaps a little flirtation," Iaconetti said. "Would we ever get to see the beloved Mike Johnson join Clare's season?"
"I don't know," Johnson responded, along with a lot of laughter. 
Iaconetti added that it is a real possibility. Everyone believes Johnson and Crawley would make a great couple. 
"That's just giggles Mike," Higgins comments. "All we got out of that one was giggles. That means there's something there. When I giggle, I know I don't want to say what I'm feeling."
"I said she's a cutie," Johnson responds to Higgins. 
The conversation ends there, but a few minutes later, Iaconetti asks Johson what his next steps in life are, "besides going on Clare's season."
"I'm going to make that happen," Johnson laughs about the reference. 
Fans fully support Mike Johnson joining Clare Crawley's season
After the podcast aired fans speculated whether Johnson might go on Crawley's season. Although Johnson did not give a straight answer about joining The Bachelorette's season, fans think he will do it. 
"He seems like he'd be interested in going on her season," wrote one Reddit user. "Ahhh! Plot twist."
Once one fan pointed out the suggestion, others jumped on board. They would love to see how the relationship might play out between Johnson and Crawley.
"I never thought of that," another fan wrote. "I feel like their enthusiasm about love would match each other."
The fans add that Mike should join the season from the beginning, not jump in during the middle. The other contestants would despise him like they did when Nick Vial joined Kaitlyn Bristowe's season. Hopefully, Johnson truly makes it happen. The Bachelorette with Crawley begins filming in July and airs the fall of 2020.