'The Bachelor': Mykenna Dorn Only Speaks in Motivational Phrases and Fans Are Dragging Her for It
There are a few women on every season of The Bachelor who were just born to become a meme. Mykenna Dorn takes the cake as the most memable girl in Peter Weber's crew by far.
For the majority of the season, we were treated to Dorn's insane facial expressions but not much more. The first half of the season was dominated by the drama between the rest of the women so we didn't hear much from Dorn. But in last night's episode, Dorn gave more than one monologue and fans were not here for it.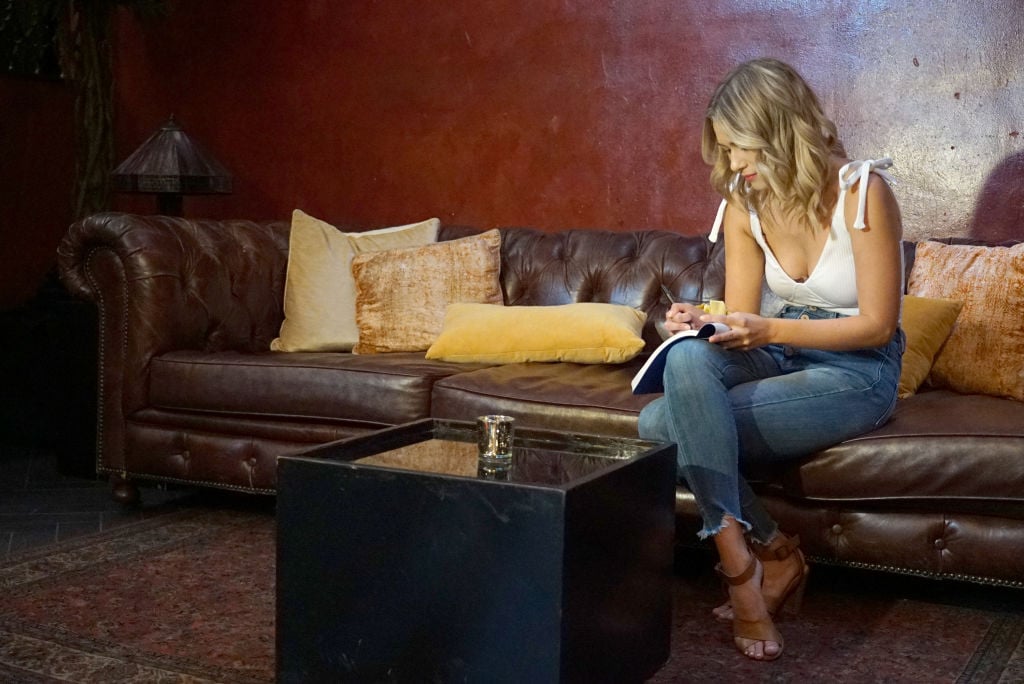 Mykenna's drama
In the last few episodes, we had seen Dorn getting distraught over not having enough time with Weber. But instead of just getting annoyed like most of the other women, Dorn cried to anyone who would listen. This caused Tammy Li to get aggravated with Dorn and tell Weber that she didn't think Dorn was on the show for the right reasons. And as any Bachelor fan knows, whenever two women get into an argument, they are pretty much setting themselves up to go on a two-on-one date, which is exactly what happened.
Mykenna's awkward speech
Dorn obviously came to the date prepared for an argument. Right when she and Li sat down, Dorn delivered what she probably thought was a speech that would shut Li down for good. Unfortunately, that's not how it went.
"I don't know what your goal was the other night, maybe to make me feel small and weak, but at the end of the day, you made me found [sic] my d–n voice," Dorn said. "And I am a strong woman, and I will not let people like you tear me down anymore and make me feel like any less of a person and I do not deserve any love. Because at the end of the day, I am proud of who I am, Tammy. Kindness wins. Love wins. Bringing people down never wins. And that's how I feel about that."
To make an awkward speech even more painful to watch, Li didn't even respond to Dorn's soliloquy.
Twitter drags Mykenna
Fans were quick to jump on Twitter to drag Dorn for whatever that speech was supposed to be.
"That awkward moment when Mykenna tries way too hard to be deep and empowering for all of her internet fans, but completely misses the mark #TheBachelor," one person wrote.
"Mykenna needs to stop with her self empowering speeches," another person wrote. "Just go home sweetie."
"Mykenna went on The Bachelor to hype herself up on national television," another fan tweeted.
And others were just tired of Dorn altogether.
"I hate myself for watching this show and tweeting hot takes about it but Mykenna is so ANNOYING. If I hear her say one more time through tears 'I need peter to see how GREAT I am but he's too caught up in the DRAMA to see the REAL ME' aslasdfasdfsf you're on the BACHELOR," one fan said.
Why did Peter Weber send Mykenna home?
Though Weber didn't see most of the annoying things that Dorn did, he still decided to send her home.
"Mykenna, bless that girl. Her facial expressions are amazing. I'll never forget them," Weber told Entertainment Tonight. "The tongue, the wine, dancing… she's such a fun girl and very sweet girl." 
"I know that she had very pure intentions and she was there for the right reasons, truly," he continued. "And I obviously wish her the best, but again, she just wasn't my wife."