'The Bachelor': No, Genevieve Parisi Didn't Hook Up With Aaron Clancy
This season of The Bachelor with Clayton Echard is nearing its end, and last night, fans watched the infamous "Women Tell All" episode. As usual, plenty of drama ensued when producers brought back the season's villain, Shanae Ankney. Shanae bumped heads with plenty of her fellow Bachelor contestants, but she targeted Genevieve Parisi last night.
[Warning: The article contains spoiler information for Clayton Echard's season of The Bachelor.]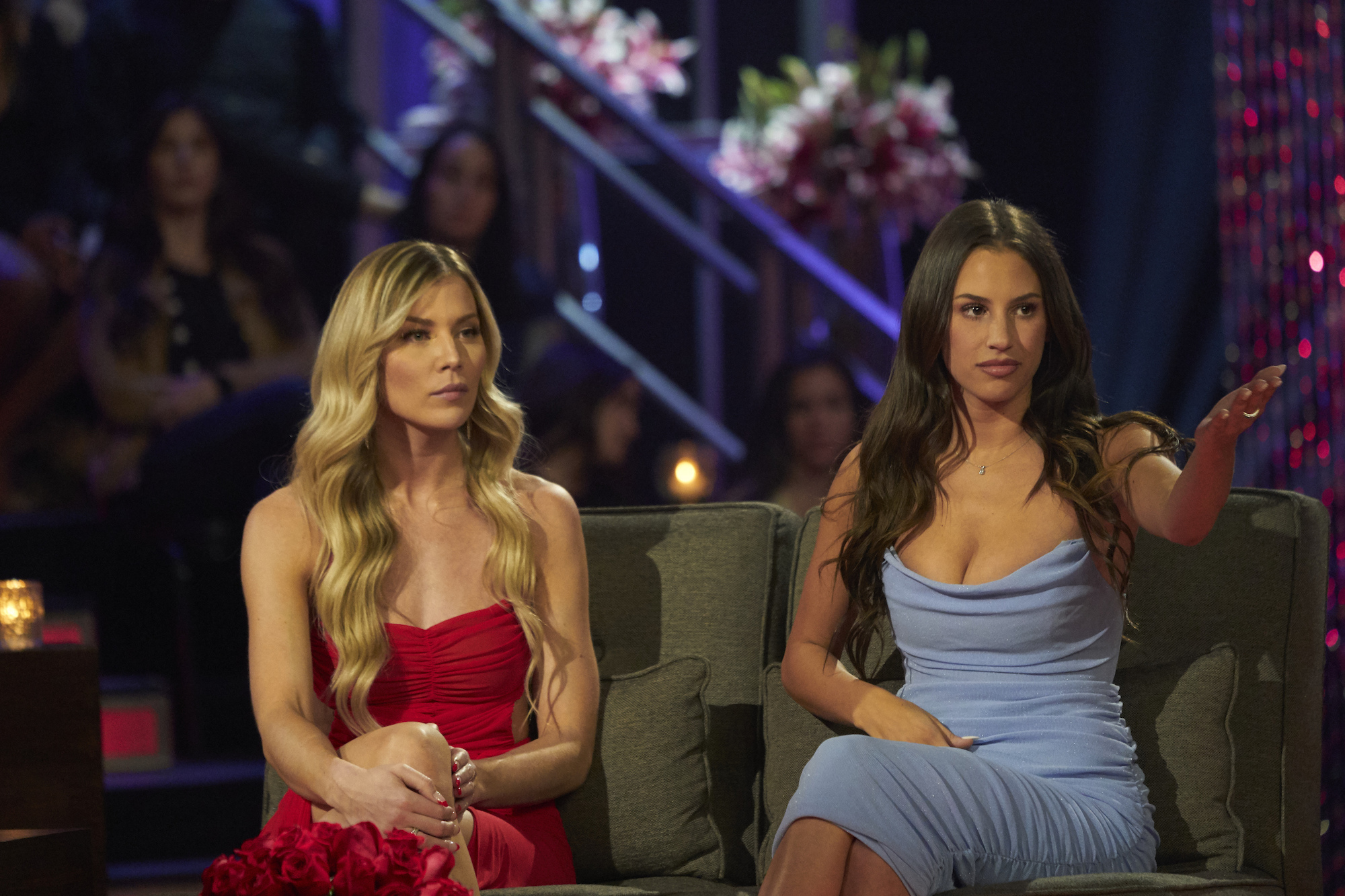 Shanae Ankney made some wild accusations about fellow 'Bachelor' contestant Genevieve Parisi
Shanae made very few friends during her time on The Bachelor. Whether targeting Elizabeth Corrigan and making fun of her ADHD diagnosis or manipulating Clayton with fake tears, Shanae checked every box for the standard reality tv villain. Most of the women tried to stay out of her way. This included Genevieve, but the producers of The Bachelor had other plans.
This season of The Bachelor brought back the infamous two-on-one date, and producers opted for Genevieve and Shanae to attend together. During the date, Shane about Genevieve to Clayton and told him she "was an actress." Shocked, Genevieve refuted the claims and explained her stance to Clayton, and he decided to send Shanae home during the date.
At the "Women Tell All," host Jesse Palmer pulled both of the women on stage at the same time to discuss their two-on-one date with Clayton. It wasn't long before the claws came out.
RELATED: 'The Bachelor': Reality Steve Reveals Clayton Echard Proposes to [SPOILER], But She Says No
Shanae Ankney claims Genevieve Parisi hooked up with Aaron Clancy, but Genevieve denies it
Shanae continued to make jaw-dropping comments. She said, "After I got eliminated, I couldn't eat, I couldn't sleep. I've lost weight. And then, when you get eliminated, you go home and f*** Aaron from Katie's season."
Visibly shocked, Genevieve denied The Bachelor villain's accusations. "I met him at a bar! I didn't even kiss him!" she retorted. Then, in return, Genevieve claimed that Shanae was the one who slid into Aaron's DMs.
Genevieve recently spoke to both Us Weekly and Entertainment Tonight about the allegations she may have hooked up with Aaron Clancy. To Entertainment Tonight she said, "The comment of me and Aaron… I mean, I can't even begin to explain how ridiculous that is. I don't even know."
She reiterated the point to Us Weekly. "I think I was more shocked than when Clayton asked me if I was an actress. I saw Aaron at a bar and I posted a picture with him. … I didn't even kiss Aaron. And that's why I was just, like, 'What?' I met him once at a bar for five minutes, so I don't know his personality. He seems really nice, and he is very handsome," the LA bartender explained.
Don't rule out 'Bachelor' star Genevieve Parisi and Aaron Clancy from dating in the future
As for now, Genevieve and Aaron are just friends, but that doesn't mean we won't see the two together in the future. Us Weekly asked Genevieve if she'd be open to dating Aaron, and she replied, "I'm not saying no. But there definitely hasn't been anything between us and that's scary because I don't want it to be a thing. I don't want it to be an issue."
In case you missed all the drama from The Bachelor "Women Tell All," you can catch up on Hulu. Plus, part two of The Bachelor's two-night event airs tonight on ABC as Clayton and the remaining three ladies travel to Iceland for their steamy overnight dates. 
RELATED: 'The Bachelor' Star Teddi Wright Reveals Clayton Echard's Brother, Patrick, Slid Into Her DMs After the Show