'The Bachelor': Fans Are Convinced Peter Called Hannah Ann 'Madison' During His Proposal
There's a lot to unpack from The Bachelor finale. To recap, Peter Weber pulled a switcheroo and declared his lukewarm love to Madison Prewett after breaking off his engagement with Hannah Ann Sluss. Weber's family was not at all pleased by this decision and it's clear that they have no intention of supporting his relationship with the Auburn native. In fact, Weber's mother, Barbara Weber, declared that her son was going to have to "fail to succeed."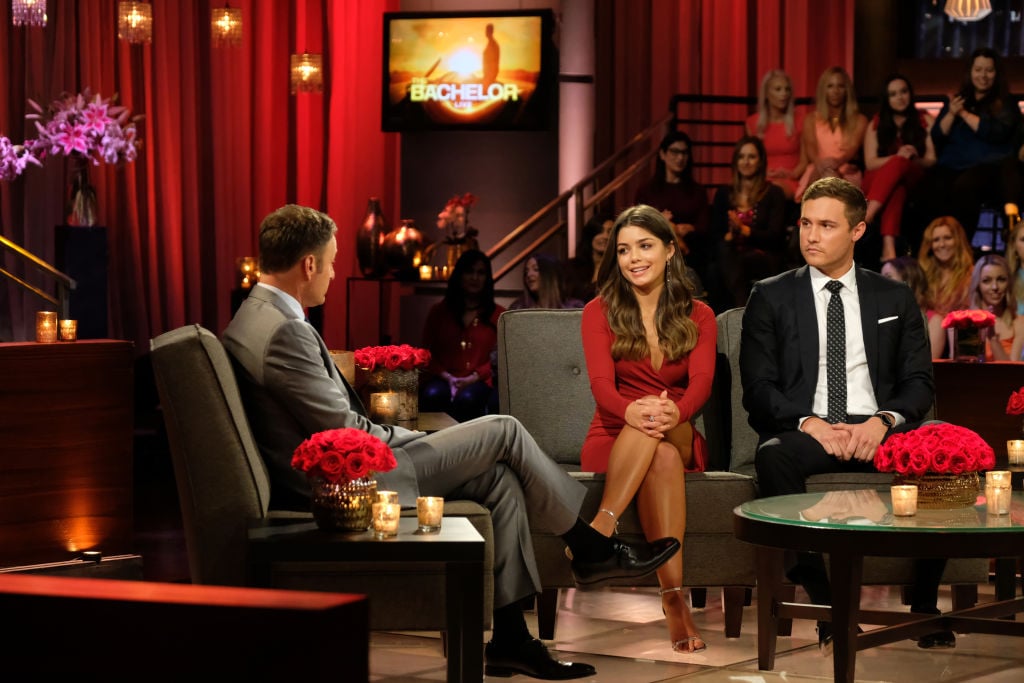 Are Peter Weber and Madison Prewett even together?
But, a new theory suggests that Weber and Prewett aren't even really together. Many fans have called the couple out for faking their relationship for the fame and the followers. While it may be a stretch, it is unprecedented that neither of them has done any press or posted to their social media pages following The Bachelor 2020 finale. But, while some people are unpacking Weber's relationship with Prewett, others are more interested in his past relationship with Sluss.
Weber awkwardly proposed to Hannah Ann Sluss during 'The Bachelor' finale
Sluss was a frontrunner since the first night after receiving the coveted first impression rose. Still, many fans of The Bachelor were surprised that Weber proposed to her because he seemed to have more intense feelings for Prewett and even his ex, Hannah Brown. Still, Weber eventually got down on one knee and asked Sluss to be his bride. But, fans can't help but take note of one very awkward moment of Weber's proposal.
Weber's engagement starts off just like any other proposal we've come to expect from The Bachelor. Weber walks through his relationship with Sluss with just enough ambiguity to make her question whether she's about to get engaged or dumped. But, things take a weird turn when Weber brings up Prewett out of the blue. "Madison…" he begins before pausing. The look in the Knoxville native's eyes say it all and it seems as if Weber has made the ultimate mistake of calling Sluss by the wrong name.
Fans on Twitter, Reddit, and Instagram think Weber called Sluss "Madison" on accident
A few moments later, Weber continues on to inform Sluss that Prewett flew the coop days ago and that Sluss is the gal for him. The pair get engaged and well, we all know what happens from there. But, despite the engagement only lasting for a month, some people are still talking about the proposal. While some fans of The Bachelor felt that Weber dropping Prewett's name was simply poor taste, others are convinced he accidentally flubbed her name.
"Peter called Hannah Ann, 'Madison' and saved himself. Tell me I'm wrong," one person declared on Instagram, providing a video clip of the moment. "There's like .4 seconds where you can see in her eyes she's like 'did he fuc*ing just call me Madison'" another fan of The Bachelor chimed in. "Yes gurl I was like wait did he just… and then he's like oh she left – it was just too random. Like why are talking about her in the middle of your proposal," yet another person cosigned. "I IMMEDIATELY TOLD MY HUSBAND HE MESSED UP!!!! 😂🤣 nice save though!" one adamant fan added.
Did the bachelor pull a Ross Geller from 'Friends'
Other fans of The Bachelor couldn't help compare the moment to another TV show, Friends. "IT'S LIKE WHEN ROSS SAID RACHEL WHEN HE WAS GETTING MARRIED TO EMILY ON FRIENDS," one person wrote. "OKAY ROSS, THAT'S ACTUALLY MORE BELIEVABLE THAN HIM BRINGING THAT UP AT THAT MOMENT," another excited fan declared.
Sluss has moved on
Whether Weber truly did flub the name or he just thought it was acceptable to bring up another woman during his proposal is anyone's guess. But, either way you slice it, what Weber did in his proposal was a poor way to start off a life-long partnership. We're glad that Sluss has moved on from him and hope she finds the love she's looking for. Maybe even on Bachelor in Paradise.