'The Bachelor': This 1 Red Flag Possibly Foreshadowed Peter Weber's Season
Since the start, Peter Weber's season of The Bachelor has been thrown into mayhem. First Hannah Brown made a reappearance, there was Champagne-gate, and then Weber let Alayah come back. After the most recent episode of The Bachelor, Weber has been called out by the girls on the show and fans for being too indecisive. Before Weber's season of The Bachelor even began, there was one red flag that hinted his indecisiveness could be a problem.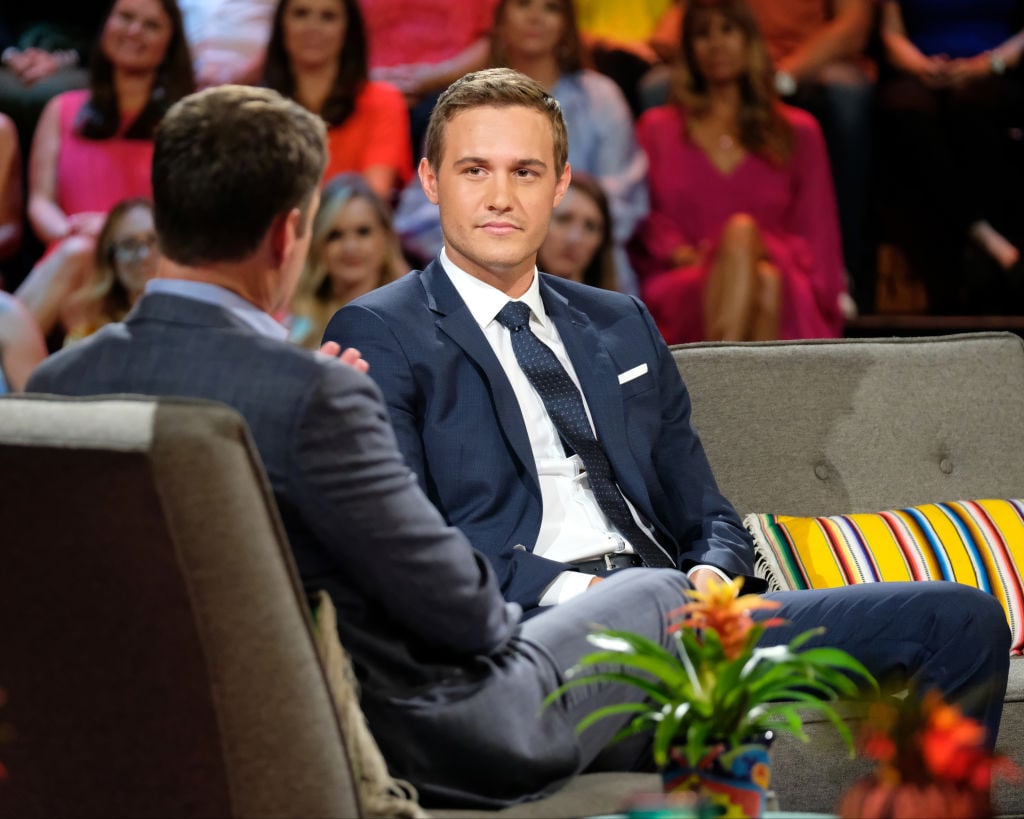 Peter Weber had a girlfriend before going on 'The Bachelorette'
In July 2019, Calee Lutes spoke to Entertainment Tonight about her previous relationship with Weber in an email interview. Lutes alleged that Weber ended their serious relationship out of the blue and with no explanation.
"We were very serious. He told me he loved me for the first time in October, and we talked almost every time we saw each other about how we were going to make it last long term. He wanted me to move out to L.A. to be with him, and he wanted us to get an apartment together," Lutes told Entertainment Tonight.
She continued, "I was open to moving out there for a year or so, to give our relationship a fair chance, but he told me he didn't want me out there temporarily… he wanted me out there 'forever.' We also talked about kids, down to the logistics of how we would fly them back and forth between L.A. and Atlanta to visit my family if we did settle down in California. We talked about all of this right up until he broke up with me."
Calee Lutes believes he broke up with her to go on the show
Because of how serious their relationship was, Lutes told Entertainment Tonight she was blindsided by the breakup.
"… we FaceTimed and he said that we should end our relationship before it got even more serious. He didn't really have a reason why. I was devastated and completely blindsided," she said.
Lutes also said she believes Weber broke up with her to go on The Bachelorette.
"I thought there was another girl, so I looked at his recent followers on Instagram, and noticed that a Bachelorette producer had recently followed him. I didn't think much of it at the time, but I knew there was something he wasn't telling me," Lutes said.
"He absolutely betrayed me. He interviewed for a reality dating show while simultaneously planning a future with me. I trusted him entirely and he pulled the rug out from under me," she said.
Peter Weber denied the claims
After Lutes spoke with Entertainment Tonight, Reality Steve published a blog post about her allegations. Lutes had also spoken with Reality Steve, and the blogger was extremely direct about what Lutes' allegations meant.
"But because he broke in December and didn't leave for filming til March, if you really think that this out of the blue breakup had NOTHING to do with him in contact with the show, then I've got some real cheap land to sell you. While he was emotionally involved with Calee and talking about moving her to CA, Peter is in talks with the Bachelorette. You don't see anything wrong with that? I do," Reality Steve wrote.
In an interview with People, Weber denied Lutes' claims.
He told People, "I was very serious in trying to progress that relationship and move it forward. And she wasn't on the same page as me. That being said, I wasn't going to waste her time or my time. But the casting process and my first interview was months after we broke up. It's obvious that I hurt someone that I really did care about. That was never my intention. And for that I'm sorry. Breakups suck!"
How this relates to Peter Weber's season of 'The Bachelor'
While Lutes' claims did not stop Weber from becoming ABC's next Bachelor, she did give possible insight to Weber as a person. Weber was beloved by fans during his run on The Bachelorette, and since The Bachelor premiered fans have started to call out his indecisiveness.
"Is Peter really this indecisive, or is that scripted too," one fan tweeted.
On his blog, Reality Steve made a point about how Weber allegedly ended the relationship with Lutes.
He wrote, "Did you read the text messages? It's more than just the time spent together. Families were involved. I Love You's were exchanged. Efforts to move her to California were talked about. And then the relationship ends over a phone call out of the blue with no real explanation, only to find out he did the show?"