'The Bachelor': Peter Weber 'Didn't Want to Disrespect' Contestants With His Conversation With Hannah Brown
Former bachelorette Hannah Brown made not one but two appearances during Peter Weber's Bachelor season premiere. First, she returned the wings Weber gave to her when he competed on her season.
Weber said at ABC's TCA presentation on Wednesday, January 8 that he appreciated the gesture.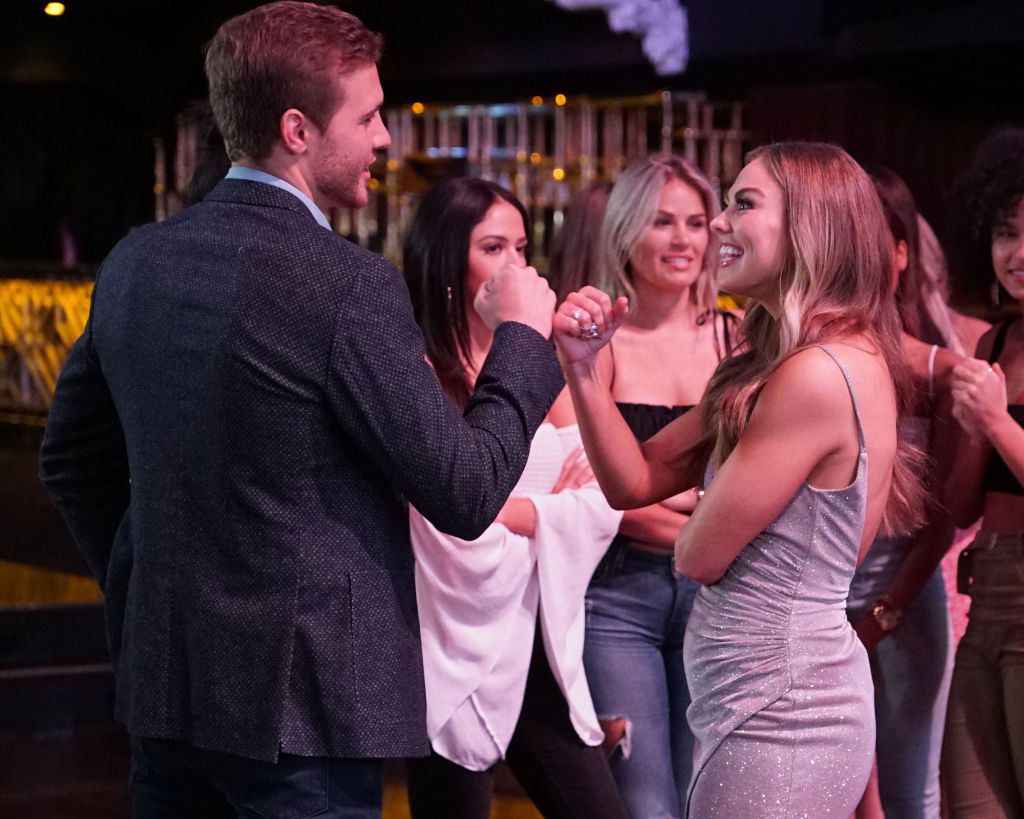 "I had no idea [Hannah] was showing up and it caught me off guard," Weber explained on Wednesday. "The whole wings thing, her giving that back to me, I really loved and appreciate it."
In the moment, he believed Brown might be moving into the mansion again.
"But that was not the case," he said. "And then I knew she wanted to kind of host a group date later on so I was really stoked to have her do that and everything you guys saw was not expected, that conversation."
Though the conversation wasn't planned, Weber says it "needed to happen."
Peter Weber felt bad for his contestants when he was spending time with Hannah Brown
"The hardest part for me was just struggling with the fact that I knew I had amazing women that just showed up," he told reporters. "I still didn't have any feelings yet for anyone. It was too soon to really have any legit connection. So it was awkward, it was uncomfortable, but it needed to happen. And I was very lucky that the women were understanding. So, had to happen."
He reiterated that he "didn't want to disrespect" any of the women who came on the show to compete for his heart.
"Again, the hardest part was just knowing that I had the other women there and I was putting them through that," he added. "I didn't want to disrespect them in any way, but that conversation had happened. And you'll see what it means."
Peter Weber's conversation with Hannah Brown
Weber's conversation with Brown got personal pretty quickly. The two discussed what happened between them and danced around their feelings for each other now.
"I don't know what to do right now," Weber said during the episode. "I'm so confused and this is the first week that this whole thing is starting. And I'm obviously not 100 percent where I thought I was."
"I can't help how my heart feels," he continued. "I look at her, and I just don't want to stop looking at her, and I want to just kiss her and just … have had all this work out. And it didn't, and I know it didn't. I feel like such a jerk because I have such an awesome group of girls here, expecting to meet someone that was truly ready to have this work for them as well."
At the event on Wednesday, Weber was sure to tease the rest of the conversation, airing on Monday.
"That was just really real raw convo that had to happen with us and really emotional. It brought back feelings and I couldn't hide those," he said. "So you guys will see what happens next. But it obviously wasn't over yet."
Read more: It's Sad That Kailyn Bristowe Has to Remind Bachelor Nation of This Fact