'The Bachelor': Are Peter Weber and Hannah Brown Still Friends?
'The Bachelor': Peter Weber says he and Hannah Brown texted when the premiere aired and that he has no hard feelings.
So far, former bachelorette Hannah Brown has been a big part of Peter Weber's season of The Bachelor. She dropped off the wings he gifted her when they first met and then she (attempted) to lead a group date.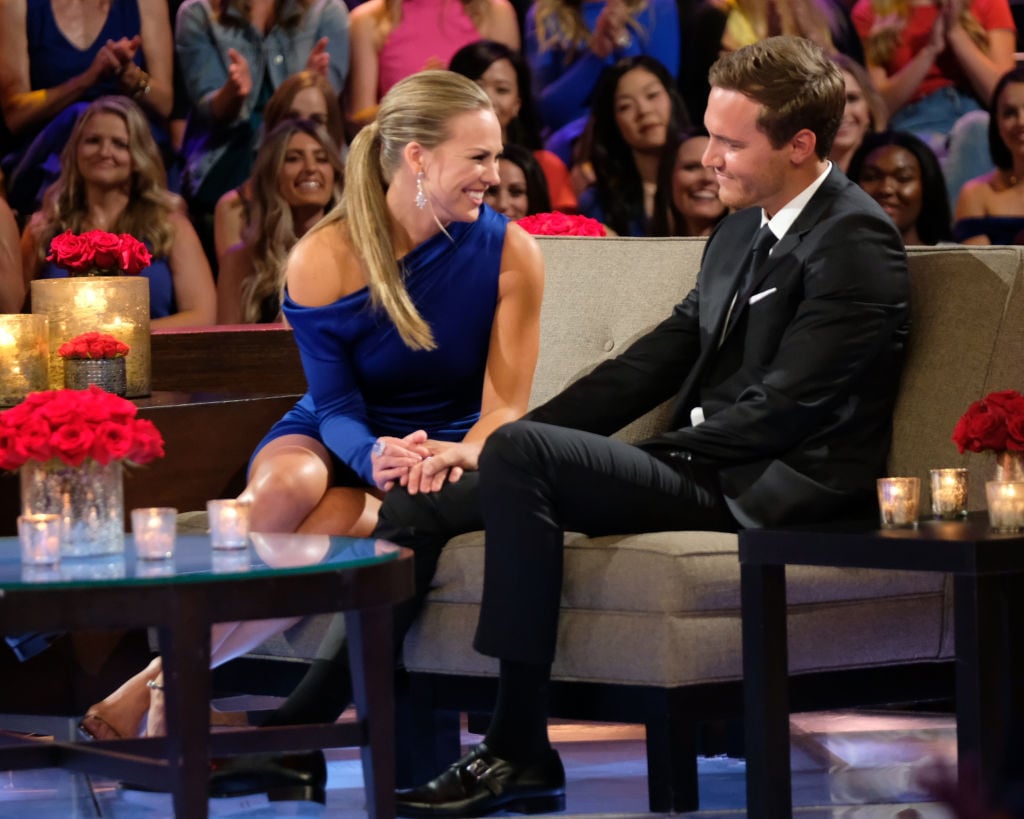 During their big heart-to-heart, Brown and Weber hashed out their feelings. Weber told Brown he was hurt she asked Tyler Cameron out for a drink instead of him. She told him she didn't think he was interested because he hadn't been reaching out to her and that she thought he wanted to be the bachelor. Brown asked Weber to "catch a flight" with her and he considered it, but ultimately decided to carry on being the bachelor. The two hugged and parted ways.
Peter Weber and Hannah Brown texted when 'The Bachelor' premiere aired
In a recent interview with Entertainment Tonight, Weber said he and Brown texted when their conversation aired.
"Yeah," he responded when ET's Lauren Zima asked him if he spoke to Brown about the premiere. "Just like really good support and she's been amazing. She's a huge fan of mine, I'm a huge fan of hers and I always will be."
Despite their conversation being unplanned ("That wasn't even supposed to happen, that whole discussion," he told ET), Weber says he's glad he got some closure.
"The last time I had seen her was, other than the first night, AFR on stage there and it was great to talk to her but that was kind of the first raw conversation. Just to kind of get that possibly closure," he said.
And even though Weber has an emotional past with Brown, he says he doesn't have an hard feelings for her.
"I have no hard feelings for her. I know she was always following her heart and doing the best she could. I'm OK with that," he said.
Are Peter Weber and Hannah Brown friends?
Having no hard feelings and being friends are two very different things. Though it seems like Weber and Brown text from time to time (at least they did about the premiere), they're probably not besties.
Just before the premiere aired, Brown posted on Instagram to wish her "bud" luck, and it shook much of Bachelor Nation.
"Find your co-pilot. It's your turn in the captain's seat Bud. Enjoy the ride!" she captioned a video of the two of them during her Bachelorette season.
"Thanks Bama," Weber replied.
Some fans aren't giving up hope for Brown and Weber to end up together.
"I'd appreciate if you guys just cut to the chase and got married," commented one fan.
"CANCEL THE SHOW BE WITH HANNAH B FOR THE LOVE OF GOD," wrote another.
It seems, at this point, Brown and Weber are friendly, but it's probably too early for them to be plain ol' friends. They went through a lot together and need some time to move on.
Or, maybe, they'll end up together like some of Bachelor Nation is hoping. Only time will tell.