'The Bachelor': Why Some Fans Are Sure Peter Weber & Madison Will Live 'Happily Ever After'
The Bachelor finale might be over, but fans are still unpacking everything that went down. Between the hostility Peter Weber's mom had for Madison Prewett, and Hannah Ann Sluss putting Weber in his place it was definitely a dramatic conclusion to a ridiculous season. As things stand, Prewett and Weber are going to try their relationship out and take things one day at a time. But, do they have any hope of succeeding?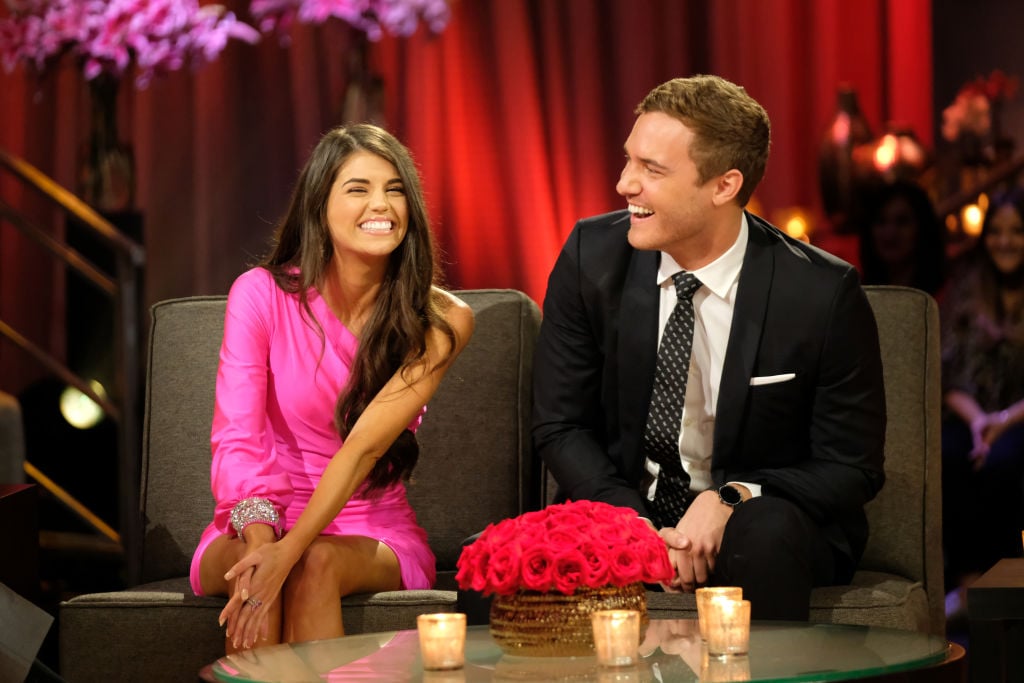 A quick recap of 'The Bachelor' 2020 finale
It was always clear that Weber's mother preferred Sluss over Prewett, but last night that became even more abundantly clear. Barbara Weber maintained that Prewett showed up three hours late to meet her and her family and upon meeting them, didn't even apologize for the delay. The protective mom also added that Prewett maintained that she didn't want to see Weber's family again, had no intention of accepting an engagement, and was not "madly in love" with the bachelor. When Chris Harrison asked if Barbara Weber would support them going forward, she declared that Pilot Pete would have to "fail to succeed."
It's clear to everyone that Weber and Prewett will have a lot to overcome if they are hellbent on making a relationship work. But, some fans of The Bachelor have no doubt that they will be able to go the distance. They believe this is true because of the statistical history of the show. While Weber's finale was dramatic, it was far from original. In fact, there have been two other Bachelor finales that included switcheroos.
Jason Mesnick and Arie Luyendyk Jr. walked so Peter Weber could run
Two seasons ago, Bachelor Nation watched as Arie Luyendyk Jr. got engaged to Becca Kufrin only to break things off to pursue a relationship with his now-wife, Lauren Luyendyk nee Burnham. The pair got engaged during the After The Final Rose special and are now happily married with a daughter, Alessi Luyendyk.
But, if we go back even further in The Bachelor archives, we'll see that Jason Mesnick, (whose season you can watch on Netflix) was actually first to do this in Season 13. He got engaged to Melissa Rycroft only to break it off with her during the After The Final Rose special because he was still in love with his now-wife, Molly Mesnick nee Malaney. He proposed to her on the spot, and the pair have been married now for 10 years. They also have two children together, Ty Mesnick and Riley Ann Mesnick.
Bachelor fans share their thoughts about 'The Bachelor' finale on Twitter
Because of this past success rate of Bachelors who have pulled switcheroos and made it work with their second partner, fans are convinced that Prewett and Weber will work it out. "Based on past history, this means Peter and Madison will live happily ever after," one fan wrote on Twitter. "Haha, that's actually true. The show is 2/2 on marriage and kids when the bachelor goes for the runner up after the fact," another person co-signed. "Exactly. They actually have hope now. As crazy as that sounds," yet another person declared.
Of course, some fans of The Bachelor were thoroughly unconvinced by that logic. They spotted several differences between past switcheroos and the one that Weber pulled with Sluss and Prewett. "Molly and Lauren didn't leave, didn't have 2nd thoughts, 'knew' they were the one and were surprised to be let go. I'd say the relationships were in a very different place than Madison and Peter," one person wrote.
Do Madison Prewett and Weber have a chance?
Clearly Weber and Prewett have the odds stacked against them if they have any hope of making a relationship work. Personally, we believe that Weber would do well to be single for a while, but we wish them the best. Perhaps if Bachelor Nation had gotten the bachelor they wanted in the first place (Mike Johnson) we'd be having an entirely different conversation.