'The Bachelor': Peter Weber Reveals What Went Down With Hannah Brown While He Was Engaged
Remember when Hannah Ann Sluss told everyone that Peter Weber talked to Hannah Brown while they were engaged? After Sluss put him on blast during "After the Final Rose" on The Bachelor, Weber just explained what exactly happened between him and Brown.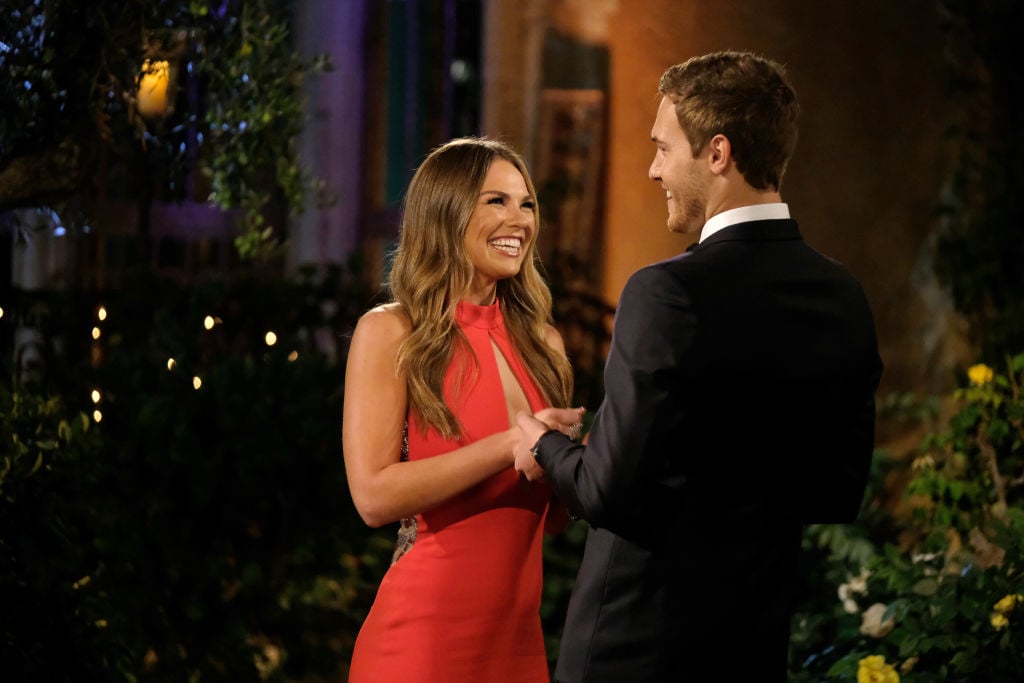 What we knew from Hannah Ann Sluss
During "After the Final Rose," Sluss and Weber reunited after breaking up before the season finale of The Bachelor. While discussing what went wrong in their relationship, Sluss brought up that Weber not only had lingering feelings for Madison Prewett, but also Brown.
"Peter, we've been through a lot together, and I should have really picked up on the first red flag that you gave to me was when you wanted to reach out to Hannah Brown to find closure with her," Sluss told Weber. "So really, looking back on it, our engagement involved three women: Me, you still being in love with Madison and proposing to me and you needing closure with Hannah Brown. That's three women involved in our engagement that I was completely blindsided to."
Hannah Brown reached out to Peter Weber first
Weber recently appeared on Nick Viall's podcast The Viall Files. On the podcast, Weber disclosed to Viall why he spoke to Brown while engaged to Sluss. It turns out, Brown reached out to Weber first.
"We get the episodes earlier to watch before the season premiere," Weber told Viall. "Hannah Brown had been given the episode as well. One day I saw that she DM'd me on Instagram. I didn't have her number at that point or anything. She was being really honest and open and was saying, wondering if I had seen the episodes yet, that she was kinda struggling with it, it was tough to watch. Which it was very tough for me to watch."
What happened between Hannah Brown and Peter Weber
On the podcast, Weber explained that he told Sluss that Brown reached out to him. Because he was watching the episodes with Sluss, he told her that he thought speaking with Brown would be a good chance to get closure.
"I saw this message and we were actually on a 'Happy Couple' weekend, because the two of us were watching an episodes together, Hannah Ann and I. And I told her about it. And I said, you know, that Hannah Brown had reached out, that I think it could kind of be good for both of us to get some closure on the situation," Weber said.
As fans of The Bachelor know, when Weber and Brown spoke on the show, their conversation was very emotional.
"Because to be completely honest, the way that… whole conversation ended wasn't very definite… I was so confused in that moment… Those were real feelings being brought up… That was a super tough date for me. So Hannah Brown, she reached out, she wanted to see how I was doing. It was tough for both of us," he said.
Where the two stand now
Although she was hesitant, Sluss gave Weber the go ahead to talk to Brown.
"I had asked Hannah Ann if it would be okay if I could communicate with Hannah Brown, if she would mind. She told me that it was fine as long as I didn't see her in person, if I just talked to her on the phone… she was, obviously, a little hesitant… and that's why I wanted to be transparent with her about everything," said Weber. "Ultimately, she gave me the okay and Hannah Brown and I discussed things."
According to Weber, he is on good terms with Brown.
"She'd honestly constantly check in on me, because then the weeks that ensued were pretty tough and obviously she had just been in that position," Weber said on the podcast. "You know, I have all the respect in the world for Hannah Brown."