'The Bachelor': Peter Weber's Ex-Girlfriend Was Right All Along But No One Wanted to Believe Her — Until Now
Peter Weber's season of The Bachelor is over, and it ended as many suspected it would. He's now single — as of 48 hours after the final episode.
If we could rewind to July 15, 2019, and listen to the advice given by one of Weber's ex-girlfriends, this all might have been avoided. Let's take a look at how Calee Lutes was right about Weber all along, though no one wanted to believe her. 
[Spoiler alert: The Bachelor Season 24 spoilers ahead.]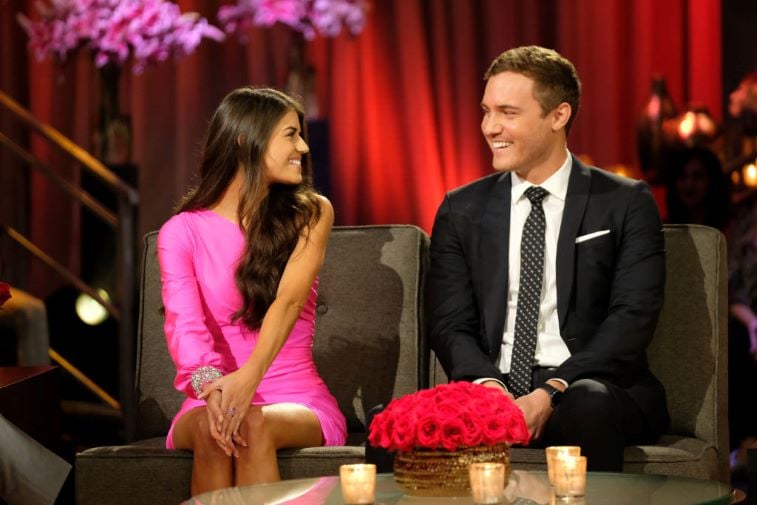 How did Peter Weber end up single after his season of 'The Bachelor'?
Toward the end of the season, fans knew things were going downhill when Victoria Fuller was still in the final three. She broke down crying during every date and often made Weber chase her. 
Hannah Ann Sluss was always a sweetheart and supportive of everything Weber said. The two had fun together, but fans could tell Weber was not fully there for her toward the end. 
Then, there was Madison Prewett — the strong Christian woman who does not drink and will not have sex until she is married. She told Weber she could not see herself staying with him if he was intimate with anyone during Fantasy Suites. The pilot did not listen and had sex with both Hannah Ann and Victoria.
From that moment, Madi and Weber's relationship was never the same. She ended up breaking up with him and leaving the show. Weber proposed to Hannah Ann, the second runner-up. However, we all knew he wasn't in love with her.
He broke it off and tried to get Madi back. A mere two days after the finale, the couple announced via Instagram they could not make things work. After all that, he is unattached.
What happened with Peter Weber's ex-girlfriend, Calee Lutes?
Calee Lutes dated Weber in June 2018, and then he broke up with her to go on The Bachelorette for Hannah Brown's season.
"We were very serious," Lutes told ET in July 2019. "He told me he loved me for the first time in October, and we talked almost every time we saw each other about how we were going to make it last long term."
Lutes had no idea that Weber was interviewing to go on The Bachelorette while the two were together.
"He absolutely betrayed me," she continued. "He interviewed for a reality dating show while simultaneously planning a future with me. I trusted him entirely, and he pulled the rug out from under me."
They met each other's families and talked about how they would fly their children back and forth to visit her family in Atlanta. She was planning a move to Los Angeles, leaving her family to be with Weber.
Why didn't anyone believe Weber's ex-girlfriend that he was a 'player'?
Two days before Christmas 2018, Weber unexpectedly broke up with Lutes.
"I thought there was another girl, so I looked at his recent followers on Instagram, and noticed that a Bachelorette producer had recently followed him," Lutes told ET. "I didn't think much of it at the time, but I knew there was something he wasn't telling me. He immediately deleted EVERY trace of me on Instagram."
After the two broke up, Lutes heard from mutual friends that Weber was seeing other women while the couple was exclusive.
"He definitely didn't go on the show for the right reasons," she continued. "I believe he went on it for the chance at fame, and he got what he wanted."
Lutes was not going to speak up. But after watching Hannah Brown's season, she felt she should get everything out there.
"But the more episodes I watch, the more mad it makes me seeing him play with another girl's emotions," Lutes admitted. "I knew I would regret letting him get away with this."
Fans are supportive of Weber's ex-girlfriend now that they saw his true colors
After the events of last week's Bachelor finale, many fans reached out to Lutes to tell her she was right.
"You were right about Peter telling women what they want to hear," one fan wrote on Instagram. 
Many others commented on Lutes' Instagram photos to show their support for her and what she went through with Weber.
"Appreciate you telling us how much Peter actually sucks," added another Instagram user.
Although Lutes could not prevent what happened to the women on Peter Weber's season of The Bachelor, she can take solace in knowing he ended up single in the end.
Read more: 'The Bachelorette': Fans Feel the 'Franchise is Wasting Clare Crawley's Time' With This List of Guys — Here Are the Youngest Ones