'The Bachelor Presents: Listen to Your Heart': JoJo Fletcher and Jordan Rodgers Were the Sole Reason Bachelor Nation Watched This Week
The Bachelor Presents: Listen to Your Heart returned with its third episode this week and several guest judges. K$sha, Jason Mraz, and former Bachelorette JoJo Fletcher with her fiance, Jordan Rodgers, all appeared. Bachelor Nation reports they watched the show solely to see Fletcher and Rodgers together.
[Spoiler alert: The Bachelor Presents: Listen to Your Heart Episode 3 spoilers ahead.]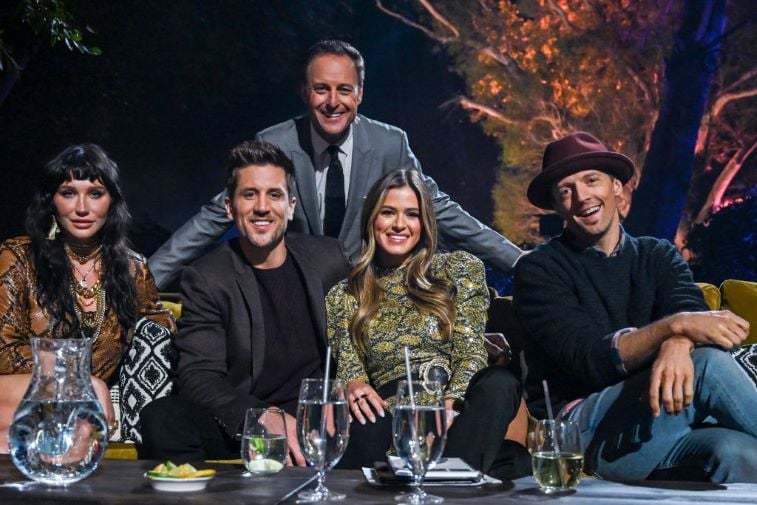 What happened on 'The Bachelor Presents: Listen to Your Heart' Episode 3?
The Bachelor Presents: Listen to Your Heart began with an unexpected round of eliminations. Host Chris Harrison came to the contestants to let them know that they need to decide if they are serious in their relationships or head home. Gabe Baker and Bekah Purifoy went home after the talks.
The remaining seven couples prepared for their first judged performances. Harrison and the producers chose a song for each pair. Of course, there was the usual bit of drama, but then at the intimate concert, fans got their first glimpse of JoJo and Jordan. The Bachelor couple sat cuddled together to watch and critique each song.
Julia Rae and Sheridan Reed performed The Backstreet Boys, "As Long As You Love Me." Then Harrison announced that Rodgers loves the boy band.
"We love that song," Fletcher said. "It makes you feel good. You were loving it and having fun up there, and that makes us feel good as people that are watching you."
The couple critiqued each song, and a few times even finish each other's sentences. They could tell that Sheridan was more into Julia than she was into him. In the end, according to Harrison, the judges chose to send home Ruby Jane Smith and Danny Padilla.
Fans were ecstatic to see Fletcher and Rodgers on 'The Bachelor Presents: Listen to Your Heart'
"I'm just so happy for JoJo and Jordan," one fan wrote on Reddit. "They seem so happy. This is why we watch people."
Numerous fans commented that the only reason they watched The Bachelor Presents: Listen to Your Heart this week was to see the Bachelor Nation couple.
"Only watching for you guys," another fan wrote on JoJo's Instagram photo.
Others added that they are "my favorite bachelor nation couple."
"You two are absolutely gorgeous on the outside, but most importantly the inside," another fan added.
When are JoJo Fletcher and Jordan Rodgers getting married?
"You guys are so beautiful together," another viewer commented. "Can't wait for you two to get married!"
Fletcher and Rodgers have a wedding date set for summer 2020; however, the coronavirus might mess up those plans. In a couples group date with Chris Harrison and Lauren Zima on Instagram Live, the pair gave a few details on possible postponement.
"We would never sacrifice that day to just rush and get it done," Fletcher said. "So, if it can't happen the way we want it to happen, we'll do it when we can."
She added that they could not push it to the fall because of Rodger's job as a sports commentator. So, Fletcher and Rodgers might not get married this summer, but that won't stop them from being one of the Bachelor Nation's favorite couples to see together.
Read more: 'The Bachelor': Chris Harrison is Working On Adding Another Season to Netflix — Which One Could It Be?