'The Bachelor Presents: Listen to Your Heart': It's Only Week One and We Have The First Scandal of the Season
While The Bachelorette may be on hold due to coronavirus (COVID-19), Bachelor fans are in luck. The Bachelor's new musical spinoff The Bachelor Presents: Listen to Your Heart filmed well before coronavirus shut down large gatherings and the whole season is primed and ready to go. Monday night, viewers got to see the first episode of the season and let's just say, if you were worried that this show would be boring compared to the others, the premiere should have definitely put those fears to rest.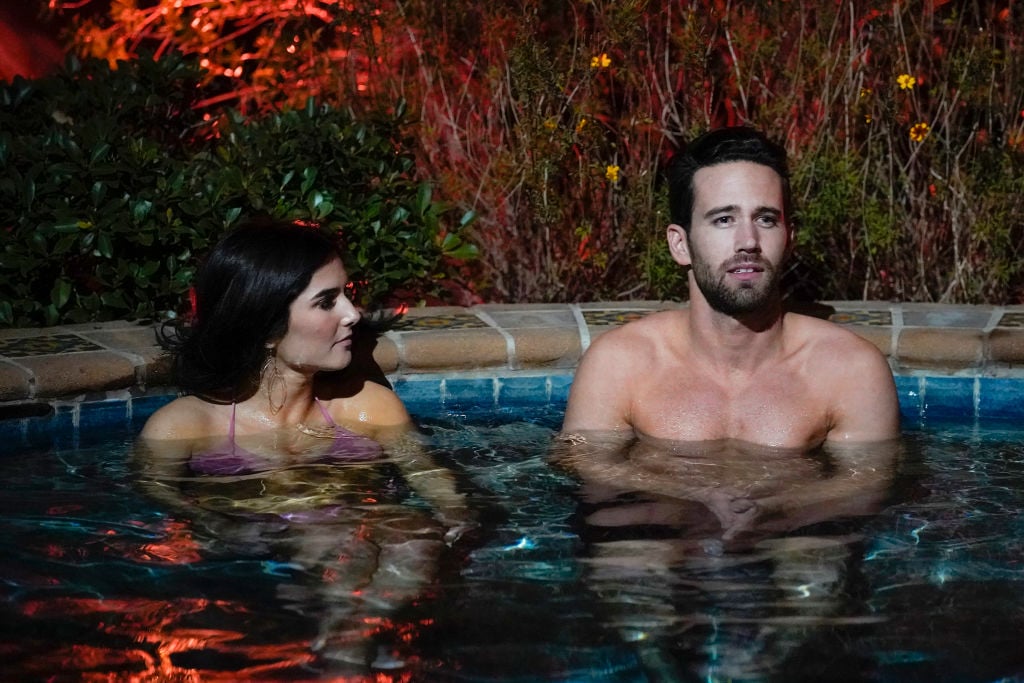 What is the premise of 'Listen to Your Heart'?
So, remember how Jed Wyatt basically went on Hannah Brown's season of The Bachelorette to promote his music and had a girlfriend the whole time he was competing to marry Brown? Well, production really took Wyatt's storyline and ran with it. Now, on Listen to Your Heart, being on the show to sing and show off your musical talents no longer puts you in the "here for the wrong reasons" category.
So, during the six-week season, 20 single musicians are brought to a mansion in LA where they are encouraged to find love or go home. As is the norm in the Bachelor world, certain people will get to go on dates each week and rose ceremonies will determine who is sent packing. The season will include musical guests like Kesha and Jason Mraz and Bachelor stars.
The first scandal of the season
It's not a Bachelor show without some drama, right? So, not even halfway through the show, singer Jamie Gabrielle found herself in a love triangle with Ryan Neal and Trevor Holmes.
"This is like, the last position I thought I would be in," Gabrielle said. "Ryan and Trevor, they're definitely amazing and genuine guys. I'm just so confused. And I've only been here a few hours, man."

But that's not the drama in and of itself. After all, all is fair in love and roses, right? The real drama comes later when rumors of Holmes cheating on his girlfriend pop up in the promo for the next episode.
Apparently, when new contestant Natascha Bessez comes into the mansion, she reveals Holmes' past.
"I actually know Trevor because I'm friends with his ex," she says in the promo. "The lying and the cheating — are you gonna tell Jamie?"
But this isn't the first we've seen of Holmes' cheating ways. In another trailer, the cheating is mentioned as well.
"The lying and the cheating — did that happen?" Holmes is asked. "I told you, there was some emotional cheating," he responds.
What else happened on the premiere?
Matt Ranaudo also got a date card last night. Rudi thought that he would pick her as they had previously had a few conversations but instead, he picked Mel Taevin.
The cocktail party was drama central as Rudi couldn't get over not being picked for Ranaudo's date. Gabrielle was still having a hard time deciding who she was going to go with.
"I'm confused, and I don't trust myself at all," she told the cameras. "It's so hard because I just never want to live with any regrets. I've made that mistake before. I don't want to make the wrong decision and I feel like I always do."
In the end, she picked Holmes but Rudi picked Neal so maybe we will get a chance to see Neal and Gabrielle find their way back to one another.