'The Bachelor': Was Rachael Cast for Matt James to Cause Controversy?
It's not a secret that some contestants are picked and kept on The Bachelor for entertainment. But Rachael Kirkconnell has been making headlines for her past. Some fans wondered if she was cast for Matt James to cause controversy and Rachel Lindsay shared her thoughts on the theory.
'The Bachelor's Rachael Kirkconnell attended an Antebellum party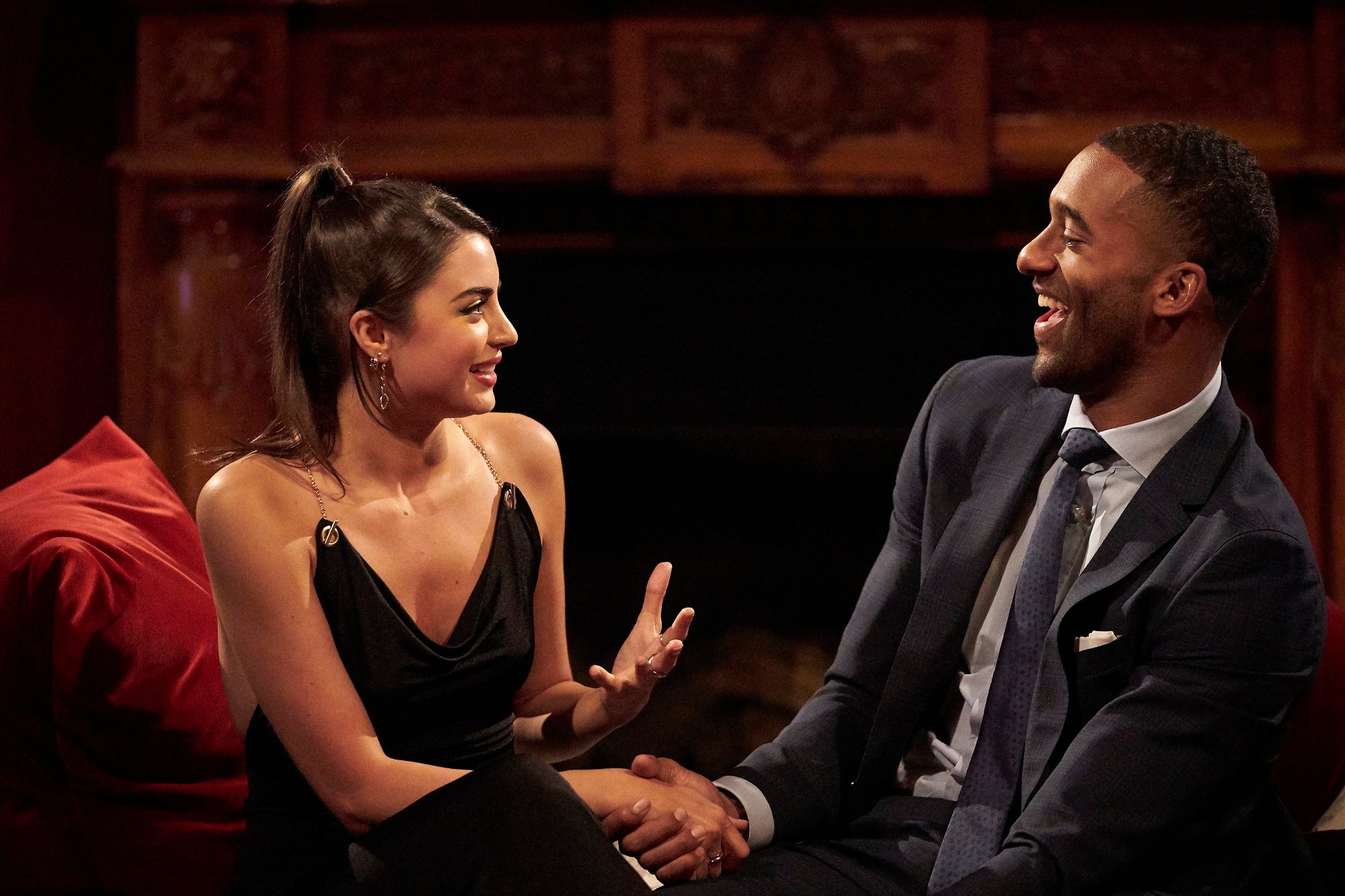 RELATED: 'The Bachelor': Many Current Contestants Release a Joint Statement About Racism, Support Rachel Lindsay
There has been a lot of talk about Kirkconnell on social media since season 25 began. One woman on TikTok accused Kirkconnell of bullying her for "liking Black guys" in high school. 
A photo later revealed Kirkconnell once attended an 'Old South Antebellum' party at Georgia College & State University, thrown by the college fraternity, Kappa Alpha, according to The Sun. She has also been accused of liking pictures of women posing in front of a Confederate flag.
This led to fans calling for Kirkconnell to come forward and address this. However, she remained silent until Chris Harrison tried to defend her and instead said some offensive things himself.
Rachel Lindsay questioned Chris Harrison about the controversy
RELATED: 'The Bachelor': Chris Harrison's Girlfriend, Lauren Zima, Speaks Out After He Steps Away From Franchise
Lindsay asked Harrison about his thoughts and the allegations. "First and foremost, I don't know," Harrison said. "I haven't talked to Rachael about it. We all need to have a little grace, a little understanding, a little compassion."
He went on to ask Lindsay who she is to demand an apology from Kirkconnell. The host claimed the party happened in 2018 so it was a different time. He went on to say he's not the "woke police."
Fans later petitioned to have Harrison removed from the show. He went on to give an apology and so did Kirkconnell.
Rachel Lindsay answers why Rachael Kirkconnell was cast
RELATED: 'The Bachelor': Chris Harrison Is Stepping Down, but Is He Leaving the Show for Good?
Lindsay was previously on The Bachelorette and had a contestant on her season who was called out for racist tweets named Lee Garrett. She did a Reddit AMA after her explosive interview with Harrison and a fan asked if she believed Kirkconnell was cast just for controversy.
"There was a time where I truly wanted to believe that Lee slipped through the cracks but I now know better," she answered. "I really think Lee was casted to add controversy and they also knew I would not pick him."
She continued, "I do think Rachael slipped through the cracks. I do not think they were aware of all the things that she is connected to or that she did."
Another fan pointed out that it was unsatisfying that Lindsay wasn't brought out to confront him on the Men Tell All and asked if she wished it was handled differently.
"I think that is a prime example of what the role of the Bachelorette is in the franchise," she answered. "They want you to be seen and not heard."
She continued, "They did not want me to come off too aggressive or combative…even if it was against racism. I wish I could have said how I felt about him, the fact that he was on my season, and what it meant to cast a racist on the first season of your first Black lead…but contracts lol."
Harrison is taking a step back from his role as host of the show. It's unknown who will temporarily replace him.