'The Bachelor': Rachel Lindsay Returns to Instagram and Received Support From These Current Contestants
Rachel Lindsay is back on Instagram after a brief hiatus from the social media platform. The former contestant from The Bachelor and lead of The Bachelorette temporarily deactivated her account after harassment she received from her Chris Harrison interview on Extra. Lindsay took the heat from fans for calling out racism in the franchise — and she had had enough. But Lindsay made her return to the application, and The Bachelor contestants from Matt James' season showed their support.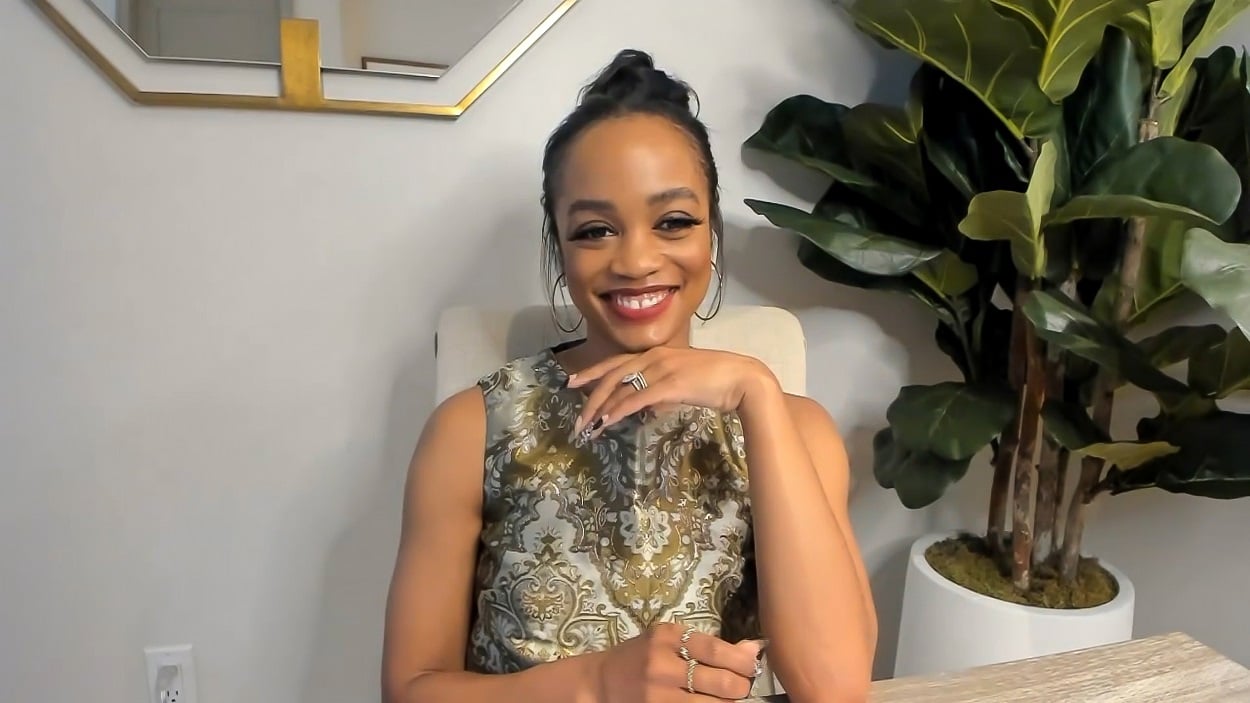 Rachel Lindsay and Chris Harrison interview changed Bachelor Nation
When Lindsay and Harrison had their Extra interview in early February, no one could have predicted that massive fallout that it would have. Harrison requested people give Rachael Kirkconnell grace. She attended a plantation fraternity party in 2018. At the time, Rachael had not yet addressed her behaviors. She has since apologized. But then, Harrison played down the extent of Rachael's offensive social media past. Lindsay let him speak, unedited, for 13 minutes so viewers could hear his real thoughts.
Bachelor Nation found the interview with Harrison disturbing — so much so, that Harrison stepped aside from the franchise and his hosting responsibilities for the near future.
But there were some who didn't find Harrison's — or Rachael's — words and actions troubling. And they vocalized that directly to Lindsay, in her Instagram comment section.
Rachel Lindsay deleted Instagram after media and fan harassment
While Lindsay spoke up for what she believed in and questioned the franchise's host about his opinions, she still received a huge amount of hate for her professionalism. Lindsay wrote about the way she felt the media was misconstruing her words right before she deleted her account at the end of February.
"Headlines and articles that manipulate the truth for clickbait, likes, and comments to increase their social media engagement are knowingly and purposely creating a breeding ground for racism and racists to run free… at the cost of people of color and they don't care," Lindsay expressed in an Instagram story.
After Lindsay disappeared from Instagram, she spoke about the decision on her podcast, Higher Learning on The Ringer. Lindsay said that she was getting a lot of hate on her page from people defending Harrison and Rachael.
She came back to Instagram with this picture and received support
A little over a week after Lindsay deleted her Instagram account, she returned to the app. She shared a picture of sunflowers in a vase on March 6 with an accompanying optimistic caption.
"I want to be like a sunflower so that even on the darkest days I will stand tall and find the sunlight," she wrote.
Contestants currently on Matt's season of The Bachelor immediately flooded Lindsay's comment section with support.
Rumored bachelorette Katie Thurston commented: "All the love coming your way."
Another contestant, Chelsea Vaughn, also showed love to Lindsay.
"So happy to have you back, hoping you are feeling refreshed and loved," she wrote.
Jessenia Cruz, who was also on Matt's season, dropped a supportive message as well.
"This hug might be virtual, but the love is very real," she said. "Welcome back!"'
And Pieper James, who was recently sent home on Matt's season, said something as well: "Welcome back queen, all love and positive energy."
Former bachelorette leads Ali Fedotowsky, Emily Maynard, Desiree Hartsock, and DeAnna Stagliano also made sure to leave a loving comment on Lindsay's post. And we're glad that Lindsay had made her return to Instagram, as well.