'The Bachelor': Rachel Lindsay's Husband Shows Support Despite Angry Fans
Rachel Lindsay has been vocal when it comes to diversity and social justice issues regarding the bachelor franchise for years. The former lead of The Bachelorette has spoken up on her podcasts Higher Learning and Bachelor Happy Hour. Because these topics can be sensitive to some people, she has often been critiqued by those who don't agree with her. After Lindsay had a controversial interview with Chris Harrison in which he defended Rachael Kirkconnell, Lindsay got more fan pushback for Harrison stepping down as host. She then deleted her Instagram account. Her husband, Bryan Abasolo, defended Lindsay and showed support for her on his own page.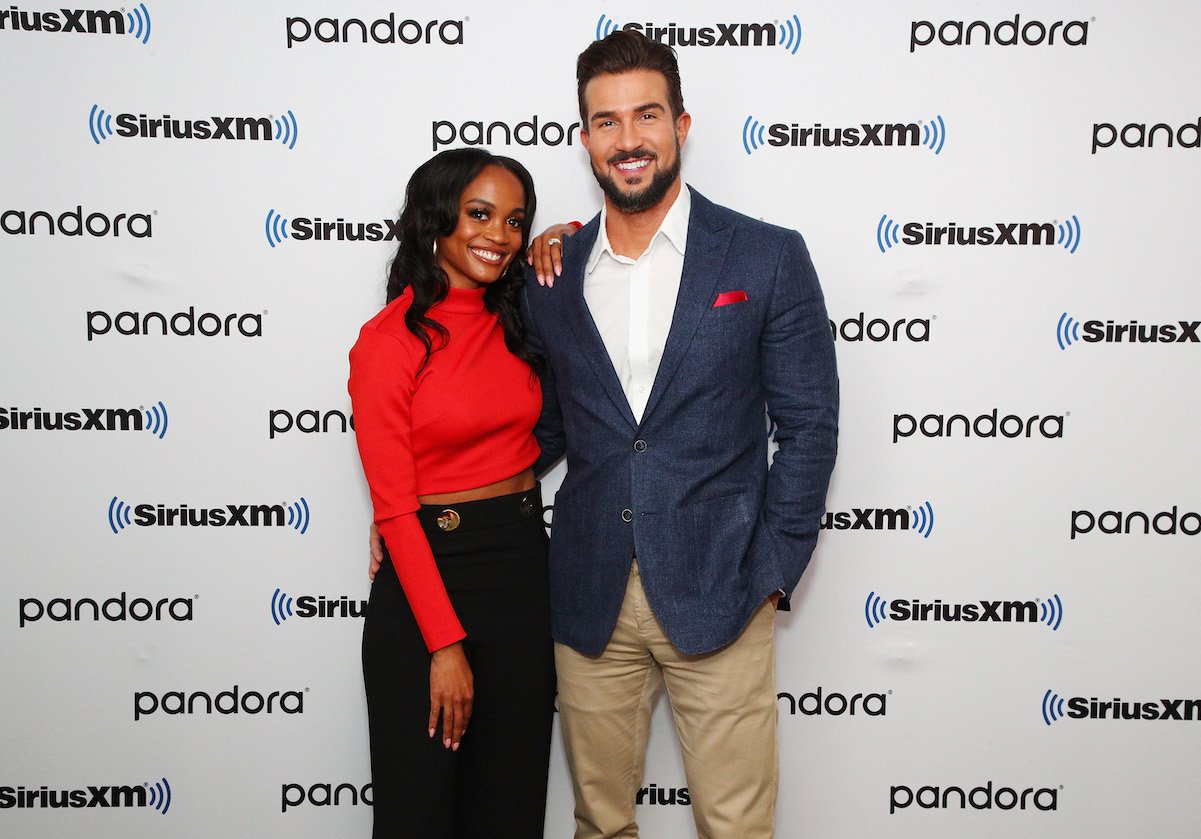 Some fans harassed Rachel Lindsay after the Chris Harrison interview
In an interview with Harrison on Extra, Lindsay questioned the host about his opinions regarding Kirkconnell's social media usage. Harrison spoke freely, defending Kirkconnell's actions. Following the interview, Lindsay spoke out against Harrison's remarks. Similarly to how Lindsay's strong stance on racism has caused some Bachelor Nation fans to vocalize their disagreement with her in the past, this time it happened again.
People took to Lindsay's direct messages and commented on her page expressing their disagreement with the former lead. They commented how they thought Harrison stepping down was Lindsay's fault. Lindsay, who has become somewhat of an unofficial spokesperson from within the franchise for critiquing Bachelor Nation, had enough.
She deleted her Instagram account because of messages she received
The strong-minded television personality finally was done with all of the harsh opinions.
"Headlines and articles that manipulate the truth for clickbait, likes, and comments to increase their social media engagement are knowingly and purposely creating a breeding ground for racism and racists to run free…at the cost of people of color and they don't care," she posted on her Instagram story on Feb. 26.
That Instagram story was the last thing fans saw on her page before she deleted her account the same day.
Rachel Lindsay's husband Bryan Abasolo supported her on Instagram
Abasolo, who won Lindsay's season of The Bachelorette and is now her husband, took to Instagram. He defended his wife after she deleted her account.
He shared a picture of the two of them hugging together in an adorable shot.
"I love you, I appreciate you, I believe in you and I just wanted to let you know how proud of you I am," Abasolo wrote in the caption. "Keep going and never stop being you and fighting for what's right."
This wasn't the first time Abasolo came to Lindsay's defense publicly following the interview. He spoke out against Harrison on a Feb. 15 episode of his podcast with Mike Johnson, Talking It Out.
"I thought what he said was irresponsible, it was hurtful," Abasolo expressed. "It was flat-out unacceptable. Now, we're not talking about past contestants of this show who pretty much come and go, right? We're talking about the face of this franchise, 20 plus years of this man being on our television screens. On a show that's been needing a diversity makeover for years, I don't think anybody's gonna deny that."
"Chris comes out and says this, and to me, it made me wonder, 'Damn is this how everybody at the top feels,'" Abasolo continued on the podcast. "Is this the sentiment that we're trying to overcome still in 2021? It's like, 'I don't know, you tell me Chris, because you said it with your whole chest in that interview.'"
Even though Lindsay may be taking a social media break, one thing is clear: Abasolo defending her is here to stay.