'The Bachelor': Relationship Expert Weighs in on Matt James and Rachael Kirkconnell During the Finale
Matt James shocked the world in the finale of The Bachelor Season 25. Two women remained: Rachael Kirkconnell and Michelle Young. Showbiz Cheat Sheet connected with relationship expert Rori Sassoon immediately after the finale to get her thoughts on James decisions regarding Kirkconnell.
[SPOILER ALERT: Spoilers ahead for The Bachelor Season 25 finale.]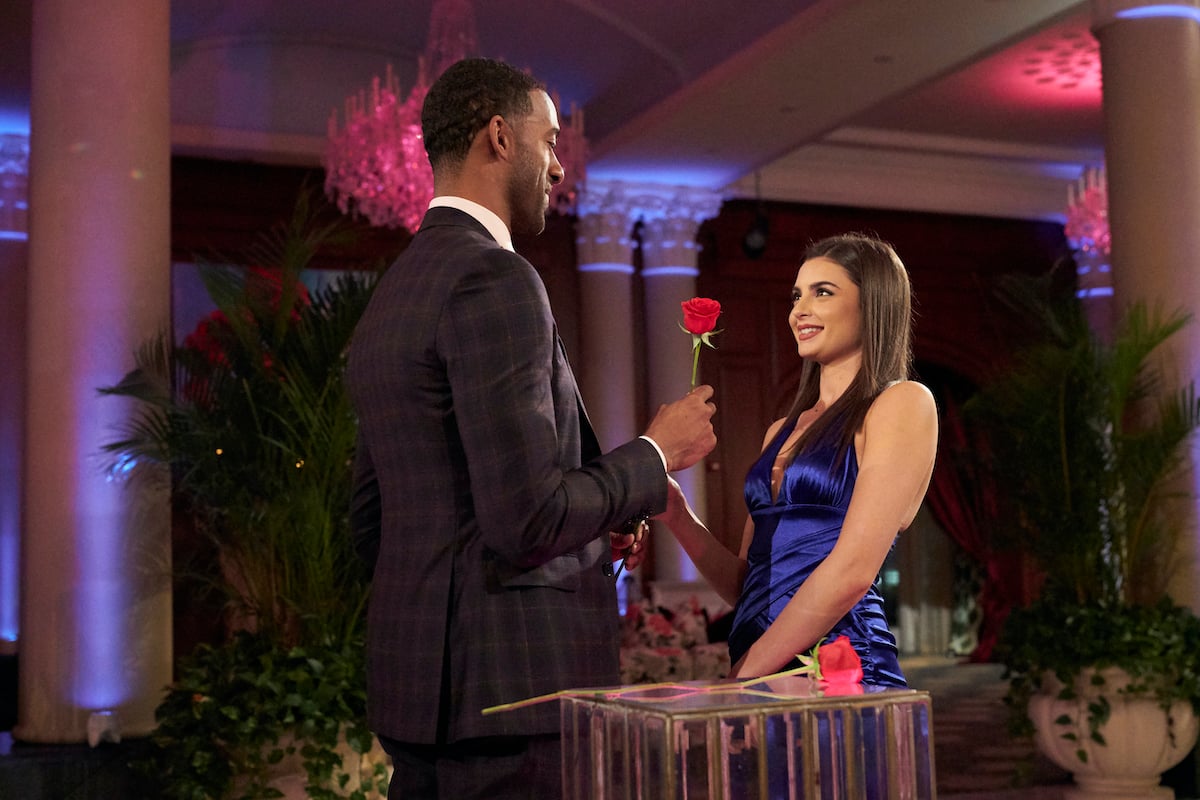 Matt James almost left Rachael Kirkconnell hanging during 'The Bachelor' finale 
As predicted by franchise blogger Reality Steve, the show tried to make it seem like James and Kirkconnell weren't going to make it to the final rose ceremony. But despite James canceling his date with Kirkconnell after breaking things off with Young, James chose Kirkconnell in the end.
And, just as Reality Steve predicted on March 4, James did not propose to Kirkconnell. There was a final rose ceremony, but it didn't end in an engagement. Throughout the episode, James struggled with the idea of getting engaged after a difficult conversation with his mom about loving someone and being in love with them.
Ultimately, James made the decision to give his heart to Kirkconnell. She was willing to accept that James didn't want to get engaged, but instead continue exploring their relationship. Unfortunately, James and Kirkconnell's relationship didn't last.
Rachael Kirkconnell's past led to her and Matt James' breakup
Despite what promises they made each other during the finale, the 24-year-old graphic designer and the bachelor are no longer together. As reported by HuffPost in February 2021, Kirkconnell and James' breakup was caused by the photos of Kirkconnell at an antebellum-themed fraternity formal from 2018. What's more, Kirkconnell "liked" photos with Confederate flag imagery.
"While there are still several episodes left of the season, it is important that I take the time to address the troubling information that has come to light since we wrapped filming," James said on Instagram when the news of Kirkconnell spread. James said learning of her actions as well as The Bachelor host Chris Harrison's conversation with Rachel Lindsay was "devastating and heartbreaking." 
Their breakup was reaffirmed during the "After the Final Rose" special.
A relationship expert isn't surprised Matt James didn't propose to Rachael Kirkconnell during 'The Bachelor' finale
In Sassoon's opinion, James was always going to choose Kirkconnell. Speaking with her previously, Sassoon told Showbiz Kirkconnell and James speak the same language.
"He wants to fall in love; she wants to fall in love," said Sassoon. "I think that [Kirkconnell is] very feminine and soft. [She] lets him be the man and take the lead." The two shared the same values, which was a main point of attraction for James.
RELATED: 'The Bachelor': Why Men Have an Easier Time Dating on the Show, According To Relationship Expert Rori Sassoon
After the finale, Sassoon maintained that same point. "He obviously liked Rachel much more than he liked Michelle," Sassoon said on the phone. "I definitely think he felt more of a connection with her than any of them."
Sassoon maintains Kirkconnell was true to herself through the entire process of dating on the reality show. But in Sassoon's opinion, James' lack of a proposal wasn't surprising.
"I felt like he was so influenced by his mother," Sassoon concluded. Overall, she wishes that conversation went more positively. Overall, Sassoon wishes James could realize he can have a relationship that's entirely different from the one his parents had.