'The Bachelor' Sean Lowe Dishes About Meeting Andrew Garfield – and Did He Take Gwyneth Paltrow's Marital Advice? (Exclusive)
The Bachelor Sean Lowe made Spider-Man: No Way Home's Andrew Garfield's dream of meeting him come true … and he laughed about being pretty starstruck himself.
Garfield once said that he'd be "overwhelmed" if he could ever meet Lowe because he was a big fan especially during Lowe's season of The Bachelor. Lowe told Showbiz Cheat Sheet that he met Garfield during a chance encounter two weeks ago in New York City. And shared that the actor couldn't have been nicer.
How did Sean Lowe from 'The Bachelor' and Andrew Garfield from 'Spider-Man' finally meet?
"So my wife and I decided to take a trip without the kids, which we never do," he shared. "It was for my birthday. So we went to New York. And it just so happened we were waiting in the lobby, waiting for our Uber to show up, and we see all these paparazzi outside having no idea why they were there."
"And then [wife] Catherine is like hitting me on the shoulder, saying, 'Andrew Garfield is over there!' But like, I don't want to bother people," he recalled. "Like, you know, I don't want to go over and make small talk or ask for a picture. So she was saying, 'You have to go talk to him.' And I said, 'No, no, no, I'm not going to bother him.'"
But she was like, 'No, you have to! Remember that one article a long time ago when he said he'd freak out if he met you?' So I said, oh OK. I went over there. He could not have been nicer."
"And it was funny because I went over there and said, 'Hey, Andrew.' And he said, 'Hi.' And I could tell like, maybe a second or two after that he realized who I was and his eyes got real big. And he was like, 'No way!' So it was a really cool moment. I'm glad my wife made me say hello. He could not have been a nicer guy." Lowe shared a photo with Garfield on Instagram.
And about that marital advice from Gwyneth Paltrow …?
Lowe also had a good laugh recalling how actor Gwyneth Paltrow ended up weighing in on a big Pop-Tart debate he had with his wife on Twitter. A meme account resurrected a funny 2018 Twitter "smackdown" between Lowe and his wife, which prompted Paltrow, who is obviously a fan of The Bachelor to comment.
Lowe joked, "My wife bought off-brand Pop-Tarts. Sometimes I think she's acting mouton purpose. Don't know why she's trying to drive me away but I'm not going to budge. I'll love her through this. The sis the raw and often ugly side of marriage people don't want to talk about."
His wife handed it right back at him: "They're organic for our child you man baby." 
But then Paltrow weighed in and wrote, "@seanlowe0985 you guys need to watch #sexlove&goop on @netflix we have a wolverine claw that might get you through this." 
When asked about the comment, Lowe chuckled. "I saw that too! I didn't think Gwyneth Paltrow would be chiming into my Pop-Tart commentary! But it's good to see that she has an opinion." So did the couple take her advice? "It was kind of sexual in nature," he laughed. "I think we laughed at it and kept moving."
What does the Lowe family have planned for the holidays?
Speaking of moving, the Lowe family has been moving nonstop, renovating their home, and preparing for the holidays. Lowe said when it came to renovations, he made sure Whirlpool appliances were installed.
"Several years ago, we bought a fixer-upper home not too far from where we live in Dallas. And so this past year, we decided we were going to finally get around to renovating it. And so who else would we call other than our great friends at Whirlpool?"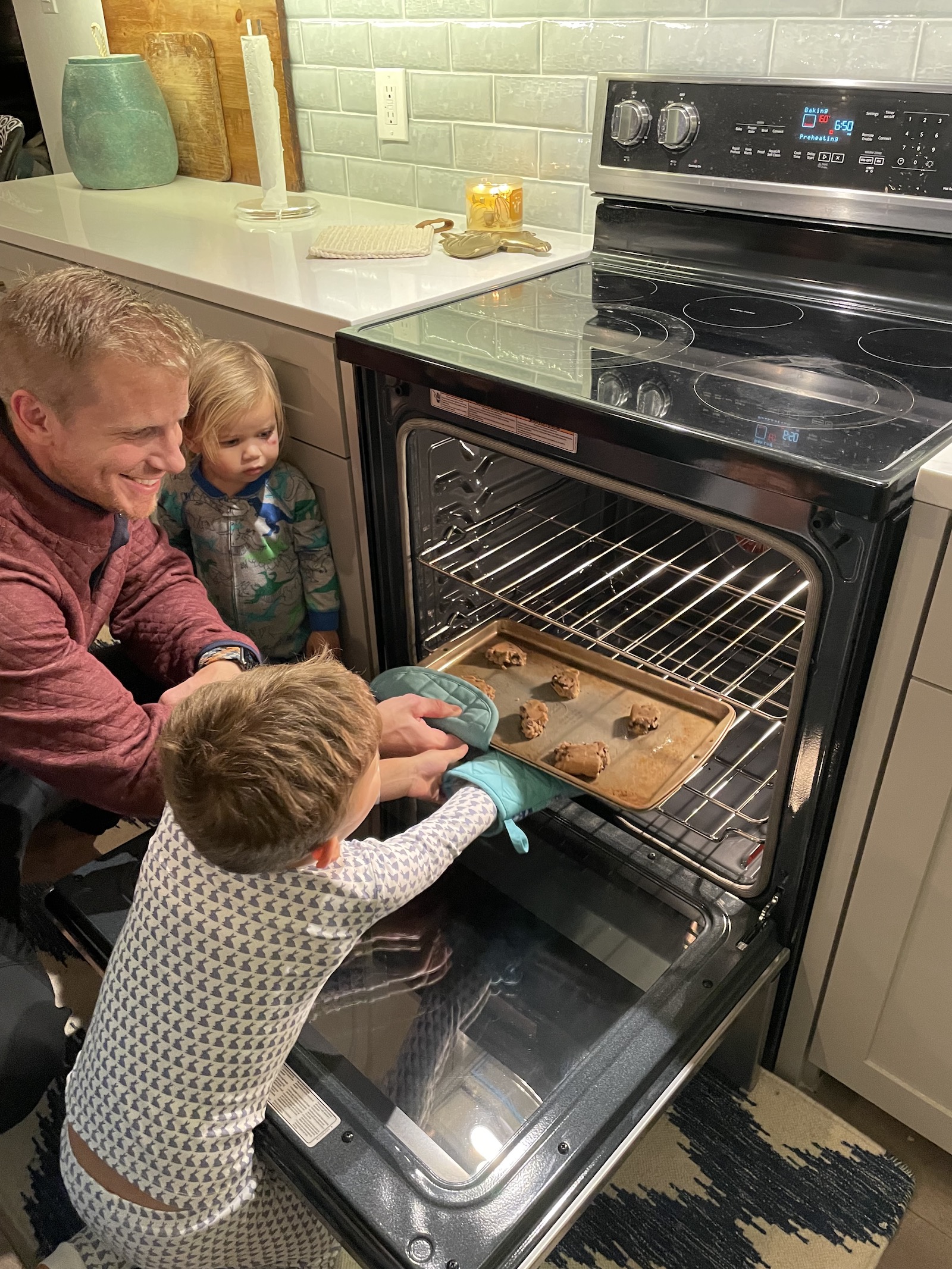 "Not only because they've been great to us in the past, but because we've used their appliances and we trust them," he continued. "Like there's no bigger name in appliances than Whirlpool. [Plus] they're just beautiful appliances as well. So yeah, we were ecstatic because there's such a great brand to work with."
And with a brand he knows he can trust, the family can relax and welcome the holidays. "So the holidays for us at the Lowe house normally means like stay in your pajamas as long as you can," he said. "Put on a good Christmas movie and just relax. Take it all in and just hang out as a family. So that's exactly what we're going to do."
RELATED: 'The Bachelor': Matt James Revealed He Built Jell-O Pools and Worked Out Prior To Season 2