'The Bachelor' Season 22: Everything to Know About Bekah Martinez
There are a few ladies standing out in Season 22 of The Bachelor. Arie Luyendyk Jr. is still trying to find out who he has the most chemistry with, and fans are trying to figure out who to root for. One of the most polarizing women has to be Bekah Martinez or Bekah M.
Although there are some other ladies in the house ruffling other people's feathers, we know Martinez will also do the same. In previews we see her get asked point blank how old she is. But her age isn't the only reason why she has been noticed. She is a first when it comes to her hairstyle and amazing when it comes to social media. She seems the type to not hold back to say what she is thinking.
So what should you know about Fresno, CA native? Here are eight things to know about Bekah Martinez.
1. She is one of the youngest contestants to ever be on the show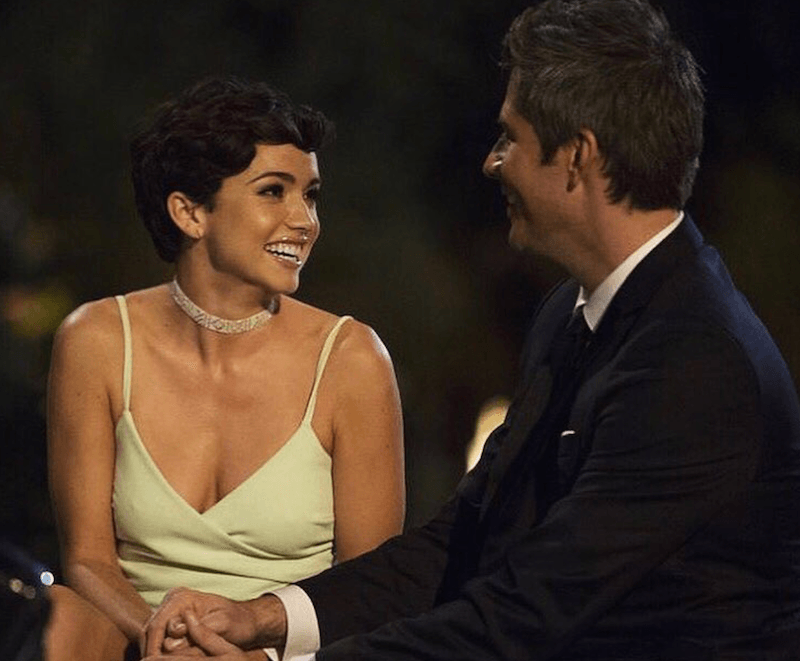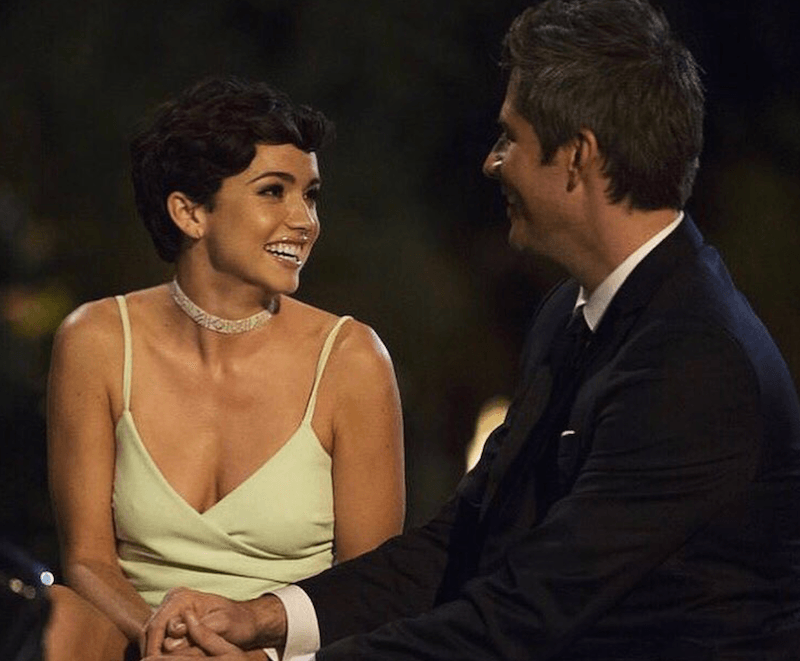 It seems like Martinez's age is going to be a big plot point of the season. That's because her age isn't included in her bio like all the other contestants, and in the previews, we see her get grilled about how old she is. So what is the answer to that question?
She is 22 years old, according to Reality Steve. This doesn't actually make her the youngest contestant since there have been a few contestants who were 21 before her. But this might be a big plot point this season given Luyendyk Jr. is 36 years old.

2. She is the first to rock a pixie haircut on the show
The Bachelor has been pretty slow at changing its formula, and that includes casting women that don't have long cascading hair. Yes, Martinez's hairstyle is a first after 21 seasons. No wonder she stands out so much this season.

3. She isn't ashamed of body hair
The young contestant's hair on her head isn't the only thing people have been noticing. She also previously posted a photo on Instagram showing off her armpit hair with the caption, "Am i a good feminist yet? 😉 (all you haters will be happy to know i got them waxed last week)."

4. She is a nanny
Martinez put nanny down as her occupation for her bio which is kind of unique. We got to see her at her job in the first episode with the 15-month-old she helps take care of. However, this isn't the only job on her resume.
It was later reported that her mother claimed "Martinez had reportedly come to Humboldt County to work on a marijuana farm" according to North Coast Journal. She also has a third gig.

5. She has also done some modeling
Like other women on this season, she also has the side gig of being a model. She has some impressive shots on her Instagram, including one that is giving major Flashdance vibes.

6. She seems adventurous
Her Instagram isn't just about modeling photos and body hair. She also has posts of her doing adventurous things like rock climbing, jumping off heights while swimming, and more.
That's not racing, but she might be an adrenaline junkie like Luyendyk Jr.

7. She is actually against fur and eating meat
In the second episode, you can spot Martinez in a huge fur coat. However, she took to Twitter to set the record straight with "FYI THE FUR IS FAUX PEOPLE!! i don't eat OR wear animals

."
She then followed up with "frick. i forgot about leather. i do love a good leather boot."
8. She was reported missing while she was on the show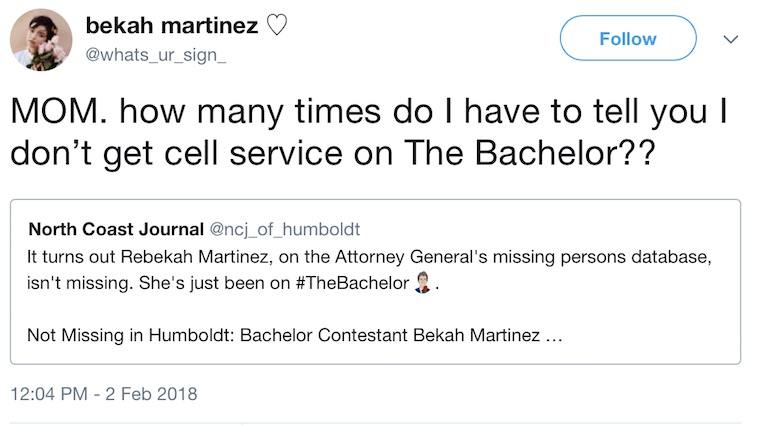 Martinez was reported missing from Humboldt County on the California Department of Justice's website. This is because her mother hadn't heard from her since Nov. 12, 2017, and so she reported it on the 18th, according to North Coast Journal.
Public Information Officer Samantha Karges came across images that looked like Martinez on Instagram and later was able to confirm with Martinez that she was OK on the phone. The reality star tweeted, "MOM. how many times do I have to tell you I don't get cell service on The Bachelor??"
Follow Nicole Weaver on Twitter @nikkibernice
Check out The Cheat Sheet on Facebook!