'The Bachelor' Star Rachel Recchia Tells Susie Evans and Gabby Windey 'I'm Really Sorry, In Advance' Regarding Fantasy Suite Date
'The Bachelor' with Clayton Echard is nearing its end, and tensions are high. A recent clip shows Rachel apologize to Susie and Gabby about her time with Clayton in the Fantasy Suite.
This season of The Bachelor with Clayton Echard has been a rollercoaster ride. While the drama between the ladies took the front seat for the first half of the season, Clayton's connection with a few different women remained front and center for the second half. Fans know Clayton confesses he was intimate with more than one woman in the Fantasy Suites, which clearly breaks some hearts. Now, in a recent teaser, it looks like Bachelor frontrunner Rachel Recchia issues an apology to Gabby Windey and Susie Evans.
[Warning: This article contains spoilers for Clayton Echard's season of The Bachelor.]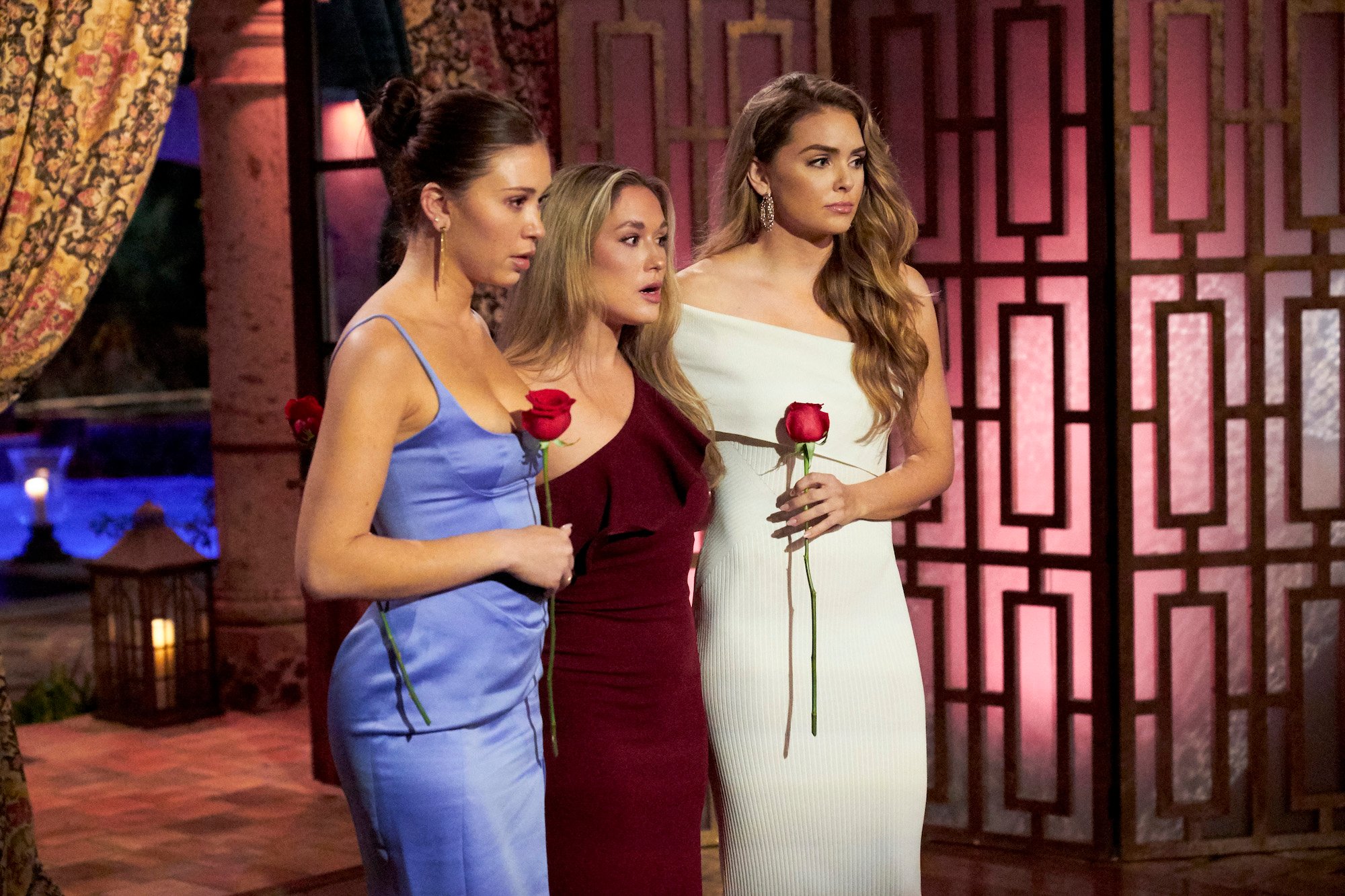 The three remaining ladies on this season of 'The Bachelor' travel to Iceland with Clayton Echard
The Bachelor stars Rachel, Gabby, Susie, and Serene took Clayton to their hometowns to meet their friends and family in the March 1, 2022, episode. Ultimately, Clayton chose to send Serene home after their date. In a heartbreaking moment, Serene asked if Clayton decided to send her home because he didn't feel like he could reciprocate her feelings. This led to a tremendous realization from Clayton, which he recently discussed.
However, Clayton takes all three women to Iceland for their Fantasy Suite dates in the remaining episodes. One scene, in particular, continues to raise eyebrows about the Fantasy Suite dates, and that's who Clayton gets intimate with during their alone time. Clayton recently attempted to backtrack a little regarding his statement and told fans not to jump to conclusions. Bachelor blogger Reality Steve wondered if Clayton didn't necessarily mean sex when he used the term intimate, but audiences won't know for sure until they see the scene for themselves.
'The Bachelor' star Rachel Recchia apologizes to Susie Evans and Gabby Windey
The final three women of Clayton's season of The Bachelor thankfully stayed drama-free throughout their time on the show so far. A recent teaser might undo that, however. In the clip, we see Rachel Recchia return to the hotel room she shares with Gabby and Susie. The tension in the room is high, and all the ladies seem uncomfortable.
Before Rachel gets back, Susie tells producers, "To me Clayton's like the person that I want to get engaged to, but I don't know how Clayton feels about Rachel. Obviously, their relationship probably reached new levels. It's possible they had sex; it's possible he told her he loved her. That would suck."
Upon her return from the room, Susie asks Rachel how the date with Clayton went. Rachel replied, "So we went in a volcano, like in a cave. I know this is really awkward and I respect you guys so much. I'm really sorry in advance. I think it's just going to be a tough week for all of us, just seeing all of us come home."
Rachel's apology caught Susie off guard, and a look of confusion crossed her face. Later, tearfully, Susie says to the cameras, "You know, I do have high hopes, but it just feels like it's too good to be true."
The 'Women Tell All' episode airs tonight on ABC
Fans won't get to see Clayton's journey with the final three ladies of The Bachelor, Susie, Rachel, and Gabby, continue tonight, March 7, 2022. Tonight's episode is the ever-eventful "Women Tell All" where former contestants return to the stage to talk about their experiences with Clayton. However, the episode showing the beginning of the Fantasy Suite dates will air on March 8, 2022, on ABC.