'The Bachelor': These 7 Champagne-Gate Inspired Memes Will Have You Rolling On The Floor Laughing
On Monday night, the most cringe-worthy moment in The Bachelor history went down, and Twitter is here for it. Fans went above and beyond in their creation of the most hysterical memes to depict the Champagne-Gate of 2020. Let's take a look at the top seven and what happened between Hannah Ann and Kelsey that inspired these moments.
[Warning: The Bachelor Season 24 spoilers ahead]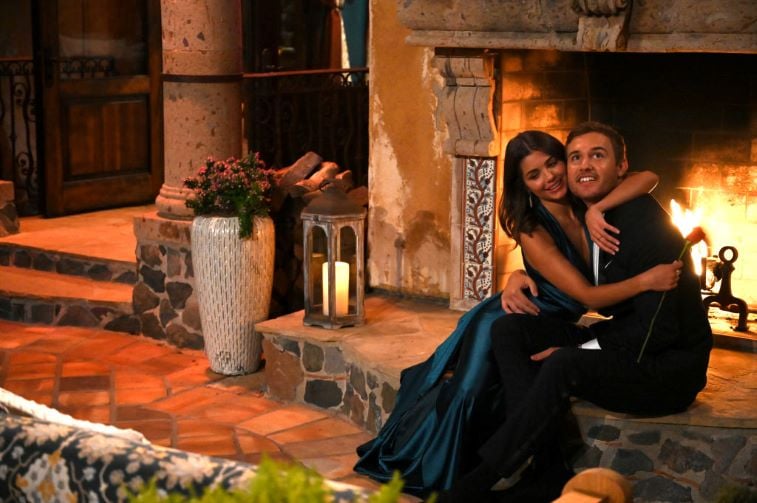 Here's a quick recap of the Champagne Gate drama on 'The Bachelor'
Kelsey brought a bottle of Dom Perignon from her home in Iowa to open with Peter Weber on the first night. She did not get a chance to pop the bubbly with him, so she planned to open it during Monday night's episode.
Miss Iowa sets up her champagne near the fireplace and sits down with the other ladies to wait for her turn with Weber. Moments later, Hannah Ann and the bachelor sit down next to Kelsey's bottle and then we hear it pop.
What ensues next is more than even the producers could have hoped for. Kelsey screams at Hannah Ann, who seems pretty clueless to the entire thing. Peter tries to console Kelsey, but when he opens another bottle of champagne with her, things take a another turn.
"I'm not a classy bitch all the time," Kelsey says before she chugs the champagne right from the bottle.
Karma strikes Kelsey after she screams at Hannah Ann
"I've never before seen karma of being a cray crazy so clearly executed," reads the caption.
Fans thoroughly agree. No one could have predicted the champagne bottle exploding in Kelsey's face right after she called Hannah Ann a "snake."
"I loved, loved, loved this," commented one fan on Twitter. "After she made such a big deal over her champagne bottle and couldn't move on, this was exactly Karma's answer to her obsession."
The emotional support cow makes another appearance
"You know who wouldn't have started #ChampagneGate," reads the caption under a picture of Ashley P.
This meme is a throwback to Jenna, who brought a real cow for her introduction with Weber. It was so random, but now it makes for a great laugh.
Baby Yoda meets 'The Bachelor'
Our favorite little green creature is the perfect meme to the ridiculous Champagne Gate that went down. Baby Yoda's adorable shocked face is exactly what everyone in Bachelor Nation was thinking when they heard Hannah Ann pop Kelsey's bottle of champagne.
Kelly's reaction is every fan at home
The entire champagne crisis will live on in The Bachelor history as the most cringe-worthy, yet most hysterical drama ever. Kelly's reaction is every viewer glued to their TV, watching the whole thing go down.
Fans give major props to the production team on this one
The viewers at home know that The Bachelor production team had something to do with the champagne scandal. Fans speculate that the producers probably directed Hannah Ann and Weber to head over to Kelsey's champagne just to add some drama to the show.
Although, they never expected what happened next. Who knew that Kelsey would drink right from the champagne bottle?
Hannah Ann's Reaction is priceless
The couple-second gif of Hannah's reaction when Tammy tells her what just happened is pure gold. Some fans believe this shows that Hannah is super easy going; however, others feel it makes her conniving. Either way, it is hysterical.
The classic woman screaming at a cat meme takes number 1
Taylor Armstrong from The Real Housewives of Beverly Hills is the star of this viral cat meme which began in May of 2019. In the photo, she is part of an emotional confrontation with Camille Grammer, while Kyle Richards tries to calm her down, according to Oprah Magazine. 
When placed next to the cat who also looks like he is screaming, the meme quickly went viral. The Bachelor champagne crisis took it to a whole new level! Special is even spelled wrong to emphasize how intoxicated Kelsey was when she was screaming at Hannah Ann.
If you want some more laughs, head to twitter and search for #champagnegate. The endless memes and gifs will keep you busy while we wait for the next episode of The Bachelor to air on Jan. 20, 2020, at 8 p.m. ET on ABC.