'The Bachelor': Victoria F. Responds to a Fan Who Says She 'Cries Everytime They Show [Her]'
Victoria Fuller is one of the more controversial contestants competing for Peter Weber's heart on his season of The Bachelor. Ever since she posted about the "rumors" and "lies" being spread about her, much of Bachelor Nation has been wary of her.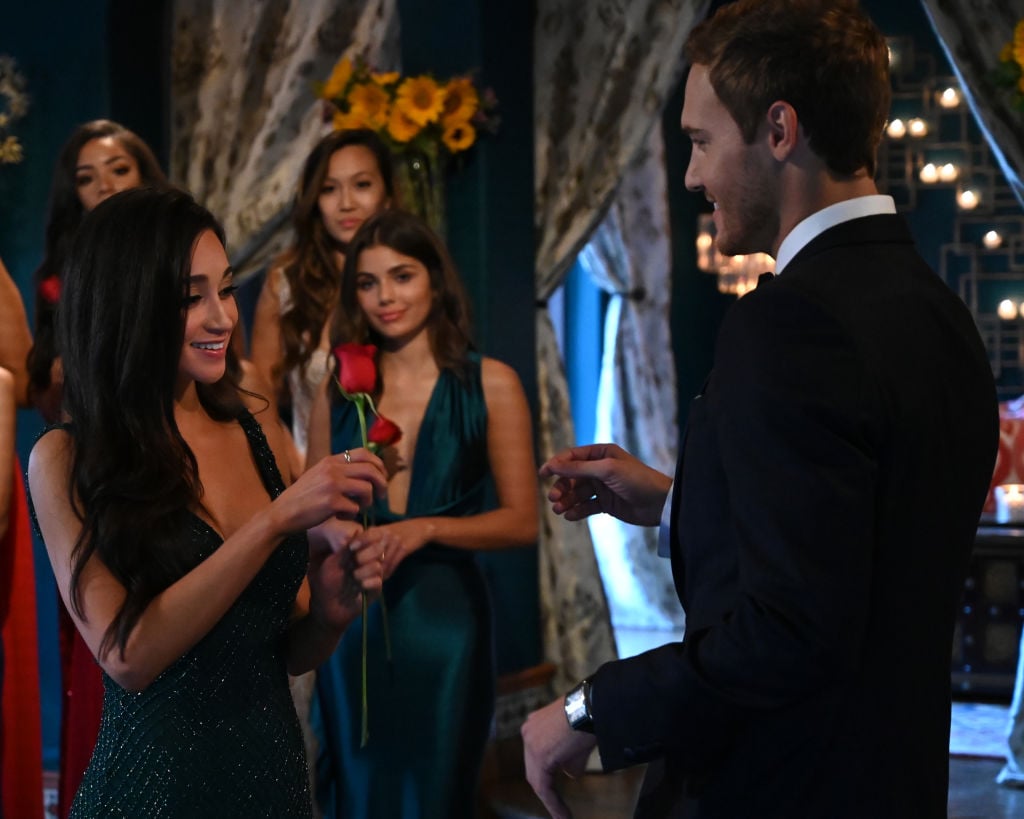 Victoria F. has had an emotional 'Bachelor' journey so far
Victoria F. has earned the reputation of crying or "freaking out," as the fans say, quite a bit throughout her time on the show.
During the fourth episode of The Bachelor, Victoria F. scored a one-on-one date with Weber where the two enjoyed an empty amusement park and a private concert by Chase Rice (Victoria F.'s alleged ex). Before the amusement park, Victoria F. and Weber went on a little plane ride (Weber's signature move as of late). She told the producers she was nervous about heights just before they took off. She "freaked out" at the prospect of possibly having to sky dive (she didn't have to). Then, after the Chase Rice portion of their date, when Victoria F. told Weber she previously dated the singer, she ran off crying.
Fans also haven't forgotten about Victoria F.'s meltdown during the fashion show group date.
One fan called Victoria F. out for crying on 'The Bachelor'
Victoria F. posted a photo to Instagram recently of her in a bikini, walking on the beach. "s/o to warmer weather," she captioned the photo.
One fan made a comment about how often she cries.
"Are you the one who cries everytime they show you on the bachelor lol" asked the fan.
"yup," she replied.
The question elicited quite the reaction from Bachelor Nation. Several fans came to bat for Victoria F.
"the only pure hearted girl i see on reality tv. youre priceless hun," replied one fan to the comment.
"but still my absolute role model," wrote another.
"They did y'all wrong! So awkward and not cool," commented another.
"yeah but they all cry?" pointed out another fan.
"it's ok.let her be her own person.she ain't harming no one.at least she real n not like some of the other girls…" wrote another.
"yea she cries.shes a real woman🌼 she is so real & absolutely 100% BEAUTIFUL🌼even without make up," commented another Victoria F. fan.
There were some non-Victora F. fans in the bunch, though, too.
"she's the one that cries when Alayah tells TWO girls that she dated Chase Rice and she thought no one would ever find out VICTORIA IS A 12 YEAR OLD," commented one person.
"yup she cries in front of Peter then attacks women when Peter is gone. 2 faced," wrote another.
Plenty of contestants get emotional with each and every new season of The Bachelor. The women are running on little sleep, they're drinking a lot, and they're constantly put in various stressful scenarios with the hope of making exciting television. It seems to us like it'd be near impossible to go a whole season without crying.
Read more: 'Saturday Night Live' Absolutely Roasts 'Bachelor' Peter Weber, Victoria F., and Other Contestants