'The Bachelor': Victoria Fuller Has Another Apology for That 'White Lives Matter' Fiasco but Fans Say 'Hard Pass'
Season 24 of The Bachelor has been one for the books. Peter Weber's down to the final four girls, quickly approaching the hometown episodes. In the wake of the recent controversy with contestant, Victoria Fuller, another apology surfaced. Her hope is for "grace" from Bachelor Nation, viewers, and probably Weber's mom.
[Spoilers ahead for The Bachelor Season 24]
It doesn't matter what Victoria Fuller says now — fans don't want to hear it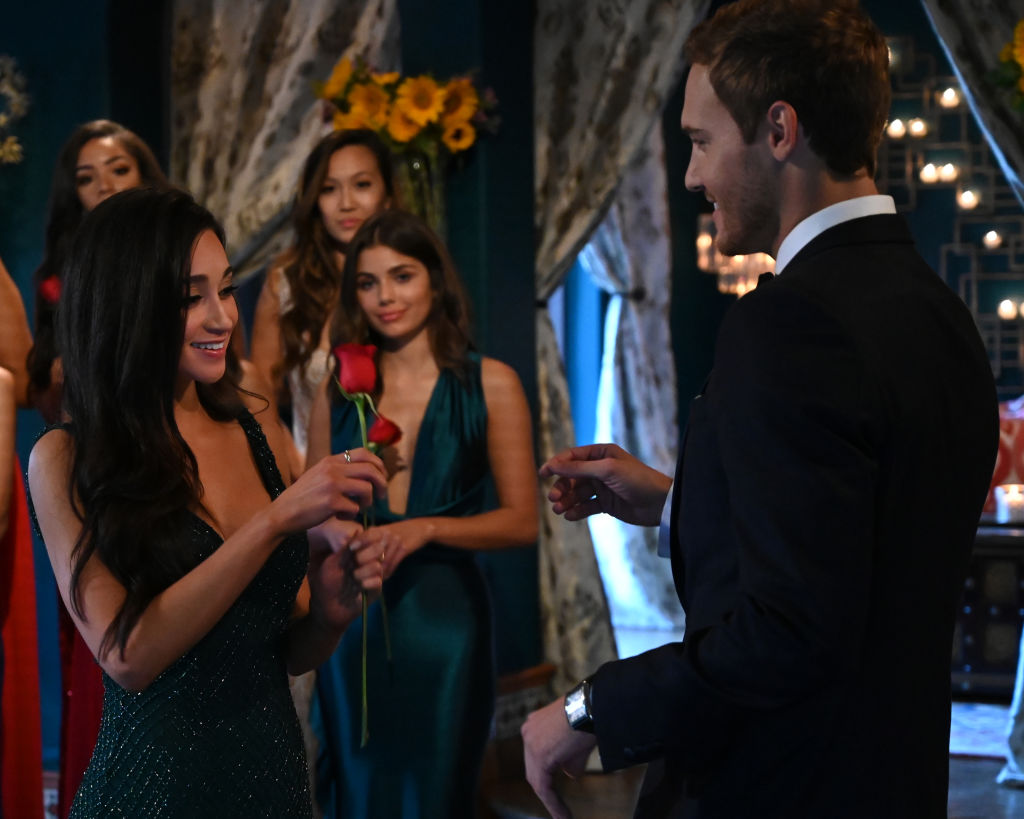 Victoria Fuller may still be in the running for Peter Weber's heart, but viewers of the long-running franchise show aren't as giddy as the pilot himself.
After a surprise revelation that Victoria's modeling days included a "white lives matter" campaign — for "We Love Marlins" which catches and releases white and blue marlins — she apologized. However, some questioned the sincerity, taking to Victoria's Instagram page to tell her so.
Victoria denied much of what's been said about her, and her past, but many still point to the use of her involvement with the inappropriate slogan, regardless of the intentions. Cosmo even pulled the cover she and Weber won during that awkward group date.
"Victoria F's half-a**ed apology gonna sound like: "everyone makes mistakes. I'm deeply sorry for any pain I may have caused. i don't see color. we need to come together and stop hating on each other," this fan tweeted.
"I know they are holding on this Victoria F drama but her apology is going to be like "I don't think that way I had no idea, that's not who I am," this fan said.
At this point, can Victoria offer an apology Bachelor Nation will accept? She made an attempt (again).
What did Victoria say this time?
To give credit where credit is due, Victoria took to social media Feb. 15 to issue another apology via a screenshot of her Notes app. She posted it to her Instagram story where thirsty fans made sure to get receipts.
"I would like to sincerely apologize for my involvement with We Love Marlins. My intention was only to support an endangered species," she said via TMZ.
She continued, "I want to say that I unequivocally reject the beliefs of the white lives matter movement or any propaganda that supports racism of any kind. I would like to specifically apologize to people of color that are affected by racism daily."
And finally, Victoria ended by saying, "It was never my intention to add fuel to the racial fire in this country. This has truly been an educational moment for me and I hope to be a voice against racism moving forward. I hope I can be shown grace as I navigate through this process."
Some question the timing of the apology
Some think another apology just before the hometown visits feels a little calculated knowing she's about to meet Weber's parents and he will meet hers.
TMZ also caught the pair back in Oct. walking with Victoria's dog, Buxton. They were apparently in Virginia Beach, which is Victoria's alma mater, where they embraced and shared a kiss after watching a live band in a local bar.
Some took to Twitter where they called the Medical Sales Representative "phony." A few said she should apologize for "sleeping with married men." Those sentiments allude to the messages Reality Steve said he received about the Bachelor contestant suggesting she broke up marriages.
"So I looked. And I found. And I'm not talking about this happening once, or even twice. The info I was receiving was talking about her having done this three or four times," he wrote.
Victoria denied the accusations, calling them rumors. By now, viewers of Weber's season seem to have already made up their minds. Hannah Brown even called Victoria "annoying," while Weber's ex-girlfriend recently spilled major tea about who the Virginian is behind-the-scenes. It's a lot to unpack.
The point is, Victoria may get through hometowns, and even the Fantasy Suite, but likely isn't who Weber chooses in the end and many are [more than] good with that.
The Bachelor airs Mondays at 8 p.m. on ABC.