'The Bachelor': Victoria Larson Thought Ashley I. Was 'Kind of Rude'
Matt James' season of The Bachelor is in full swing, which means the group dates are starting to get wild. During a recent group date, the women wrote sexy stories for James. Bachelor Nation's Ashley Iaconetti was there to help the women pen their erotic scenes, but Victoria Larson didn't find Iaconetti's advice helpful. In fact, Larson thought Iaconetti was "rude" and judgmental.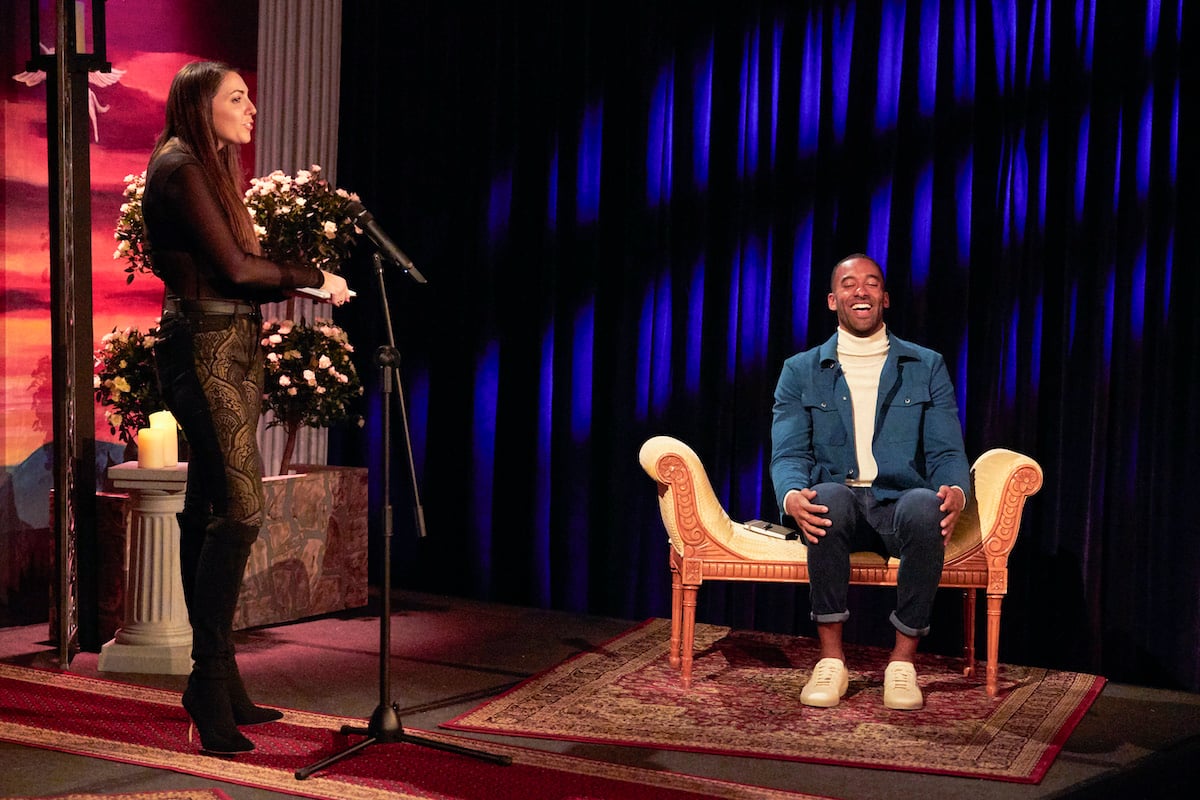 Victoria Larson's romance story for Matt James was completely censored
Group dates on The Bachelor are all about putting the women in uncomfortable situations. During episode 3 of James' season, some of the women were tasked with writing a steamy story, then reading it aloud.
Naturally, Larson took her storytelling above and beyond so she could show James another side of herself. But because she decided to go full-raunch, Bachelor Nation didn't get to hear much of Larson's fantasy. 
Unfortunately, a majority of Lason's story was censored for television. What's more, Iaconetti could hardly discuss it on her podcast.
Ashley Iaconetti tried helping Victoria Larson tame her erotic story on 'The Bachelor' 
During the "Bachelors and Tiaras" episode of the The Ben and Ashley I. Almost Famous Podcast, Iaconetti talked about her guest appearance on James' season. She also talked about how Larson's wild tale helped her become less villainized during the episode. 
"[Instead, the other women] all found someone else to get annoyed by, which was Sarah [Trott]," Iaconetti said.
According to Iaconetti, Larson's story was based on her sexual fetish. Iaconetti called it "the most erotic [and] the most rated X" of all the women's stories. But behind the scenes, Iaconetti tried to get Larson to tame her writing. 
"Immediately, I'm like, 'This girl is a little bit of an oddball,'" Iaconetti explained on the podcast. She mentioned Larson's outfit — a transparent top that revealed her bra — and how it hinted at the type of fantasy story Larson wrote. 
Ashley Iaconetti warned Victoria Larson about Matt James' 'innocence' 
When Iaconetti first heard Larson's story, she said she was "taken aback." At the time, Larson had only known James for a week.
"I know this because I was quarantined starting on their night one and I shot on day seven," Iaconetti said. "[Larson] was going in-depth about what she likes to physically happen to her during sex and I was just like, 'OK, do you want to tell Matt this right now in front of [an] audience? Do you think this is something that Matt is going to be into hearing right now?'"
Iaconetti had a gauge on James after meeting him backstage. She described him as "sweeter and more innocent" than she imagined. Knowing this, Iaconetti tried to help Larson change her story. But Larson wasn't interested. 
Victoria Larson felt judged by Ashley Iaconetti
After Iaconetti sat with a few other women to work on their stories, Larson approached her once again. 
"She [comes] up to me, and she says, 'Can I steal you for a second?' and my heart dropped," Iaconetti said. "She was like, 'I think you were kind of rude and kind of judging me for wanting to talk about my fetish.'" 
Iaconetti was only suggesting it might not be the best idea for Larson to mention her deepest sexual desires. 
"Well I have to know if he's into it because if he's not into it, I may not want to be with him" Iaconetti recalled Larson saying. 
As documented in the episode, Larson committed to her original story. But before she read it aloud, Iaconetti said Larson told her to "plug [her] virgin ears."