'The Bachelor': What Will Happen Between Hannah Brown and Peter Weber Tonight?
Hannah Brown is rumored to make an appearance on Peter Weber's season of 'The Bachelor.' What will happen between the two?
It seems everyone is asking what will happen between Peter Weber and Hannah Brown on The Bachelor. Weber's season of The Bachelor begins on Jan. 6, 2020. Brown is expected to make a reappearance, but will she stay on the show? Warning, this article contains spoilers for the premiere of Weber's season of The Bachelor.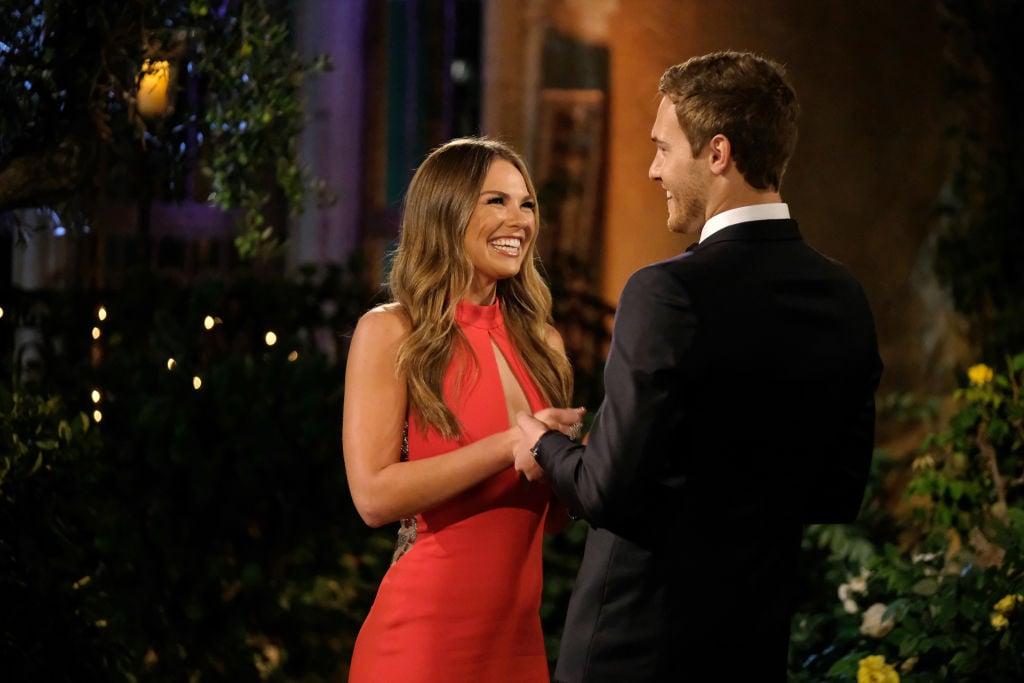 Reality Steve released spoilers for the premiere
In the Bachelor fandom, it's a known fact that if someone wants to know what happens on a season, Reality Steve is where to look. The podcaster publishes spoilers for every season in the franchise. While he has not posted spoilers for the end of Weber's season, he has posted them for the first episode of the season.
For those fans who can't wait to know what happened between Brown and Weber, spoilers will be posted below. For those who do not want to be spoiled, stop reading now.
Here's another spoiler warning.
And another one.
Okay, last spoiler warning. If you don't want to be spoiled for the season premiere of The Bachelor look away now.
Hannah Brown shows up on the season premiere of Peter Weber's season
In almost every teaser, Brown's reappearance at the Bachelor Mansion has been teased. Some of the previews even show Weber asking if Brown will join the cast of women on his show. So what happens between the two of them during the first night?
"…Hannah Brown comes out last in her own limo, gives Peter back his wings that he gave her on his limo entrance, tells him to find his co-pilot this season, then never goes into cocktail party. But her appearance you can tell shakes Peter a bit," Reality Steve tweeted.
This meeting apparently shakes Weber so much, he chokes up when telling the women about it.
"When he gives his toast inside, he tells the women that some just saw Hannah outside and she's a friend and came to give his wings back, but while he's saying this you can hear his voice crack and him getting a little choked up. This sets the stage for what happens later," Reality Steve wrote on Twitter.
What happens later?
If you're well-versed in the previews for Weber's season of The Bachelor, then you noticed that Weber never asked Brown to join the cast of the show when she first showed up. That's because that conversation happens later in the episode.
After the first night, Brown appears again during a group date. Weber and Brown break off to talk about how confused they are over their feelings.
Weber asks Brown if she regrets sending him home on The Bachelorette and she apparently responds, "Yeah Peter, I question it all the time."
The conversation between Brown and Weber takes up the last few minutes of the premiere. However, according to Reality Steve, the episode ends before their conversation is resolved. While it's a known fact Brown eventually went on to film Dancing with the Stars, fans of The Bachelor will have to wait to find out how the conversation between Brown and Weber ended.