'The Bachelor': What's Wrong With Victoria Larson's Eye?
If you're watching this season of The Bachelor, the name Victoria Larson is likely a trigger. While most fans are upset with Larson for sabotaging Marylynn Sienna's chance with Matt James, some are still wondering what's going on with Larson's eye.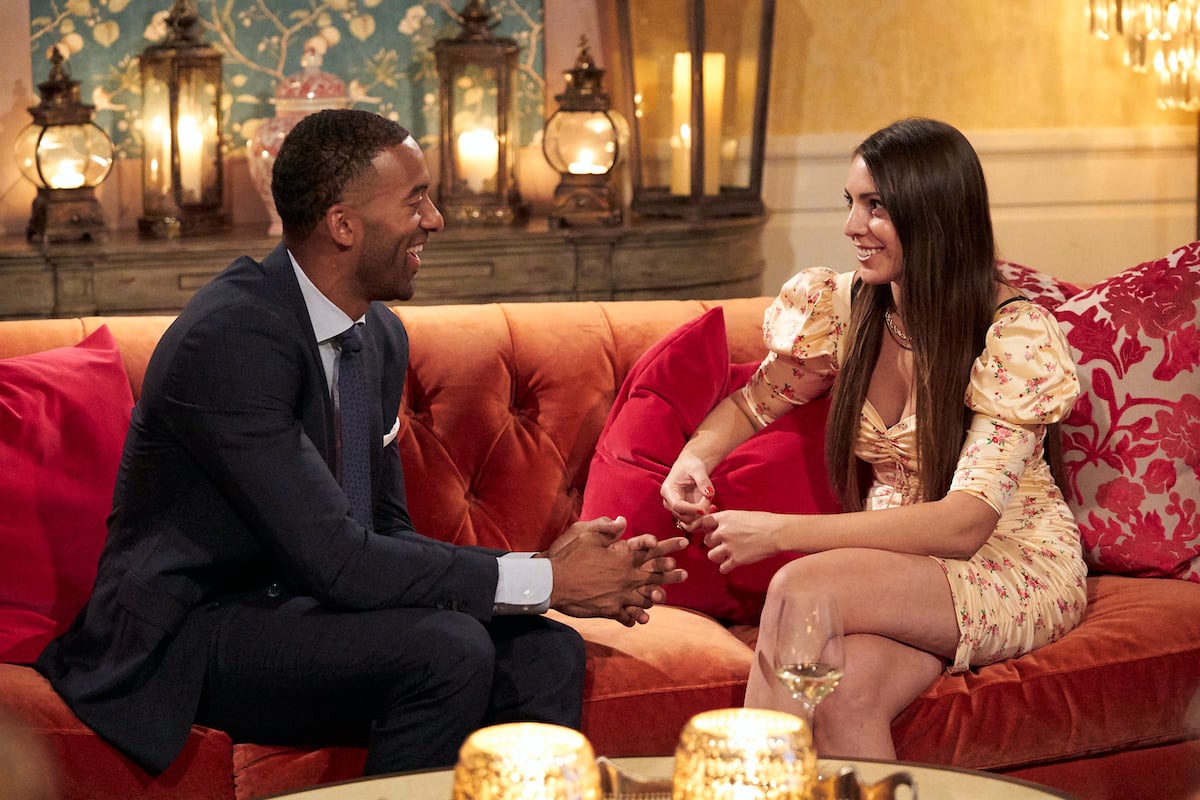 Victoria Larson is the villain of Matt James' season 
After arriving on a throne wearing a crown night one, Larson made it clear that she would stop at nothing to gain James' affections this season of The Bachelor. While Larson's over-the-top attitude makes for entertaining reality television, it also garners a lot of haters. 
"That girl Victoria — I was like, 'Is she insane? Is she insane?'" relationship expert Rori Sassoon told Showbiz Cheat Sheet over the phone. "Your attitude — your arrogance. There's a very, very big difference [between] confidence and arrogance. [Larson] was clearly arrogant." 
Many fans of The Bachelor aren't here for Larson's antics. Some viewers find keeping the villain around an old and tired gimmick on the show they aren't afraid to speak their minds. 
"Victoria 'Stank Eye' Larson out here saying anyone can see through anything is truly something," a viewer said on Twitter. "OK hopefully whatever's going on under Victoria Larson's eye goes to her mouth cause giiiiiiirl," tweeted another. 
For now, it seems like James — or more likely production — is into the villainy Larson brings to the table. 
Marylynn Sienna is part of the reason Victoria Larson's eye looks the way it does 
During the first group date of the season, a wedding photoshoot turned into a game of "capture the heart." Dressed in their wedding best, two teams of women threw paint-covered objects at each other, drumming up a lot of animosity. When the date concluded, Larson and Sienna got into a heated argument. 
Larson couldn't stand to be around her roommate — something she addressed with James.
"She's just straight up toxic, so I had to sleep on the couch temporarily," Larson told the Bachelor. That decision is what ultimately led to Larson's eye problems.
Victoria Larson got Marylynn Sienna kicked off of 'The Bachelor' 
Larson's conversation with James about the "toxicity" Sienna brought to the house swayed his perception of her.
"Marylynn, she's psychologically disturbed, literally, like I'll sleep on the couch rather than share a room with Marylynn," Larson told cameras. "I don't even care. I'm gonna be with Matt and the rest of it is just, like, ridiculous. I literally am a queen and I can't wait for Matt to send her home so I have my own room as a queen should."
James sent Sienna home during episode 3 of The Bachelor. 
Victoria Larson got a stye from sleeping on the couch 
Aside from the drama Larson has stirred up thus far, her infected eye is something Bachelor Nation can't stop talking about.
"Girl maybe sleeping on the couch is the reason why you got those bags under your eyes," a Bachelor meme account captioned a photo of Larson on Instagram. 
After becoming a meme, Larson took to her Instagram Stories to explain why her eye appeared the way it did. 
"Hahahaha the caption I'm crying," the former flight attendant shared on Jan. 13. "Nooo, I got a mf stye from the group date!"
In the teasers for episode 4, Larson's eye appears to be on the mend. 
The Bachelor airs Mondays at 8 p.m. ET on ABC.