'The Bachelor': Who Bachelor Nation Thinks is the Villain of Peter Weber's Season
Bachelor Nation has spoken. Here's who they think the villain could be after the first episode.
We're only one episode into Peter Weber's season of The Bachelor but so much has happened! The three-hour episode wasn't just premiere parties and cameos from past stars. No, it included limo entrances, the first rose ceremony, two group dates, and a one-on-one. It also featured a snippet of the finale to let all of Bachelor Nation know that we have some Jed-Wyatt-level drama to look forward to in the coming months.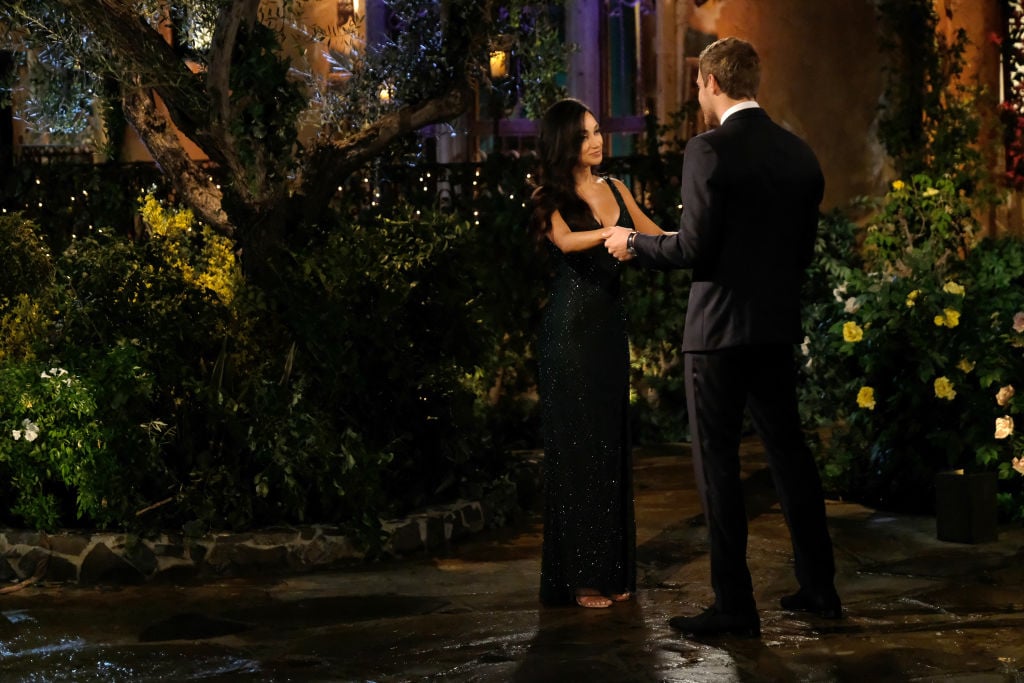 We also got to see the first part of a highly anticipated conversation that took place between Weber and former bachelorette Hannah Brown. It became clear that the two still had feelings for reach other and didn't know how to proceed. That's where the episode ended.
Bachelor Nation's villain predictions for Peter Weber's season
Throughout the episode, Bachelor Nation was, of course, weighing in with their thoughts on the contestants and drama via social media.
Even after the first episode, the show's fans are making their predictions for who the season "villain" will be. So far, here's who fans think.
Hannah Ann
Several fans actually think the first impression rose winner, Hannah Ann Sluss, may be the season villain.
"Hannah Anne. 23. Model. Solidifies herself as the villain on night one guaranteeing at least six more weeks on the show. Textbook execution," tweets one fan.
"Hannah Anne is already the villain and we're an hour and eight minutes in," writes another.
Victoria Fuller
Another top contender is Victoria Fuller.
"I cant get over victoria f.'s flirtatious line, DAMN GIRL! and the faake crying, getting drunk on night one too… I think she's gonna be the most entertaining villain of #TheBachelor," tweeted one fan.
"Calling it … Victoria F is going to be the villain of the season," wrote another.
Kelley Flanagan
Kelley Flanagan is the contestant who ran into Weber in a hotel lobby before the show began filming. She won the first group date (though some contestants say she cheated) and was awarded a romantic flight with Weber afterwards. Fans are thinking she has villain potential.
"Kelly is def the villain of the season. the family vibes. the music. meeting Peter before. major villain vibes," wrote one fan.
"Kelley, that was a super fast switch from fave to villain," tweeted another.
"Kelley is going for the villain role," tweeted another.
Mykenna Dorn
Mykenna Dorn is another contestant Bachelor Nation is flagging as villainous. Some fans are even comparing her to Luke P. (to be fair, some fans are comparing Hannah Ann to Luke P. as well).
"Mykenna looks like she has villain potential," tweeted one fan.
"Mykenna is 100% getting the villain edit this season," wrote another.
"VILLAIN ALERT: ALL EYES ON MYKENNA," tweeted another.
It's still early, but Bachelor Nation has been known for their spot-on predictions in the past. We'll have to wait and see if one of these three women will be playing the villain role this season or if someone else will pop up unexpectedly.
Read more: After Hannah Brown Ended Her Engagement With Jed Wyatt, Peter Weber Was '100% on Board' to 'Try This Again'