'The Bachelor': Why We're Completely Convinced Hannah Brown Will Win Peter Weber's Final Rose
We're only one episode into Peter Weber's season of The Bachelor, and it's already shaping up to be "the most dramatic season in Bachelor history." When former bachelorette, Hannah Brown showed up to the mansion the first night, nobody was more surprised than Peter Weber. But, she merely returned the wings he gave her on …
We're only one episode into Peter Weber's season of The Bachelor, and it's already shaping up to be "the most dramatic season in Bachelor history." When former bachelorette, Hannah Brown showed up to the mansion the first night, nobody was more surprised than Peter Weber. But, she merely returned the wings he gave her on her first night as The Bachelorette. Just a few days later, Brown made yet another appearance on the second group date of the season. Whilst there, she and Weber got to talking about their feelings for one another.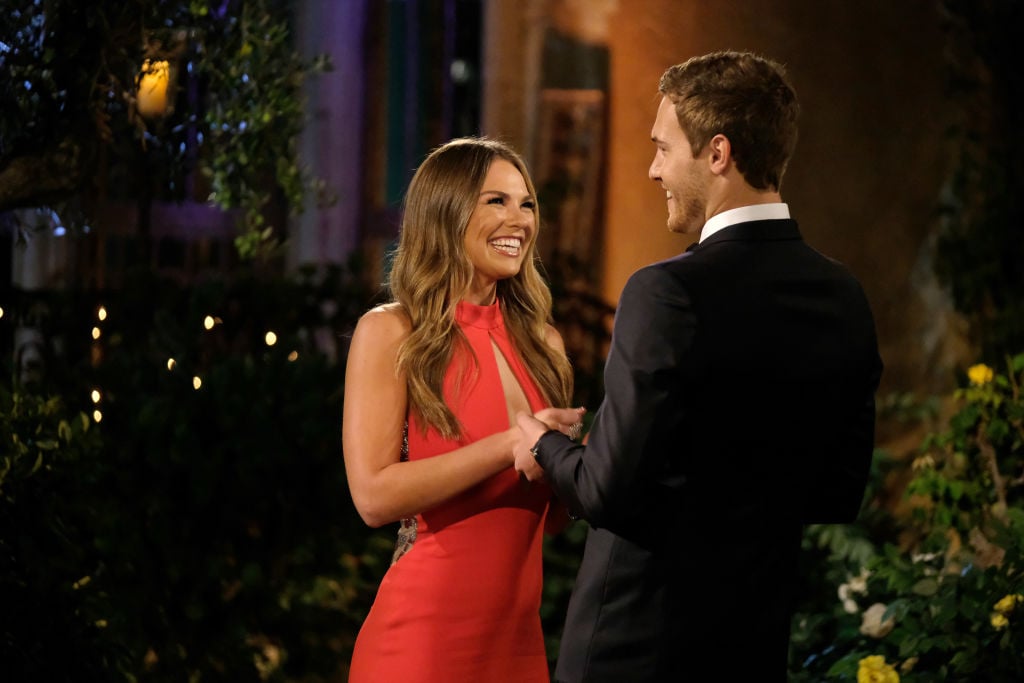 Why we feel Peter Weber will give Hannah Brown his final rose
While there's more of that conversation left to air, we predict that this is the last we'll be seeing of Brown on The Bachelor for quite some time. However, we're thoroughly convinced that she will return in the final hour (during the last rose ceremony) and win Weber's heart for good. Though we won't be sure of the final outcome for a couple of months, we've got some possible evidence to back up our theory. For starters, Weber has stated candidly that he would've given up being The Bachelor to pursue something with Brown if she'd asked prior to filming. This proves the deep love Weber had for Brown. Furthermore, if Weber had truly found a life partner in one of his contestants, would he really be admitting to potentially giving up his opportunity to meet her for Brown?
The Bachelor 2020 producers are giving Brown more screen time than the contestants
Another hint that Weber and Brown might be endgame is the sheer amount of airtime Brown is receiving. It's up to The Bachelor editors and producers to decide how much time they spend on what. Usually, they choose the footage that is the most dramatic as well as the footage that best serves the overarching narrative. A large chunk of the first episode centers around Brown, and it looks like the same could be true for the second episode. It would make sense to do this if Weber and Brown end up together.
Is The Bachelor Season 24 really as dramatic as it looks
Additionally, the previews for the season allude to something extremely dramatic happening before the final rose ceremony. "There's something I just found out. All of us just found out. I'm not sure how all this ends, so I just wanted to give you a heads-up," Chris Harrison promised. The clip then cuts to Weber talking to producers and he says the news is "the last thing I needed to hear." Of course, we've seen moments like this in the past (i.e. Colton Underwood's infamous fence jump) but apparently the dramatics of this scene live up to the hype.
"There's nothing about that moment being over-produced at all, and I keep telling people that that last week was the hardest week of my life, and it didn't stop until the very end. That's not like an, Oh, let's tease this and have it be an, 'Eh? That's all?' No. It's not over-produced at all. I promise you," Weber shared in a recent interview with Glamour. Clearly, the moment is as dramatic as Harrison and Weber say it is. And what's more dramatic than Brown declaring she's still in love with Weber moments before he was about to propose to another woman?
A lack of spoilers
Another thing that Harrison and Weber are confident about is that nobody will spoil The Bachelor 2020. Spoilers are common in the franchise and have been happening for years thanks to Reality Steve and social media. But, Weber believes that won't be the case this time. "There's a reason I believe that, and obviously can't say it otherwise it gives it away. I'm very confident that Reality Steve and all of these people, they're not going to find out what happens — there's no way they're going to find out," Weber told the Hollywood Reporter.
Harrison echoed that belief saying the ending was unexpected due to Weber's wild and turbulent journey. If Weber and Brown are together at the end of all of this, it would make sense that they would be able to keep their relationship under wraps and spoiler-free. Having been the leads of The Bachelor and The Bachelorette, they are both bound by stringent contracts and have the proper media training to be able to dodge the media's questions skillfully.
A telling Instagram post
But, perhaps the biggest nod to Brown getting Weber's final rose is the message she wrote to him on Instagram the day The Bachelor 2020 premiered. "Find your co-pilot. It's your turn in the captain's seat Bud. Enjoy the ride! 🛫🌹 #thebachelor" Brown captioned a video of the two of them pretending to be airplanes together. "Thanks Bama ✈️" Weber responded.
It didn't escape our notice that they both used plane emojis in their captions. Could this be foreshadowing that they deiced on each other as co-pilots? Furthermore, one fan pointed out that Brown used Weber's family nickname in her caption. "Please be together at the end of all this. Bud is what his family calls him! It's not a reference to 'buddy'," the fan declared. Only time will tell if our theory proves true, but there are certainly signs that point to Weber and Brown being endgame.