The Bachelor: Women Tell All Was Messy but Ended With a United Front Against Online Harassment
Peter Weber's "Women Tell All" was messier than most. The former contestants spent a lot of time calling each other out for things they did while filming, like being "fake," and "danc[ing] like a buffoon."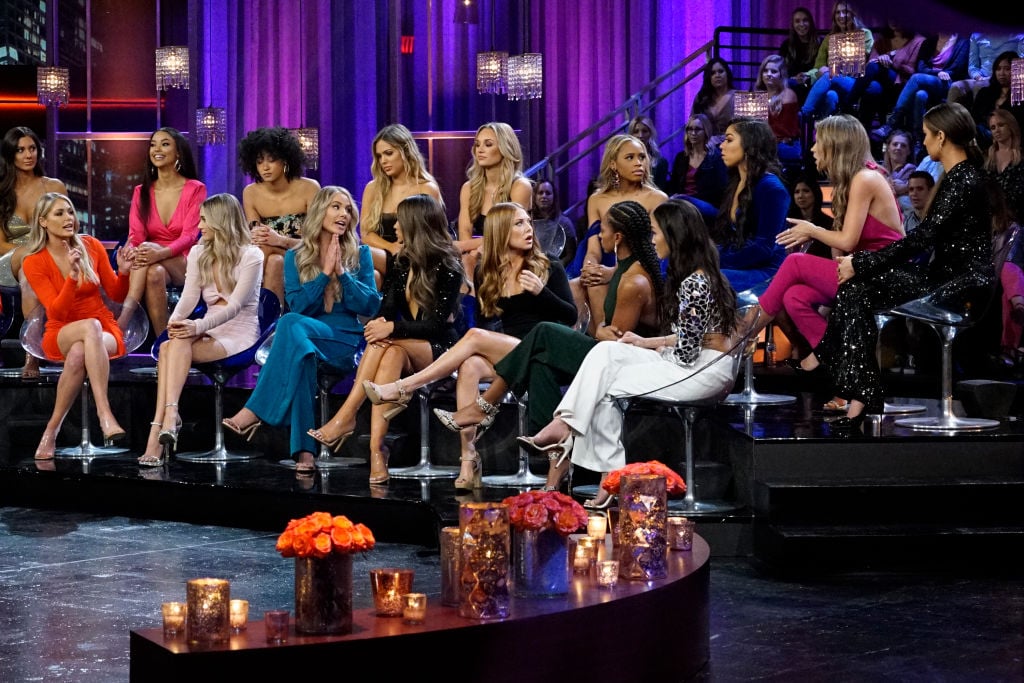 Host Chris Harrison even had to tell everyone to take a deep breath as they went into a commercial break because they'd been talking over each other so passionately no one could get a word in.
Rachel Lindsay tackles online harassment, racism at Peter Weber's 'Women Tell All'
But in the latter half of the episode, former bachelorette Rachel Lindsay was brought on stage to speak about an issue that affects most Bachelor contestants, especially Bachelor contestants who aren't white: online hate.
"It's so unfortunate because people have become so comfortable being mean, and meaner than ever on social media," said Lindsay.
Online bullying is an issue that's plagued Bachelor alums for years now thanks to the rise in social media. But it's never been discussed at length on the show until now.
"By not talking about it, I think people feel empowered that they can continue to say certain things to us," she said. "If we're ever going to fix this problem, we have to acknowledge the problem."
Lindsay told the audience she knew she'd receive hateful messages when she accepted The Bachelorette, but she wanted to be a face "for women who look like me who hadn't been represented in this role on the show."
"Sometimes I feel like my efforts are in vain because it seems to just be getting so much worse," she continued.
Then, Lindsay read a few examples of graphic, cruel messages showcasing the harassment she was speaking about.
"The only way I can actually make you feel it is for you to see it," she told the audience.
As the former bachelorette read the messages she appeared visibly upset, as did all of Weber's contestants.
"I know it's uncomfortable for you to see. Just imagine how uncomfortable it is to get this in your comments and your DMs every day, every week, every month," she said.
A common experience for 'Bachelor' stars
Many of the women on Weber's season didn't get along, many of them treated each other unkindly, but they have one thing in common: they all receive online hate they don't deserve.
The women of Weber's season, particularly the women of color, spoke about their experiences with online hate since starring in the reality series.
Tammy Ly spoke about how she's been getting work emails telling her she should kill herself. She also posted screenshots of the cruel DMs she's been receiving on Instagram after the episode. Alexa Caves spoke about the hate she received about her natural hair.
Though some fans had mixed feelings about the segment because the women had been so unkind to each other throughout Weber's season and even during the "Tell All," it was an important statement that needed to be said.
What we see on The Bachelor is just a small slice of who contestants really are. When they sign their contracts, they forfeit their image and reputation over to the editors and producers of the show. But, make no mistake, they are real people.
Read more: 'The Bachelor': Ashley Iaconetti Thanks Kelsey Weier for 'Standing up to Emotional Shamers'