'The Bachelorette' Fans Say Becca and Garrett's Breakup is 'More Obvious Than Cassie and Colton's Was'
When The Bachelor couple Colton Underwood and Cassie Randolph announced their split on May 29, 2020, fans knew it was coming. Now, viewers speculate that Becca Kufrin and Garrett Yrigoyen broke up, and it's "more obvious than Cassie and Colton."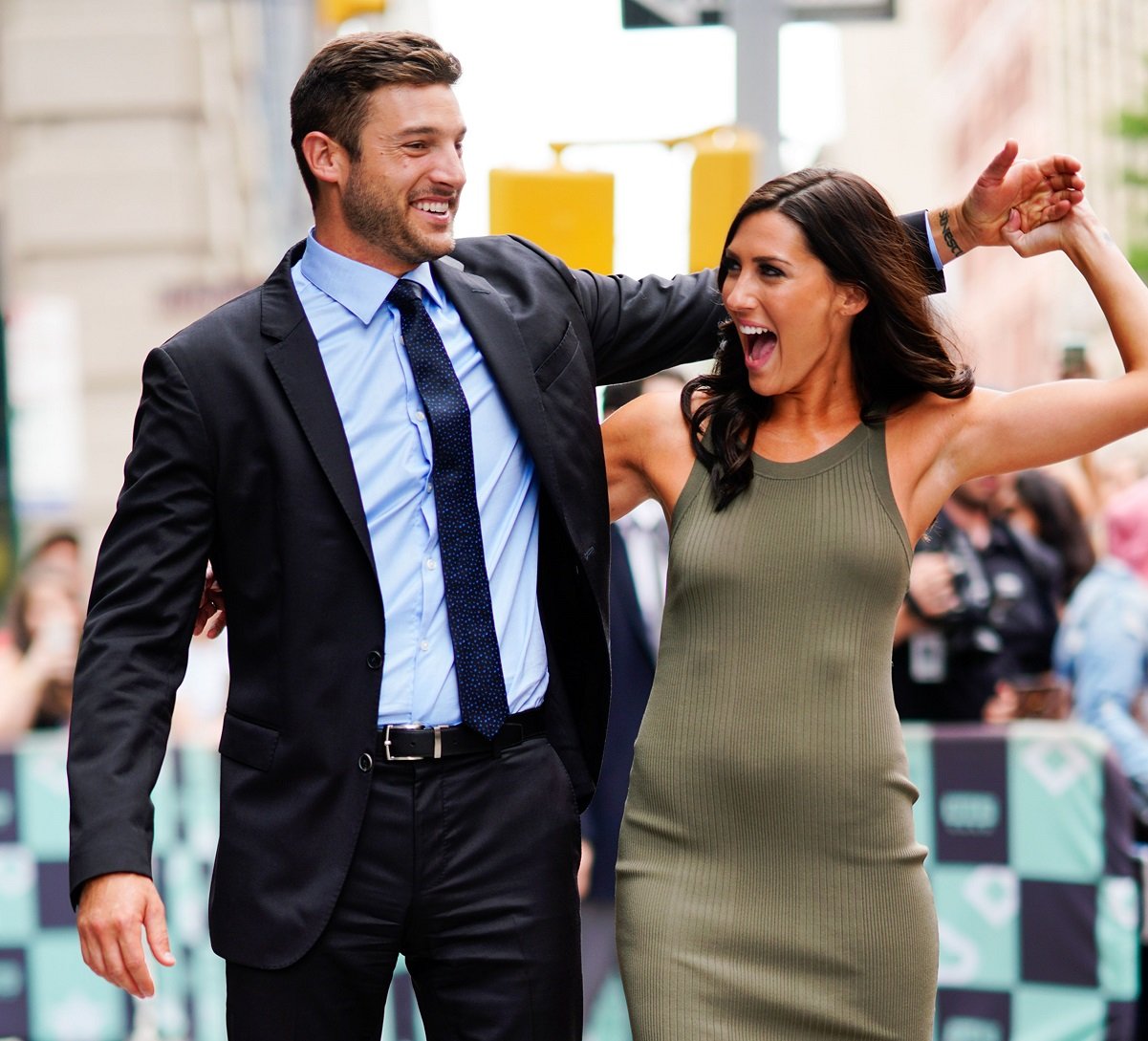 'The Bachelorette' couple Becca and Garrett have sharply different viewpoints
The former Bachelorette, Kufrin, spoke out on Instagram about racial injustice following the unjust killings of Ahmad Abrey, Breonna Taylor, George Floyd, and many others.
"When something happens in the world that is wrong, don't try to move on with your life like it is right," Kufrin's Instagram post read. "The voice within you that says, 'This is not OK,' is a direct call from the basic goodness of your spirit. Pick it up. Every time. Pick it up. And stay on the line until you figure out how to help."
RELATED: 'The Bachelorette': 3 Reasons Fans Believe Becca and Garrett Already Broke Up
However, her fiance, Yrigoyen, voiced his opinion in support of law enforcement, instead.
"With so many friends and family in law enforcement, I couldn't sit back and not support them and the hundreds of thousands of men and women of all races that represent this Thin Blue Line as well," Yrigoyen wrote in a very lengthy Instagram post.
When Kufrin's sister and brother-in-law protested Yrigoyen's support of the police, he did not back down. At first, the former Bachelorette tried to defend her fiance in her Bachelor Happy Hour podcast with Rachel Lindsay. Later, she backtracked
Fans point out that Becca and Garrett's social media is a clear indicator of their breakup
Like Cassie and Colton, The Bachelorette couple is also not posting photos with their significant other on social media. Kufrin stays with her mother; while Yrigoyen is taking various trips into the wilderness hunting and camping.
"It's even more obvious than Cassie and Colton were," one fan wrote on Reddit. "Becca's social media is newly single girl 101 right now. Where there's smoke, there's fire with this stuff, especially since neither has made a move to deny the rumors."
RELATED: 'The Bachelorette' Fans Believe Becca Kufrin Is Waiting For This 1 Date to 'Announce the Breakup'
The last photo that Yrigoyen shared of him and Kufrin was on the anniversary of their engagement on May 11, 2020. The Bachelorette's last couples photo was May 27, 2020, also over two months ago. Her fiance recently returned home from one of his wilderness trips but did not mention missing Kufrin.
"Good to be home with the little fella," Yrigoyen's caption on his Instagram story read with a video of his nephew.
Kufrin's Instagram stories revolve around their corgi and her Bachelor Happy Hour podcast.
Fans believe Kufrin's comments on the 'Bachelor Happy Hour' podcast say it all
"When Grandma Honey asked Becca at the end if she was married yet, and Becca answered that she got a dog, I just felt like she was avoiding the question," another Redditor wrote. "They are totally over!!"
Other fans agreed that from every angle, it looks like the couple is heading for splitsville. Several pointed out that she isn't wearing her Neil Lane diamond engagement ring anymore, either.
"Wow," added another fan. "That's not even avoiding the question — that's as close to a no(/not-getting-married) as possible without being explicit."