'The Bachelorette': Chris Harrison Said Hannah Brown Has Been 'Shipping' Herself With Tyler Cameron
Hannah Brown and Tyler Cameron might not be quarantining together in Florida anymore, but that hasn't stopped Bachelor Nation from shipping the pair. According to Chris Harrison, Brown has been "shipping" herself with Cameron for "quite some time."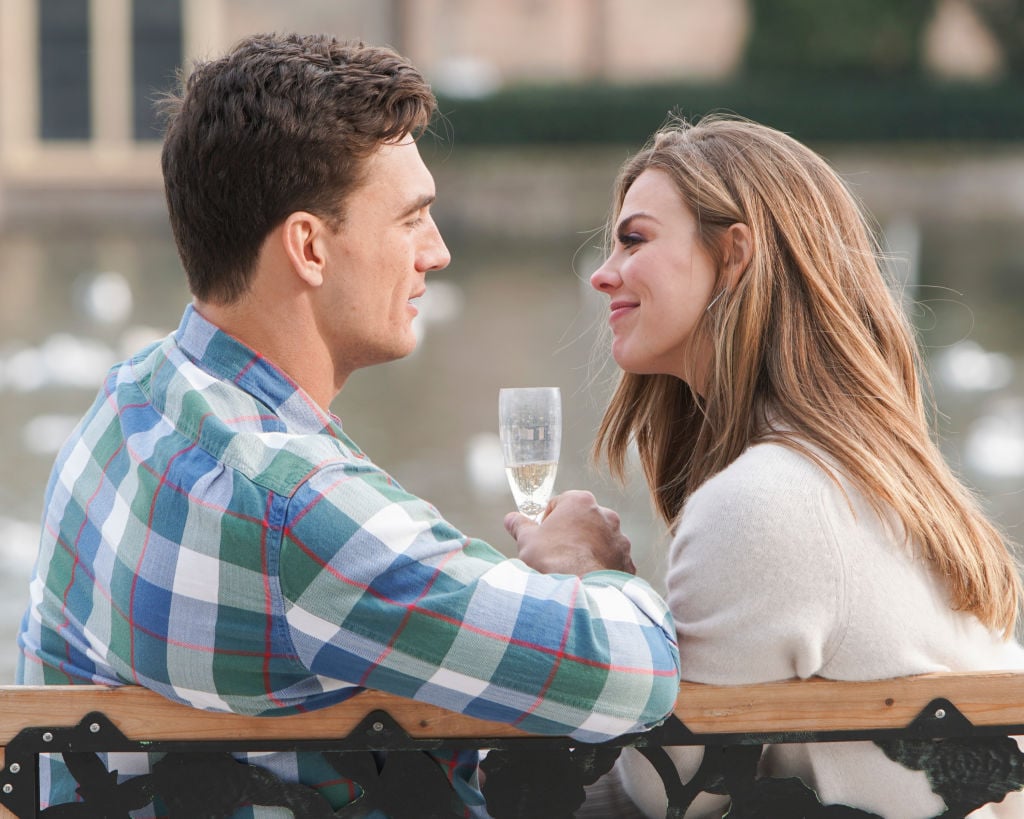 Tyler Cameron and Hannah Brown quarantined together
At the start of the coronavirus (COVID-19) outbreak, Brown flew to Florida to visit Cameron. When Cameron was seen picking up Brown at the Palm Beach International Airport, dating rumors about the exes started online.
For several weeks, Brown hung out with Cameron and his friends in Florida. The group posted TikTok videos under the name "The Quarantine Crew." Some of the videos of Brown and Cameron referenced their past relationship on The Bachelorette, spurring dating rumors even more.
In one TikTok video, Cameron and Brown played a game of Spin the Bottle. At the start of the video, they were the only two people circled around the table. Cameron spun the bottle, and looked on excitedly while Brown looked nervous. However, the bottle ended up landing on an empty cushion on the couch, and then Cameron's friend Jacob Laham came out from around the corner.
Tyler Cameron said he is just friends with Hannah Brown
Recently, Cameron appeared in a Zoom call and gave details about his relationship status with Brown. A fan on the call recorded the conversation and posted it on TikTok.
When fans asked about Brown, Cameron replied, "The tea is we are friends. She's a good friend."
While Cameron told fans of The Bachelorette that he is not dating Brown, he did get defensive on Instagram after a fan said he was not the "perfect guy" for Brown. It all started when a fan page for Brown and Cameron posted clips of Cameron on the Zoom call on Instagram.
Multiple fans commented on the posts and voiced their opinions about the situation. Some fans said they still did not believe Cameron and thought Brown and Cameron were secretly together.
However, one Instagram user wrote, "Move on people .. Hannah will choose the perfect guy for her one day it's not Tyler .. and the crew is boring without her , her and Ryan and Matt were the best."
Cameron then replied to the comment, "How many cats do you have?"
What Chris Harrison said about the two
Back in March 2020, Harrison said he also thought Brown and Cameron were just friends.
"Yeah, it wouldn't shock me. I think they'd be great together," he told Entertainment Tonight. "But they're probably just friends."
More recently, Harrison spoke to Glamour about Brown and Cameron quarantining together.
"I wasn't surprised by Hannah and Tyler [quarantining together]," he said. "I saw that coming. Hannah has been shipping that for quite some time, so I think that one I could possibly see happening. I'm glad it did. If it did. I don't know what it is. They haven't defined it, so I'm definitely not going to define it. But I wish them well."