'The Bachelorette': Chris Harrison Reveals Clare Crawley Might Have a Brand New Set of Guys When the Show Restarts Production
Find out why Chris Harrison believes an entirely new group of men could be cast for Clare Crawley's season of 'The Bachelorette.'
Production of Clare Crawley's season of The Bachelorette came to a screeching halt on March 13, 2020, due to the coronavirus (COVID-19). All 30 eligible guys were at the Hyatt Regency in Westlake, California, when the news broke. Sadly, Chris Harrison revealed that the cast might not be the same when the show picks back up in the future.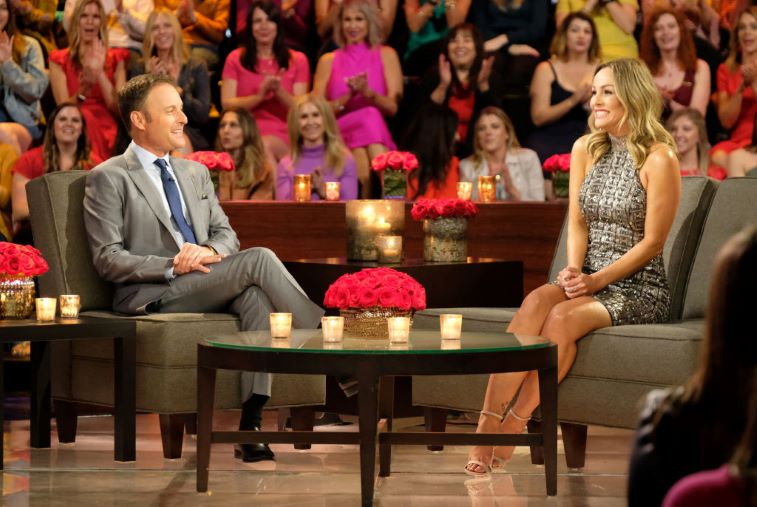 Chris Harrison and Lauren Zima's fireside chats on Instagram contain lots of information
With the coronavirus forcing people around the world to stay home, many celebrities have taken to social media to try to boost morale and continue to engage with their fans. Harrison's girlfriend, Lauren Zima, is an entertainment reporter and producer for Entertainment Tonight. She also hosts and produces a webcast focused on The Bachelor called Roses & Rosé. 
The couple has gone on Instagram live twice since the pandemic caused social distancing. They are calling their videos "fireside chats," and they answer plenty of fan questions. Zima opened the March 17 installment by telling fans she hadn't yet brushed her teeth that day. 
Harrison and Zima also have been very down-to-earth about what is going on in the world and what they are doing to keep themselves occupied while being quarantined. 
Chris Harrison reveals Clare Crawley's cast could be completely different
The morning after Peter Weber's season finale of The Bachelor, ABC posted the photos of 32 men on The Bachelorette Facebook page. Fans went wild over their ages. Only nine of the men were over the age of 30. One guy was even 23 years old. However, when production was halted on March 13, 2020, ABC took down the photos. 
"So many people are talking about Clare and her season," Zima said in a fireside chat. "Clare went on Instagram live and asked for people to submit their applications today."
Crawley has always said she dates younger guys, but her friend Michelle Money did an Instagram live video earlier requesting that no guys younger than 29 be cast for the season.
"The thought that everybody is going to come back again is probably very slim," Harrison said. "There will be some different guys. There may be completely different guys."
Zima and Harrison went on to say that people take off of work and rearrange their lives to go on the show. It is hard for individuals to go through that effort again several weeks or months later.
Chris Harrison wants to cast new guys for Clare Crawley
"I'm all for it," Harrison said when he heard Crawley was asking for more applications for her season. "Keep casting new guys! Is Clare going to date a 23-year-old guy? No, she's not!"
It's interesting to hear Harrison doesn't believe Crawley will date a 23-year-old, but one was initially cast on her season. It looks like the postponed production might work out for the best for Crawley. 
"We are just like you, Bachelor Nation," Harrison continued. "Who do we miss? Clare was always that woman that we thought would be a great bachelorette. The timing never worked out — so this is it. We finally got our wish." 
Clare Crawley is sticking around and ready to find love. However, it looks like a different cast will be coming her way.
Read more: 'The Bachelorette': Fans Are Rooting for the Older Men on Clare Crawley's Season — Spoiler Alert — There's Not Very Many