'The Bachelorette': Fans Are Rooting for the Older Men on Clare Crawley's Season — Spoiler Alert — There's Not Very Many
When Clare Crawley came out for the "After the Rose" ceremony on The Bachelor, she only had five minutes to chat with Chris Harrison. Typically, they introduce The Bachelorette to a few of her future guys; however, Peter Weber's season did not leave room for that. 
ABC released photos of the men on Mar. 11, 2020. Currently, only nine of the guys are 30 or older. Crawley is turning 39, so fans thought more of the men might be older. Let's take a look at who fans feel has a chance with The Bachelorette. The season did not get off to a great start — filming was postponed due to COVID-19 — however, the guys are ready to go.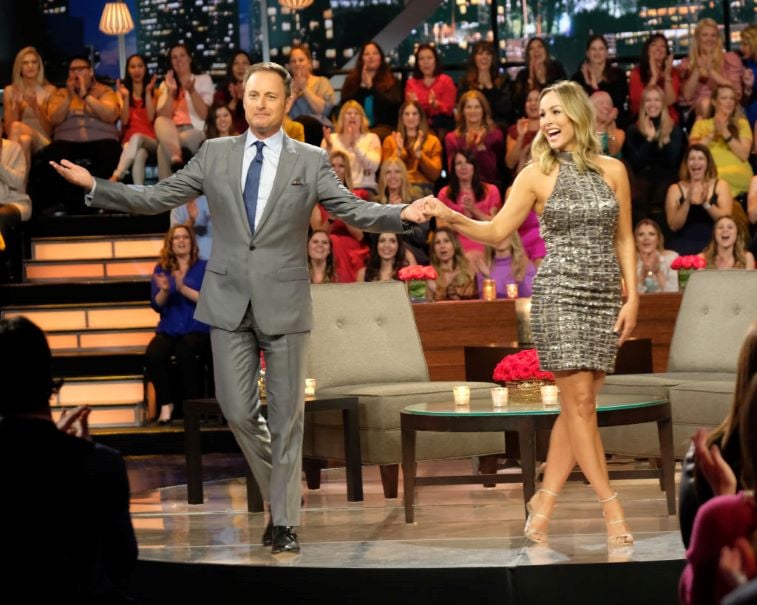 'The Bachelorette': Clare Crawley has 4 men who are 10 years younger than her at age 28
Austin Bouzigard, 28, from Cut Off, Louisiana, is a Chiropractor. He studied at LSU and Life College of Chiropractic. On Sept. 5, 2019, he was in a relationship with Chrissy Garcia, according to Facebook. Could this guy be a repeat of Juan-Pablo Galavis? This one does not sound promising.
Alex Brusiloff, 28, from Dallas, TX, is an Insurance broker for Family First Life. He is the youngest of three. Brusiloff has two dogs: Denali and Franklin. He modeled for Lululemon and enjoys playing golf. Brusiloff was spotted at the hotel gym last week while he awaited the start of the season.
Cameron Duffy, 28, from San Diego, CA. He grew up in Glendora and works in Irvine, CA. He is a Real Estate agent for Colliers International and attended Azusa Pacific University, where he ran track. Fans already think Duffy might be the next villain on The Bachelorette.
Matt James, 28, is from New York, NY. He played football at Wake Forest. James works for ABC Food Tours and is also Tyler Cameron's roommate and best friend.
Clare Crawley's 'Bachelorette' season only has nine guys over age 30
Blake Monar, 30, is from Phoenix, AZ. He is the President & CEO of Statum Style in Phoenix, AZ.
Yosef Aborady, 30, from Mobile, AL, is a Territorial Manager for Northfield Medical. He graduated from the University of South Alabama Mitchell College of Business with a BBA in Business Administration and Management. Yosef models for the Barefoot Agency. He was married in 2012 to Alesha Cook and then divorced. Has a four-year-old daughter named Zara.
Josh Elledge, 31, from Minneapolis, MN, is an Account Executive at Apex Systems. He attended Gustavus Adolphus College. He played hockey and earned a Bachelor's degree in Biology in 2011.
Dale Moss, 31, is from New York, NY. He runs a personal fitness website and is a former two-sport star at South Dakota State University. He practiced with the NFL briefly. Fans are already calling for Moss to be the next Bachelor if Clare does not choose him in the end.
Karl Smith, 33, is from Miami, FL. He is a motivational speaker. He graduated from Florida International University in 2009. Smith founded his own success coaching business.
Aaron Goodwin, 33, is from Ft. Lauderdale, FL. He is a Sales Rep at Grainger and attended Ball St University. Fans are looking forward to meeting this guy, and some predict he will make it to the final three.
Ed Waisbrot, 36, is from Miami, FL. He is an Account Executive at CVS Health. He graduated from the University of Pittsburgh in 2006 with a B.S. in Business Administration.
Clare Crawley's season of 'The Bachelorette' only has one contestant older than her
Bret Engemann, 42, from Provo, UT, is an Executive Business manager for Powell Lane Enterprises, a health company owned by T.V. co-hosts Chris and Heidi Powell. He is divorced with two sons, Rome and Cole, who are 15 and 12-years-old.
"And he is the ONLY ONE older than her," wrote one appalled fan on Twitter. "Looks like one other is exactly her age. Others are so much younger. This makes no sense. When she's 50 this is going to be a problem. Who would want this? I married younger, but only four years younger & that's ENOUGH, let me tell ya."
Fans are outraged at the number of young guys on Crawley's season. However, they did find a few of the older ones might end up promising for Clare. At this point, fan-favorites are Aaron and Dale.
Here are the other half of Clare's guys: 'The Bachelorette': Fans Feel the 'Franchise is Wasting Clare Crawley's Time' With This List of Guys — Here Are the Youngest Ones