'The Bachelorette': Fans Think Emmanuel Acho Is Dating This Former Lead
The Bachelor had a guest host on the "After the Final Rose" episode for the first time ever — Emmanuel Acho. The sports broadcaster and author led a discussion on race, growth, and respect among finalists. He even moderated an unaired discussion between Michelle Young and Rachael Kirkconnell. But now, fans think that he is dating someone from The Bachelorette — a former lead.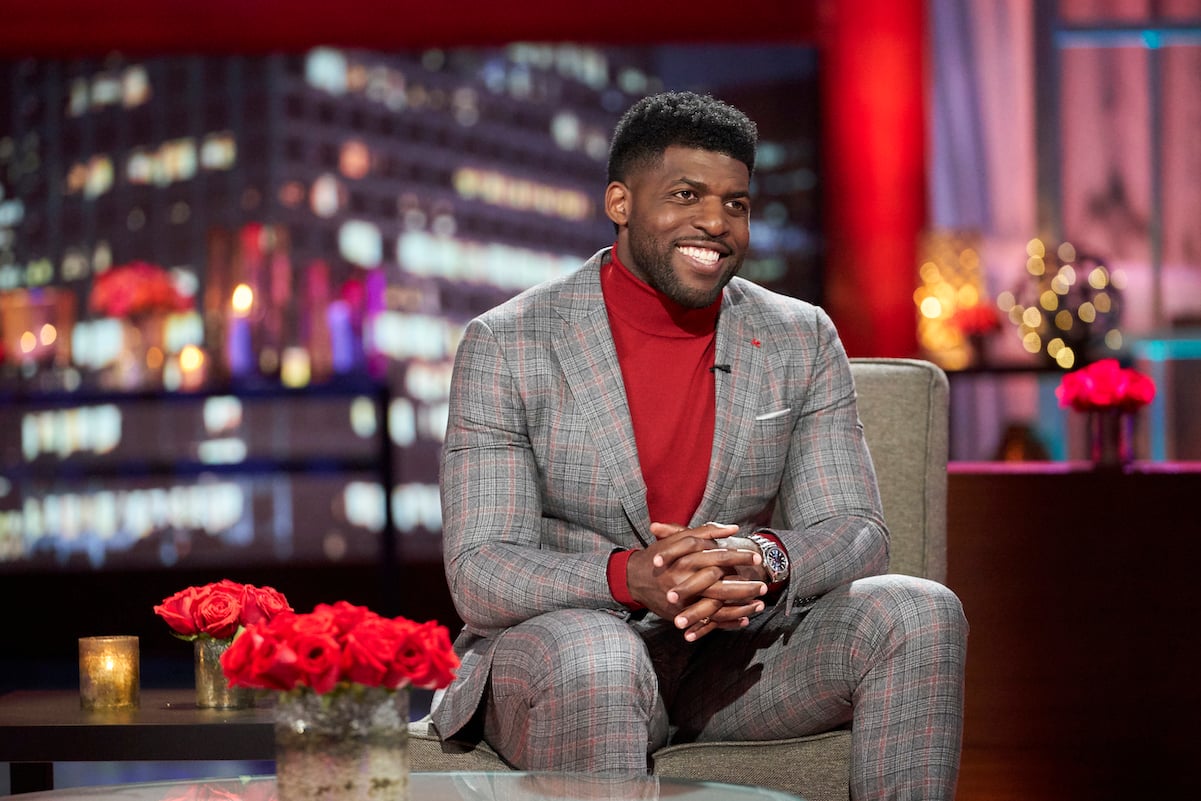 Emmanuel Acho filled in as host on 'The Bachelor' for Chris Harrison
Acho stepped in as a replacement for Chris Harrison on The Bachelor: After the Final Rose following the latter's controversial interview with Rachel Lindsay. The author also came in as Lindsay's recommendation after Harrison temporarily left the show.
Many people commended the way Acho handled hosting The Bachelor. He asked tough questions, led uncomfortable conversations, and showed knowledge about Matt James' season as a whole.
Following his hosting duties, people suggested multiple people from Bachelor Nation that they thought Acho should date. But missing from many peoples' suggestions was the one person he might actually now be seeing.
Becca Kufrin has been single since she broke up with Garrett Yrigoyen
Becca Kufrin, who led her own season of The Bachelorette back in 2018, is currently single. The former lead was engaged to Garrett Yrigoyen following the dating show. But after Yrigoyen's public stance on politics repeatedly seemed at odds with Kufrin's, the two broke up.
Kurfin has been coy and private about the next step in her dating life after calling off her engagement. But her Bachelor Happy Hour co-host Lindsay is friends with Acho, and now people are speculating that she set up Acho and Kufrin. New social media evidence backs up the latest fan theory.
Fans think Emmanuel Acho is dating 'The Bachelorette' Becca Kufrin
One of The Bachelor podcasts, Date Card, began the speculation on Acho and Kufrin possibly dating. The podcast shared two Instagram Stories with evidence supporting the theory, as seen on Reddit.
"A source of mine who has been right before and follows little details has said they keep seeing insta stories of them in the same places," the story read. "They get deleted before the connection is made and a screenshot can be taken. They also noticed a friend of hers following him after a trip to LA."
The story continued: "Then there is of course the story photo she did keep up for 24 hours, of her having brunch and you can see a man's forearm and watch. Many have said it seems like Emmanuel's watch and arm."
Then, the podcast Instagram showed a picture from Acho's feed with Kufrin's comment.
Kufrin said: "Is your photographer for hire?" Fans speculated this was a playful comment insinuating that she was the photographer herself.
Furthermore, Acho posted a story saying he "got talked into posting this on [his] page."
After fans theorized about this connection, Kufrin's comment is no longer on Acho's post. The two would certainly be a Bachelor Nation power couple — but until anything is confirmed, it's all just theorizing for now.