'The Bachelorette': Hannah Brown and Tyler Cameron Were Spotted Together Again
Fans might not have a couple to root for from Peter Weber's season of The Bachelor, but they have Hannah Brown and Tyler Cameron. The two exes fueled dating rumors after Brown visited Cameron in Jupiter, Fla., following his mother's death.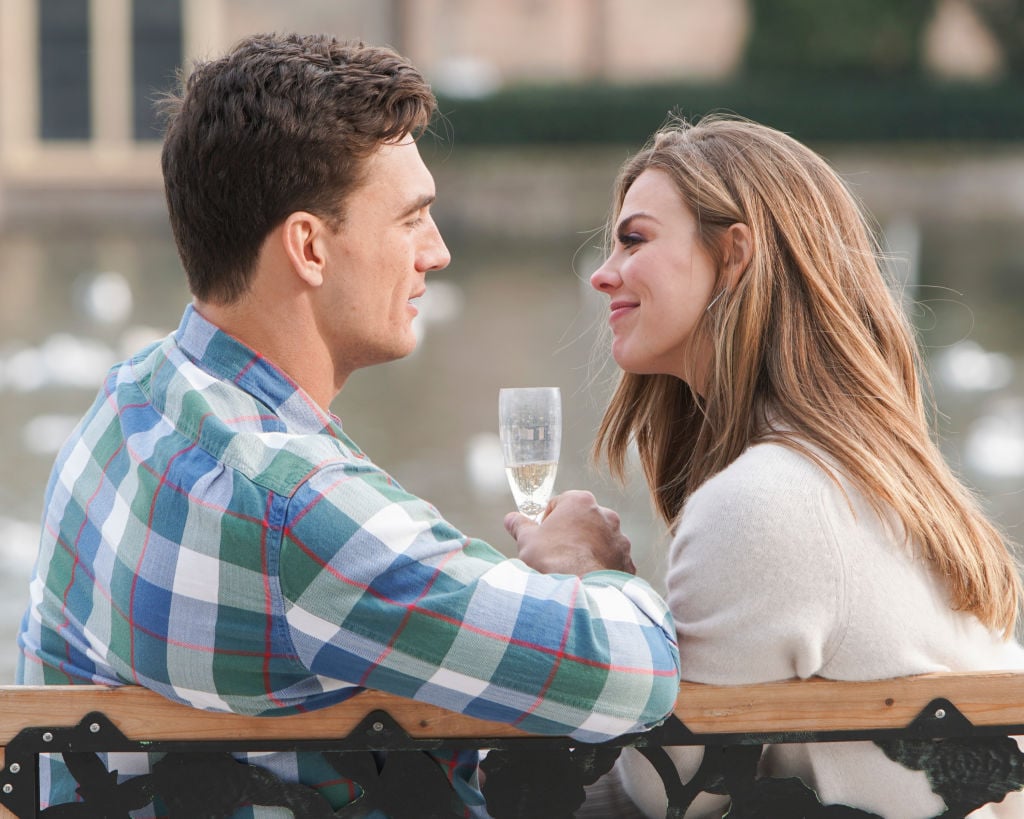 Hannah Brown visited Tyler Cameron again
On March 14, Cameron was spotted picking up Brown at the Palm Beach International Airport. Before this, Brown posted on her Instagram story about missing a flight.
"I just missed my plane by maybe five minutes," she said in a video on her story. "So now I'm stuck at the airport for a little bit." She posted another video with the caption: "Airport is empty. But there is wine. So I'm fine." In the last video on Brown's story, she showed a box of Girl Scout cookies with the caption "And @girlscouts cookies. I'm fine."
Matt James, Cameron's close friend and roommate, is set to compete on Clare Crawley's upcoming season of The Bachelorette. On March 15, James shared a photo of him with Brown in Florida.
"When you confront that internet bully," he wrote in the Instagram post.
Hannah Brown visited Tyler Cameron in Florida
This is the second time Brown has traveled to Florida to visit Cameron. Nearly a week before the two were spotted together on March 14, Brown visited Cameron to support him following his mother's death. After videos of Brown and Cameron's meetings spread around, fans of The Bachelorette could not contain their excitement at the chance of a romantic reconciliation between the two.
"In these dark and trying times I am receiving a lot of comfort and joy at the fact that HANNAH B AND TYLER CAMERON ARE TOGETHER IN FLORIDA FOR THE SECOND TIME IN A WEEK. I am rejuvenated I am fresh I am joyful," one fan tweeted.
"If Hannah B and Tyler are really working things out between them …I am 100% not mad about it," wrote a Twitter user.
Tyler Cameron posted about his mother
On March 13, Cameron shared a personal video of his family's last few moments with his mother on Instagram.
The Instagram post reads:
What you are watching is our family saying our final goodbyes to our mother. We did the walk of honor with her as she proceeded to the OR to have surgery to donate her organs, so she could give her final gift here on this earth, more life. We are so grateful with how @donatelifeamerica was able to help us through these tough times.

We just went through one of the most difficult times of our lives in the Cameron family. We lost our rock, our nucleus, and the one who gave us a home. Our mother was the ultimate servant. She gave us her all until she had nothing more she could give. So we thought. Our mother gave the ultimate gift when she passed away. She was able to give more life. She was able to donate her liver and give someone another opportunity. .

In this very trying time for us all, we needed any positivity we could get. What helped us so much through this tough time was the hopes that our mother could give more life to someone else.
"I had a hard time deciding if I should share these final moments with her for the world to see. I also thought that if I could share this video with y'all, that it could possibly get others to say yes to donating there organs and that's what my momma would have wanted. The statistics show that people believe in the process but are not willing to check yes. This process helped our family find a positive light in a very dark time. Our mother now lives on through me and my brothers but also to the man she was able to give more life to. My mom would do anything to impact the world in a positive way and these are her final ways of doing it. .

Love you forever momma
Chris Harrison thinks the two are just friends
When asked about Brown and Cameron starting a romantic relationship, Harrison admitted he would not be surprised if the two got back together. However, he thinks the two are currently just friends.
"Yeah, it wouldn't shock me. I think they'd be great together," he told Entertainment Tonight. "But they're probably just friends."