'The Bachelorette': Hannah Brown Did Not Trust Tyler Cameron When She First Met Him
Hannah Brown and Tyler Cameron of The Bachelorette may not be together now, but their friendship is stronger than ever. On Nov. 10, Cameron posted a YouTube video on his channel of him and Brown discussing their first impressions of each other.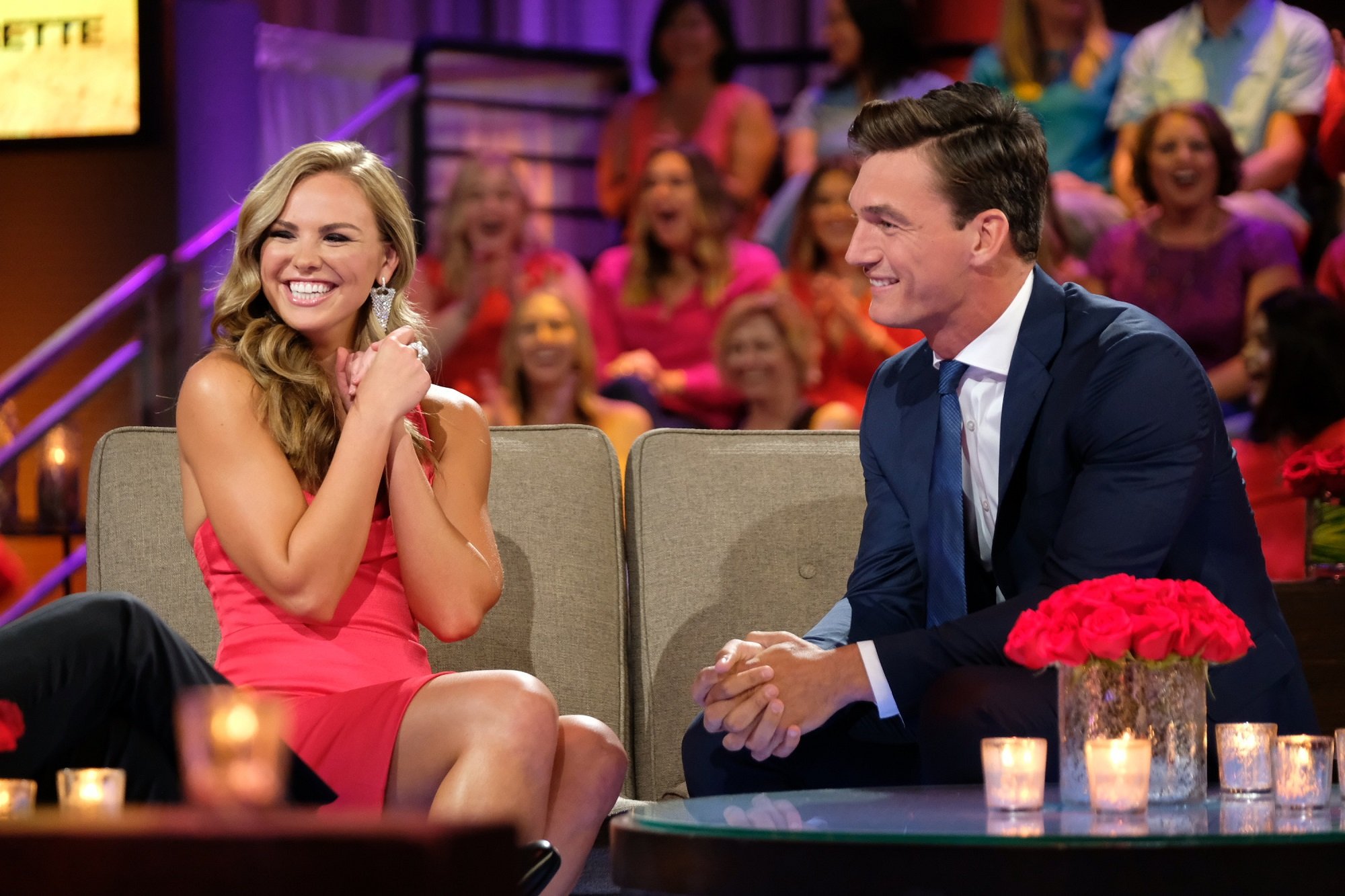 Hannah Brown thought Tyler Cameron was a player
The new YouTube video shows Brown and Cameron continuing their mukbang from a previous video on Cameron's channel. For the video, the two set out Chick-fil-A and ate while they discussed their first impressions and pet peeves. Dustin Kendrick from Brown's season of The Bachelorette also joined them.
When asked about her first impression of Cameron on The Bachelorette, Brown said, "This is something I have never told anybody… Anyway, I came in completely with—"
"She came in ready to mess me up," Cameron interjected.
"Yeah, I just thought he was a player," Brown said. "He didn't even have a chance before he got out of the limo. I mean, you did, but I…"
"I was already two points behind everybody," Cameron said.
"Yes, you were already two points behind," Brown agreed.
Tyler Cameron's first impression of Hannah Brown
While Brown did not trust Cameron at the start because she assumed he was a player, Cameron had a different first impression of Brown.
"I was stone-cold sober when I got out of that limo, but I was so freaked out because it was like a million lights. I literally blacked out," Cameron said. "But my first impression? I mean, she was killing that golden dress. She looked amazing."
He continued, "Then Scott had a girlfriend and I saw the real mean Hannah come out. And I was like 'I don't want to piss her off.' That was about the extent of my first impression because I never got to see her that night."
What the two would change about their time on 'The Bachelorette'
After talking about their first impressions, Brown and Cameron discussed what they regret when it comes to their experience on The Bachelorette.
RELATED: Tyler Cameron Admits to Making a Mistake on Night 1 of 'The Bachelorette' That Set Him Behind
"I'm gonna say, I wish I would have started myself earlier with you like opened up earlier before," Cameron said. "Because I feel like I was always playing from behind… Even from getting out of the limo apparently… Because we were like the slow burn relationship that happened later."
Brown agreed and gave a similar answer.
"I would say I agree, I wish we just had more time," she said.
Hannah Brown is dating again
While some fans of The Bachelorette still think Brown and Cameron have a lot of chemistry, the two have made it clear that they are only friends. On Nov. 11, Brown uploaded a vlog to her YouTube channel and told viewers that she is dating again.
"I'm just putting myself out there," she said. "There's no pressure for anything because of the world that we live in right now. I mean, I'm not going to start just macking on you. I don't know you. So, it just kind of gives that good boundary that I'm in full support of in this time in my life."