'The Bachelorette' Hosts Tayshia Adams and Kaitlyn Bristowe on How the Franchise Has Already Changed Since Chris Harrison's Exit
After a controversial interview with former bachelorette Rachel Lindsay, Chris Harrison stepped down from hosting The Bachelor franchise. In his place, former leads Tayshia Adams and Kaitlyn Bristowe stepped in. They hosted Katie Thurston's season and are currently filming Michelle Young's.
Parts of Bachelor Nation have been calling out various issues with the franchise for years — particularly the blatant lack of diversity both on-camera and behind the scenes, and all the problems that go with that. Adams and Bristowe say that, ever since Harrison stepped down, the show has been working to make necessary changes.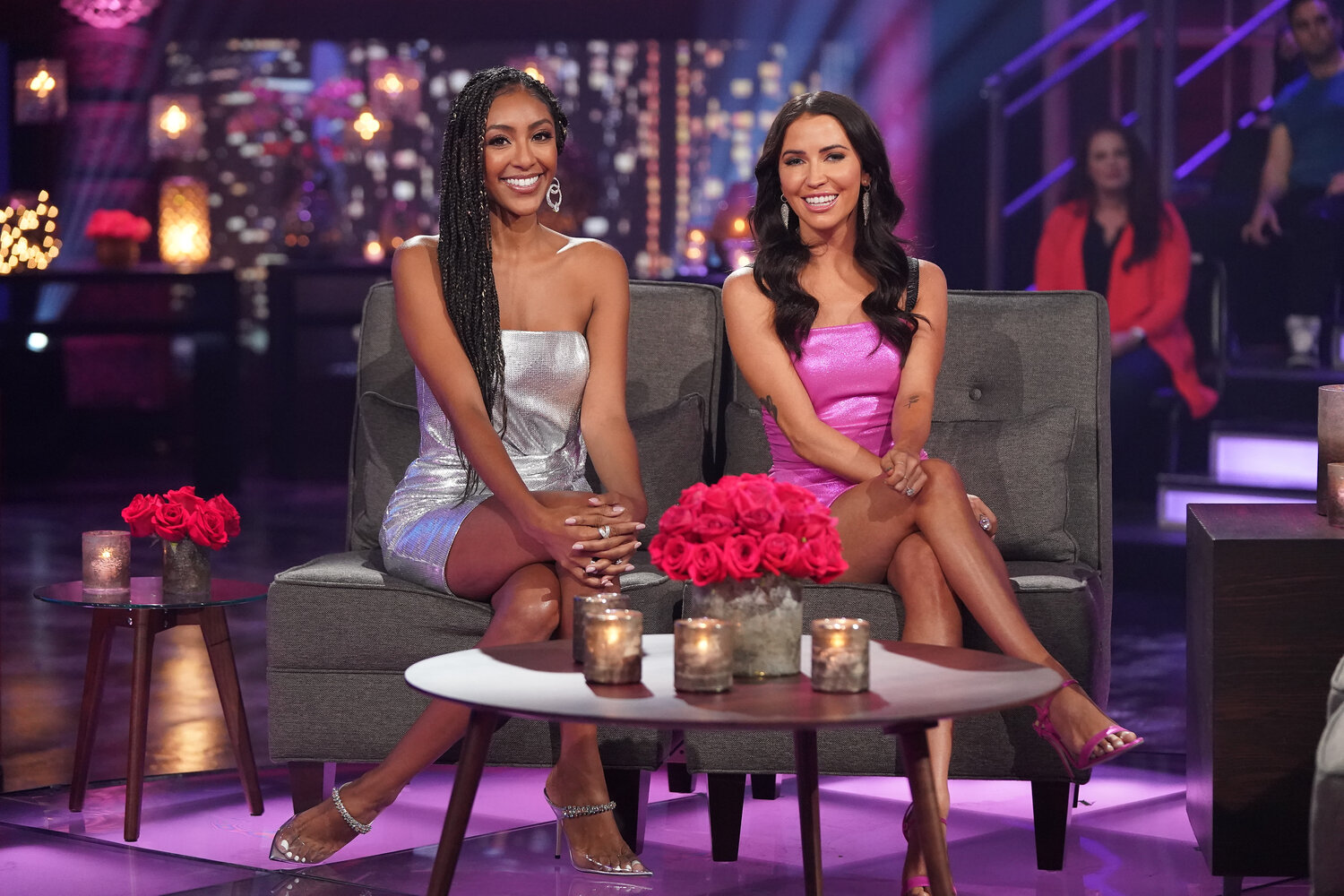 Tayshia Adams and Kaitlyn Bristowe are not Chris Harrison
Bristowe told The Hollywood Reporter on June 14 that "it surprised [her] and it didn't" that Harrison wasn't going to return as the official host of The Bachelor.
"It surprised me because he has been a part of the show and the face of this show for 20 years, however many seasons," she said. "And then it didn't surprise me because I see how much the franchise is trying to make the right changes. Even bringing two women into the show is a nice change-up for everyone to see."
Bristowe and Adams have an entirely different approach to hosting than Harrison. They are friends with the lead — they've been in their shoes, after all. They have cute banter, they speak to contestants casually.
"We felt a responsibility to not compare ourselves to his time and his role on the show," said Bristowe. "We are not Chris Harrison. We are Tayshia and Kaitlyn who have been in the position of a Bachelorette; we've been a contestant, we can relate to everybody who is living through this journey."
'The Bachelor/ette' is getting more diverse, according to Tayshia Adams
When Chris Harrison left The Bachelor franchise, it came out that not only was there not a lot of diversity in front of the camera, but the behind-the-scenes crew and producers were also severely lacking. Adams says that's been changing.
"From my own experience, I have seen a lot of change since my first day," she said. "From my first day on the scene until now. And it's nice to be there and see it for myself in a different light, in a different position. And that it's within the entire franchise, not just for the lead."
Additionally, both Bristowe and Adams noted that they've been involved in the production side of things since joining as hosts.
"Since the first day, they said, 'If you guys have any insight, please let us know.' And we really did have the opportunity to chime in and say we want this or that," said Adams. "I really appreciate that because we didn't know what our roles were going to be and how much involvement we were going to have. But since day one, they said, 'You're a part of this.' It was really refreshing, actually, and it took me by surprise."
Tayshia Adams and Kaitlyn Bristowe hope to see 'The Bachelor' franchise keep changing in these ways
Adams and Bristowe are excited to be with the franchise as it goes through these changes.
"Bachelor Nation is really incredible because they will hold people accountable and they will also stand by the franchise if they do see the changes being made," said Bristowe. "I think Tayshia and I both came into it saying, 'We want to be a part of the change.' We wanted to see it in every way possible and I think we were both really pleased in what we saw."
As for the future, Bristowe would like to see more diversity in the casts and leads.
"You know how we say that love comes in all shapes and sizes and colors? I think we can always grow in that way," she said. "That's just how I feel, moving forward, that it can always grow."
Adams says the show is also taking the reactions and feedback from fans to heart.
"If people speak out on something else and they bring something to their attention, it doesn't go unseen by the franchise," she said. "I think change is something they are open to, obviously, and very aware of, as you can tell with just us sitting here right now. So, who knows. I'm sure a lot more will change in the future and I'm excited to see the change."