'The Bachelorette': Is Jed Wyatt New Song All About His Messy Split From Hannah Brown?
If you've been wondering what Jed Wyatt has been up to since that disastrous Bachelorette season finale, we can tell you it hasn't just been dog food jingles.
It turns out that Hannah Brown ex-fiancé has been busy writing up a few songs inspired by their messy split and just released the first single off his upcoming EP.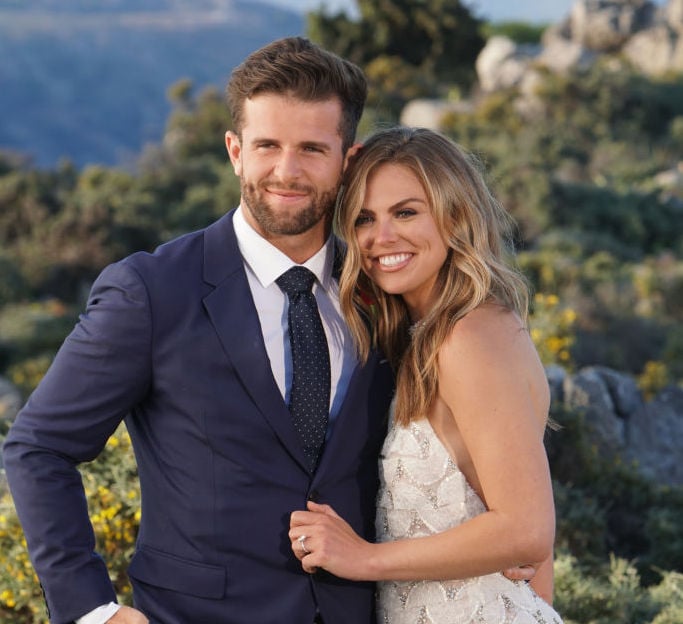 The song is entitled "Risk" and though he doesn't name drop anyone in particular, a few lyrics seem to point directly at Brown.
Wyatt's new song is all about taking a chance on love
We were wondering when Wyatt's music career was going to kick off!
Six months after the singer-songwriter tried his hand at love with Brown and failed miserably, he's now looking to get his music career off the ground with a brand new single.
On January 17, the Nashville native released his latest track, "Risk," which seems to be all about him overcoming heartbreak as he sings about giving love another chance.
The country-pop track starts out with Wyatt opening up about giving love another try after experiencing a dramatic breakup.
"Put my heart on the line, you got me rolling the dice," he sings, which could imply that he's hoping his new relationship with now-girlfriend Ellen Decker will turn out better than the one he had with Brown. "Tell me what are the odds that I win this time? … Baby you're a risk of cold heart break / It's written on your lips and there a'int no saving me from your touch."
While Wyatt doesn't mention anyone by name in this song, he recently revealed that the inspiration behind this track is something that's been on his mind lately.
"I just had this idea come to me that was like, you know, there's times in life where you want to take a chance on someone and your friends try to talk you out of it or tell you that it might not be the best idea," the singer told Us Magazine. "But you kind of want to listen to your heart and go for it anyway 'cause you're super attracted to them or into them in general."
Though Wyatt could be talking about any one of his past breakups, it's clear he drew a little inspiration from his split from Brown. Especially since he started writing much of his new music shortly their engagement ended.
"With the chaos that occurred and stuff, I just had to take some time off. My mind was sort of just scattered," Wyatt continued. "So once I was able to ground myself, the creativity started sparking again. Music has always been where I go for almost any emotion, so I'm glad to be back and be creative with it."
Wyatt says his new music is inspired by his new girlfriend
Though we wouldn't be surprised if Wyatt's new EP was all about his time on The Bachelorette and his relationship with Brown, it turns out that's not really the case.
During his interview with Us Weekly, the songwriter admits that his model girlfriend served as a muse for much of his new tracks.
"She has brought a whole new level of inspiration into my life. I've just never met anyone like her," he shared. "It just kind of opened the door for a lot of new feelings and emotions in my music that'll come out in the future, I'm sure. … The communication, the love, it's everything that I've ever wanted."
Back in November 2019, Wyatt made his relationship with Decker Instagram official after sharing of photo of them in Miami, calling her "the only person to make me smile more than riding a jetski [sic]."
Decker also shared a photo of them together while on vacation, writing that she was "extra thankful this year."
Wyatt's newfound relationship comes four months after he became a highly controversial figure in Bachelorette history.
While competing on Season 15 of the hit reality competition series, Wyatt became an early frontrunner as he did everything he could to win Brown over.
After weeks of making his feelings for her clear, the songwriter won Brown's heart in the end and proposed to her during the July 2019 season finale.
However, their romance didn't last very long because soon after they got engaged, Brown learning that the singer never ended his relationship with his girlfriend back home before going on the show.
This led Brown to call off their engagement during an emotional clip that aired right before the exes reunited on After the Final Rose.
"When that trust was broken, my feelings really just were broken with that," the former Bachelorette her ex-fiancé. "I don't love you like that anymore."
While this split was heartbreaking for everyone, both Brown and Wyatt have since moved on with their lives.
Though the Alabama native still isn't having much luck with love, the singer-songwriter revealed that he's "very happy in my relationship" with Decker.