'The Bachelorette': Rachel Lindsay Denies Divorce Rumors With Bryan Abasolo
Rachel Lindsay and Bryan Abasolo met and got engaged on Lindsay's season of The Bachelorette. For The Bachelor franchise, Lindsay and Abasolo are one of the few success stories and have been married since 2019.
Currently, the two are in a long-distance relationship as their careers have them residing in different states in the U.S. This has led to some fans speculating the two might be separated, but Lindsay was quick to dispel those rumors.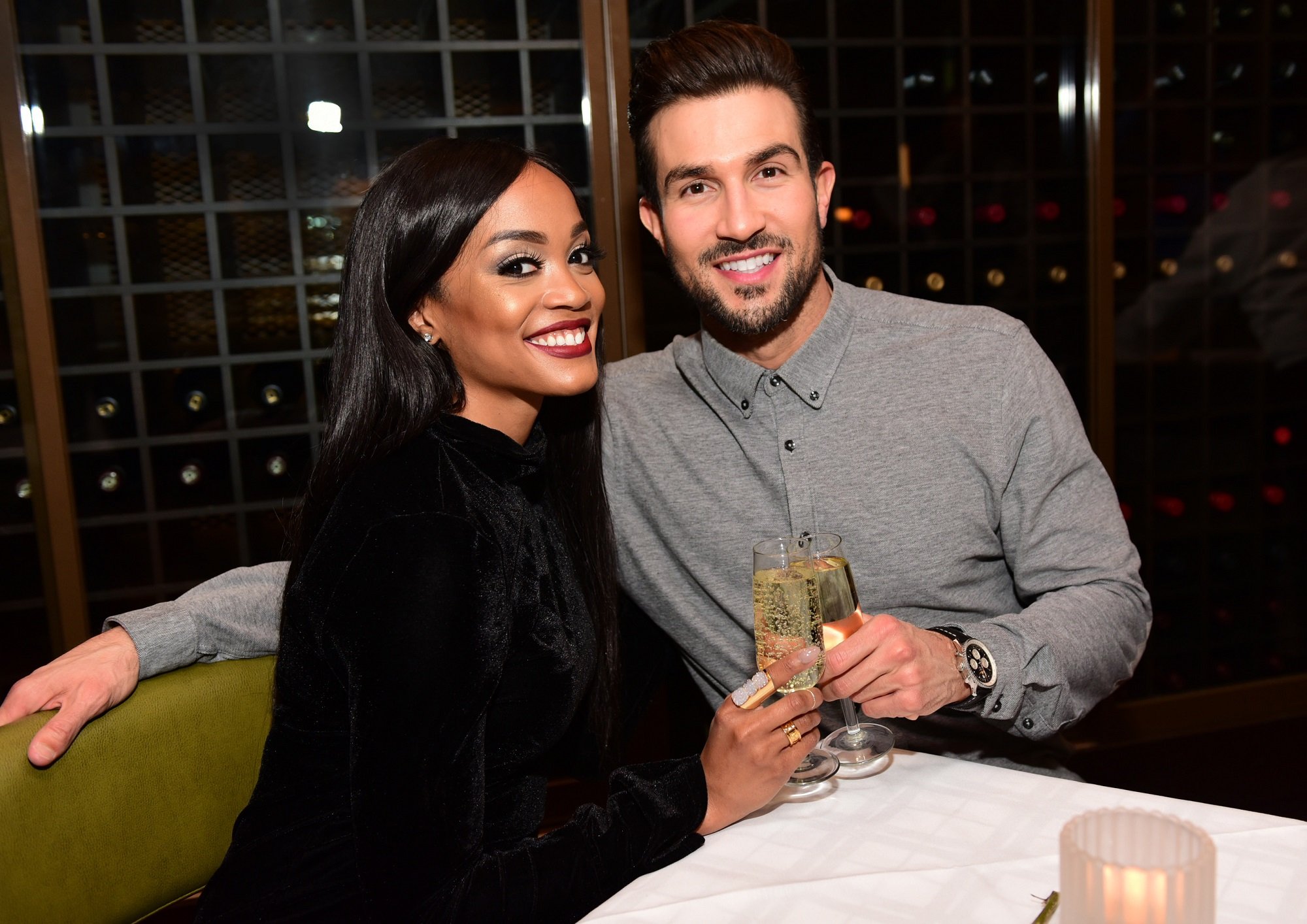 Rachel Lindsay got a new job in Los Angeles
After Lindsay starred on The Bachelorette, she changed from her law career to a career focused on entertainment. She hosted multiple ESPN programs and currently co-hosts two podcasts, Higher Learning and Bachelor Happy Hour.
In August 2020, Lindsay announced she would be joining Extra TV as a correspondent in an Instagram post, writing:
"FRIDAY FEELING! I am thrilled to finally share with you guys that I'll be working with @extratv as a full-time correspondent. They have an established, respected reputation and are a staple in the entertainment world. I have always admired the engaging, informed, and entertaining stories they bring to life. I am looking forward to joining this Emmy Award-winning team. I am excited to bring my voice, experience, and perspective to one of the best in the industry. I am so grateful. Stay tuned!!!!"
RELATED: 'The Bachelorette' Rachel Lindsay Interviewed Zendaya After Her Emmy Win and Fans Are Going Wild
She does not think her relationship with Bryan Abasolo has changed
Because she now works full-time in LA and Abasolo still lives in Miami, the two are in a long-distance relationship. However, Lindsay told Us Weekly she does not think this has changed their relationship that much.
"What people don't realize is we were pretty much long-distance before [we got married] with all the traveling that I was doing pre-COVID. I didn't actually have a place somewhere else, but I was never at home because I was always traveling," she said.
Lindsay continued, "And so for us, you know, we know how to work this out and navigate it, and obviously we have an end goal in mind. This is not a forever situation."
Fans think Rachel Lindsay and Bryan Abasolo are getting a divorce
When Lindsay got her new job, she decided to let fans know that her relationship with Abasolo would temporarily be a long-distance one.
"The reason that we decided to let people in on that is because there was so much speculation about whether or not we were still together. I think some of that is because another couple announced that they were getting divorced," she said.
Originally, Lindsay chose to share this so fans in Bachelor Nation would not suspect a divorce was in the couple's future. However, despite her transparency, she and Abasolo still face divorce rumors from fans.
"So, then people in Bachelor Nation start looking elsewhere to see if there's, you know, trouble in paradise somewhere else," said Lindsay. "So, we thought, OK, we'll go ahead and address it. And people still think we're getting a divorce."
The two do not post about their relationship on social media
Compared to some couples who met on shows in The Bachelor franchise, Lindsay and Abasolo do not regularly post about each other on social media. In doing so, they keep their relationship as private as possible.
Lindsay told Us Weekly that fans don't always know when she is with Abasolo because they are not documenting it on social media.
"I don't want to be on social the whole time. Who am I doing that for, you? No, that's not for us," she said. "We're trying to, like, soak up all the time that we can have with one another."