'The Bachelorette': Rachel Lindsay Finds It 'Embarrassing to Be Affiliated' With the Franchise
Rachel Lindsay was recently quoted saying she finds it 'embarrassing to be affiliated' with the 'Bachelor' franchise due to its lack of diversity.
The Bachelor first began in 2002, kick-staring an entire franchise of reality TV dating shows. Since its inception, Rachel Lindsay has been the only black lead in the franchise, and she starred on The Bachelorette in 2017. Due to the lack of diversity since her season of The Bachelorette, Lindsay was recently quoted saying it is "embarrassing to be affiliated" with the franchise.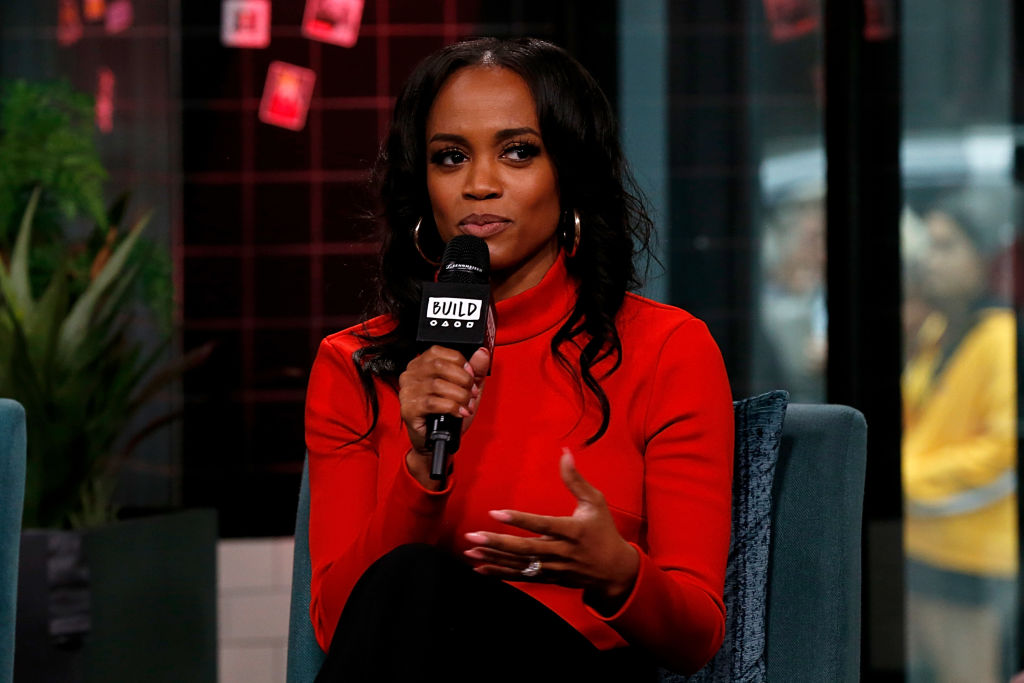 Why Rachel Lindsay finds being affiliated with the franchise to be 'embarrassing'
While the Bachelor franchise has been around for nearly 20 years, Lindsay is the only black person to have ever been cast as the lead. Since her season ended, Lindsay has often been the target of racist attacks, and the franchise leans on her to be a spokesperson against racism.
As Black Lives Matter protests have broken out across the entire world following the deaths of Ahmaud Arbery, Breonna Taylor, and George Floyd, Lindsay has once again asked for more diversity in the Bachelor franchise. On June 5, she appeared on the AfterBuzz TV Bachelor A.M. show.
While appearing on the show, Lindsay admitted the franchise's lack of diversity was embarrassing, saying:
"I don't know how you're a part of the Bachelor franchise and you're watching what's happening in our country right now, and you don't self-reflect that you're a part of the problem as you continue to perpetuate this type of behavior. When you're putting out something that is very whitewashed and doesn't have any type of color in it, and you're not trying to be effective and change that. So I think that they have to, at this point, give us a black Bachelor for Season 25. You have to; I don't know how you don't. And it's been asked of me, 'Will I continue with this franchise if it continues in this way?' I can't. I have to see some type of change. It's ridiculous. It's embarrassing. At this point, it's embarrassing to be affiliated with it."
RELATED: Rachel Lindsay Said 'The Bachelor' 'Perpetuates… Exactly What Is Wrong in Our Society'
She called out the racism in the franchise
On June 8, Lindsay published an emotional blog post about the systematic racism in the Bachelor franchise.
"The franchise should make a statement acknowledging their systemic racism. The system is not designed for people of color," Lindsay wrote. "This is not a shocking or groundbreaking statement when the creator of the show admitted that my season's lower ratings 'revealed something about our fans' and furthermore concluded that it was 'incredibly disturbing in a Trumpish kind of way.'"
In the post, she concluded, "Here is my point…if the National Football League, an organization notoriously known for not standing behind their athletes of color, can come out to make a statement to condemn racism and their systemic oppression and admit they were wrong for not listening in the past, then the Bachelor franchise can most certainly follow suit. Only time will tell how the franchise will respond, but to date they have been silent. Until then, make sure you tune in on Mondays for all the white reasons to watch The Bachelor: Greatest Seasons Ever as it will weekly highlight the very thing that is wrong with this franchise."
Rachel Lindsay will distance herself from the franchise
Going forward, if changes are not made, Lindsay plans to distance herself from the Bachelor franchise.
"This is the reason that I have come to the conclusion that if changes are not made on the inside and outside of the franchise, I will dissociate myself from it.  I am tired of asking for change and my requests have been ineffective.  These changes have to extend beyond casting a lead of color. The whole franchise needs a diversity makeover," she wrote in the blog post.