'The Bachelorette': Tayshia Adams Broke a Major Record in the Franchise
Though Tayshia Adams wasn't the producers' first choice for The Bachelorette, she has more than won over Bachelor Nation. Many fans of the show are declaring her the best lead in the franchise's history. Others continue to express gratitude that the producers' original choice, Clare Crawley, found love early on so that they could experience a season full of Adams. In fact, many people can't understand why Adams wasn't the first choice to lead the show all along.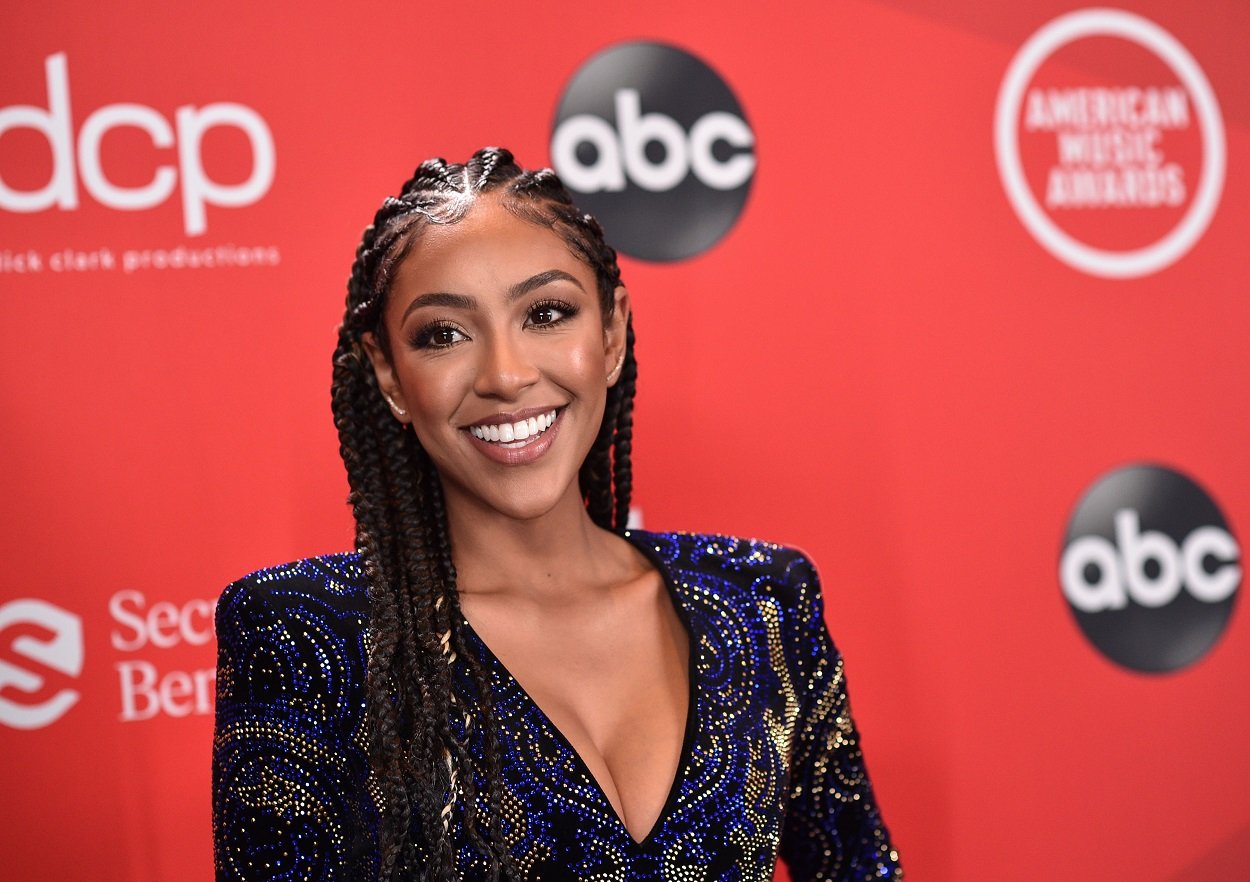 Adams has always been given a pretty good edit during her time within the franchise. During Colton Underwood's season of The Bachelor, she managed to stand out thanks to her maturity and her happy-go-lucky attitude. She and Underwood seemed to share a playful relationship and she managed to make it all the way to fantasy suite week and was in his top three. However, when Cassie Randolph quit the show, Underwood broke things off with Adams and Hannah Godwin in order to pursue a relationship with Randolph.
Tayshia Adams was well-liked prior to becoming 'The Bachelorette'
While Adams was upset by her breakup with Underwood, many viewers were impressed by how she handled the situation. She went out of her way to comfort Underwood despite being devastated herself. Fortunately, the now Bachelorette wasn't heartbroken for too long. Just a few months later, she found herself on a beach in Mexico taking another swing at love on Bachelor in Paradise.
It would be fair to say that The Bachelorette was a hot commodity in Mexico. Many people were interested in pursuing a relationship with her. Fans will recall that Blake Horstmann asked Adams out on his first date. Derek Peth also expressed interest, but it was actually John Paul Jones who captured Adams' romantic interest.
The producers originally cast Clare Crawley over Adams
While JPJ and Adams were certainly an unusual match, fans and other contestants on the show were supportive of their relationship. Though Adams broke things off prior to the season finale of Bachelor in Paradise, she showed up at his house to pursue a relationship with him a short while later. The relationship was short-lived but the pair doesn't seem to have any ill will toward each other.
Thanks to the pandemic, Bachelor in Paradise was canceled, so there's no telling if Adams would've made another appearance if given the chance. However, it is known that she was being considered as the original lead for The Bachelorette alongside Crawley and Tia Booth. Why the producers went with Crawley over Adams is unknown, but it seems to have worked out well for both women.
Adams has broken an Instagram record in Bachelor Nation
In addition to being a great lead, fans are thrilled by the diversity that Adams brings to the franchise. Adams is only the second Black lead in The Bachelorette history behind Rachel Lindsay. And while she isn't the first to nab the spot, she did make history in another way. Adams is currently the first and only Black person in the history of the entire Bachelor franchise to ever hit and then surpass 1 million followers on Instagram. In fact, she is the most followed Black contestant in the franchise's history.
Prior to becoming The Bachelorette, Adams' follower count was around 800,000. As of December 3, 2020, however, the California native boasts 1.2 million followers and we expect that number to continue to grow. It seems that Adams has certainly won over much of Bachelor Nation. Hopefully, this will inspire the producers to continue to diversify the franchise in the future.