'The Bachelorette': Tayshia Adams and Zac Clark Reveal Behind-the-Scenes Details About Finding Love on Television
Tayshia Adams and Zac Clark shared a journey together on The Bachelorette last season. Tayshia, who joined the show late as a lead when Clare Crawley left with Dale Moss, had been on The Bachelor and Bachelor in Paradise before. This was Zac's first foray into reality television, but he seemingly comforted Tayshia throughout the whole experience. The duo, who are now engaged, shared what it was really like falling in love on television in a new podcast episode.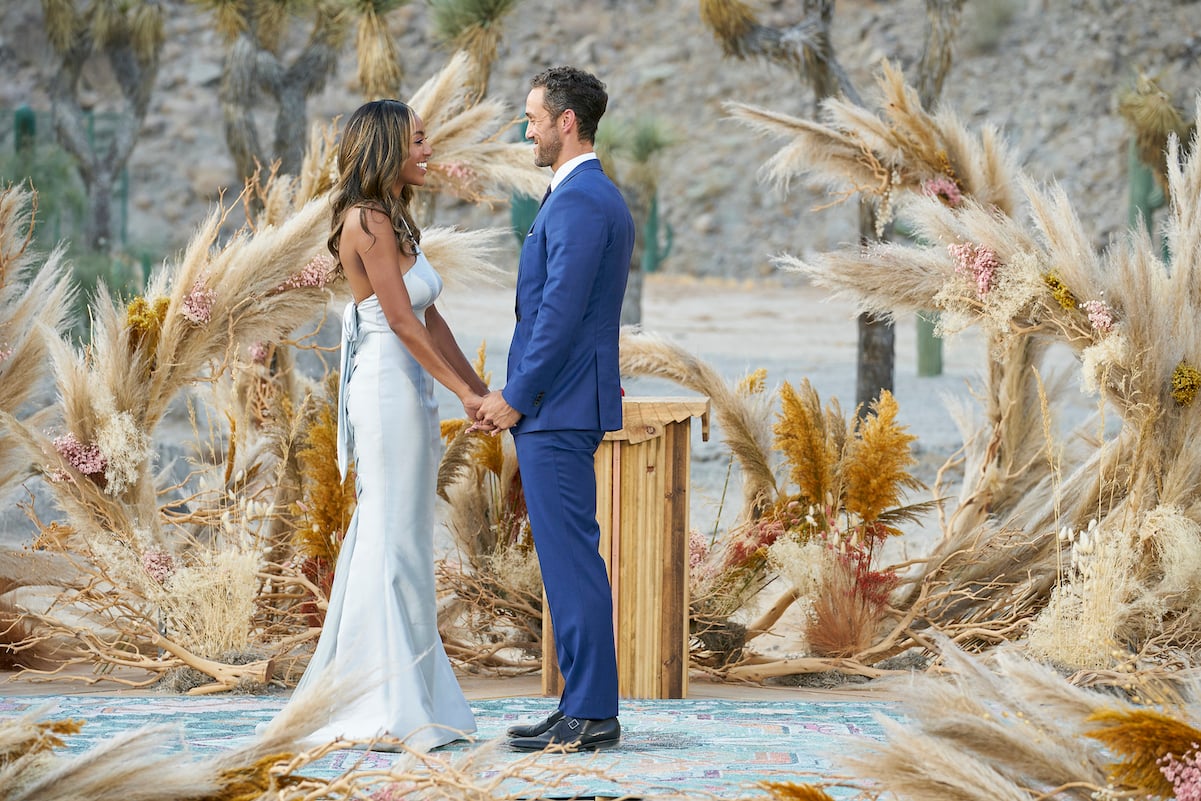 Tayshia Adams and Zac Clark got engaged on 'The Bachelorette'
While Tayshia joined The Bachelorette later than many of her contestants, she quickly acclimated as the lead on the show. She and Zac had an early one-on-one date in which they did a photoshoot in wedding attire. Even though the date might have been awkward for others, Zac easily moved past it and was simply there for Tayshia.
The date was further difficult for Tayshia beyond the normal awkwardness of doing something intense too soon. Tayshia had formerly been married and divorced. Her date with Zac brought up many emotions regarding her past, but they ended up having a beautiful day together.
This one-on-one was only one example of Zac showing Tayshia what kind of partner he would be to her in the future. And beyond his support for the lead, their chemistry was off-the-charts, too. This led to their eventual engagement on The Bachelorette.
Fans incorrectly thought Tayshia Adams and Zac Clark broke up
Following The Bachelorette, fans suspected that there was trouble in paradise between Tayshia and Zac. Fans saw Zac's mom unfollow Tayshia on social media, and Tayshia's ring missing from new posts.
Tayshia immediately cleared the air to sort out rumors regarding her relationship.
"Woke up to hundreds of messages asking this but y'all not gonna lie, I don't like getting DMs putting this weird energy into the universe," she said on Instagram Stories. "I don't know what is happening, but you guys, I was holding my phone with my left hand. But ironically enough, as I was showing my hand maybe a week-and-a-half ago, my ring was literally swinging around my finger."
She emphasized that all is will between her and Zac.
"Everything is good on this forefront, thank you so much for being concerned," she commented. "But we're good, we're chilling."
Tayshia then asked fans to not put "unnecessary rumors" and "pressure" on the new couple.
"I love that there's so much love and support around our relationship but please don't put unnecessary rumors/pressure on us," she concluded.
Tayshia Adams and Zac Clark shared 'The Bachelorette' details
After the rumors circulated about their relationship, Tayshia and Zac spoke on Something to Share Podcast hosted by Sydney Lotuaco. They shared behind-the-scenes details about falling in love on television. Tayshia said she appreciated that Zac hadn't watched her on the show before — it made things feel "more real."
"I was so nervous to tell her that I was divorced," he said. But Zac said that both Tayshia and himself had that in common and learned it on that one-on-one date.
"I was ready to get the most out of the experience," Zac expressed. "There's a certain element of the whole bubble that is like rehab, and I've been to rehab a couple of times."
The couple also revealed when they figured out they were in love.
"That's when the emotions started to come to the surface," Zac said about their one-on-one date. Tayshia agreed that that date shifted things for her, too.
"Our one-on-one date was when I was like, 'Hold up.' I had this guy so wrong in my mind," Tayshia admitted. "I thought he was going to hate that date. The dressing up, doing the photoshoot. I was like, 'He is not going to be about this. This is probably not gonna go over well.'"
But she was pleasantly surprised.
"He was so into it," she reminisced. "His smile said everything. I was like, 'This dude is super fun.' And then we bonded on the divorce thing, then we had such a great dinner, then we went on the Ferris wheel. Feelings started to develop then."