'The Bachelorette': Tyler Cameron and Hannah Brown Troll Fans With a Game of Spin the Bottle
On March 14, Hannah Brown flew to Florida to visit Tyler Cameron. The two have been hanging out with friends and posting TikTok videos under the name "The Quarantine Crew." As the two quarantine together with friends, the two recently posted a TikTok of them playing Spin the Bottle, trolling fans of The Bachelorette who want them to get back together.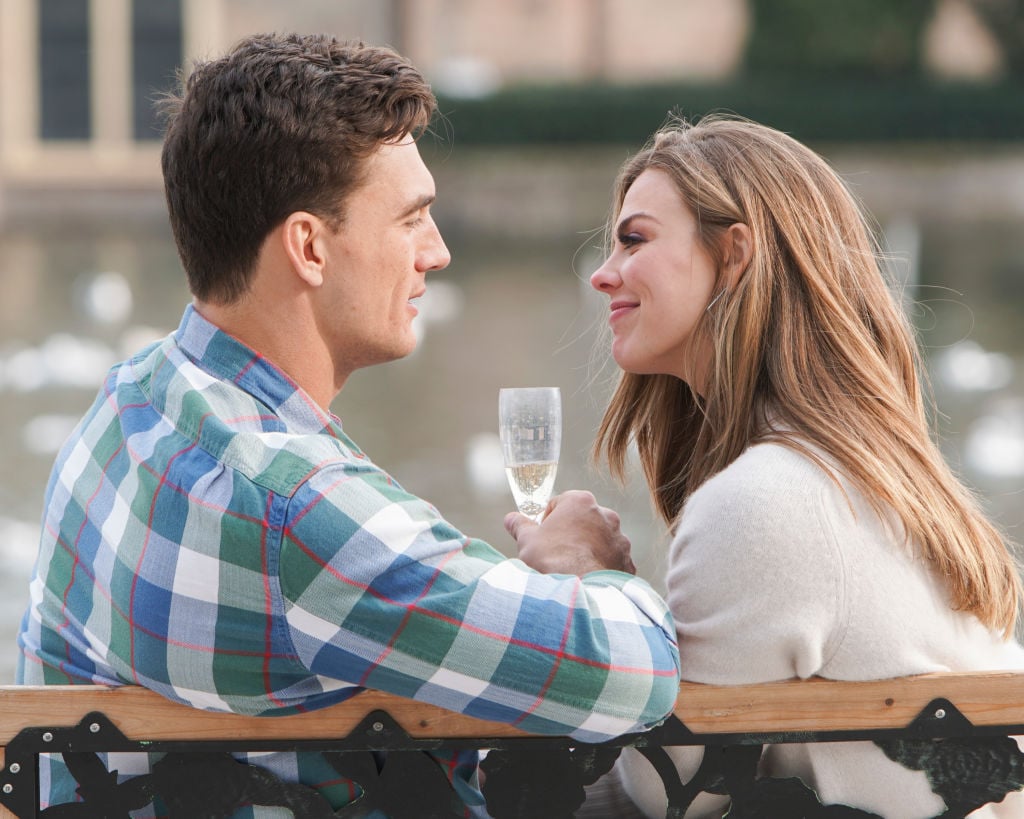 Tyler Cameron picked Hannah Brown up from the airport
Dating rumors about the exes surged when Cameron was spotted picking up Brown at the Palm Beach International Airport. Fans knew Brown was flying somewhere because earlier that day Brown posted on her Instagram stories about missing a flight.
"I just missed my plane by maybe five minutes," she said in a video on her story. "So now I'm stuck at the airport for a little bit." She posted another video with the caption: "Airport is empty. But there is wine. So I'm fine." In a third video, she showed a box of Girl Scout cookies with the caption "And @girlscouts cookies. I'm fine."
Fans want the two to get back together
As Brown and Cameron post on Instagram and TikTok with friends, fans of The Bachelorette have been blessed with content. On social media, fans have made it clear they want the two to get back together.
"Hannah Brown and Tyler C really are playing with our emotions like that," one fan tweeted.
"I'm supposed to believe that Hannah Brown and Tyler C are not falling in love again in quarantine #TheBachelor#BachelorNation," tweeted a fan.
"i only downloaded tik tok to watch hannah brown and tyler cameron I SWEAR," wrote a Twitter user.
"Not to be dramatic or anything but knowing that Hannah brown and Tyler Cameron are hanging out during quarantine is the only thing holding my emotional stability together," a fan tweeted.
Tyler Cameron and Hannah Brown played Spin the Bottle
So far, the TikToks by "The Quarantine Crew" have referenced Brown and Cameron's past relationship on The Bachelorette, much to fans' delight. It's obvious Brown and Cameron know fans are excited at the thought of them getting back together, as they keep teasing fans about their past relationship.
In a new TikTok, Brown and Cameron play a game of Spin the Bottle, and at the start of the video they are the only two people circled around the table.
"All right, the moment we've all been waiting for," Cameron says in the video. "A little Spin the Bottle with Hannah Brown."
Cameron spins the bottle and says, "All right, here goes nothing."
Brown watches the bottle nervously, while Cameron looks excited as the bottle spins. It doesn't land on either of them, and instead points to an empty cushion on the couch. Cameron's friend Jacob Laham then comes out from around the corner.
Fans might be hopeful the two will rekindle their relationship from The Bachelorette, but it seems Brown and Cameron are perfectly content being friends while trolling fans.