'The Bachelorette': Everyone Clare Crawley Has Dated
The race to be the Bachelorette has been very nervewracking for fans. Usually, the new Bachelorette comes from the former season of The Bachelor. But viewers had a hard time getting behind any of Peter Weber's women or wanting to watch an entire season of them. It turns out people didn't need to worry about the women of Weber's season at all as the producers went back into the Bachelor nation vault to find the Bachelorette. Clare Crawley will officially be the 2020 Bachelorette.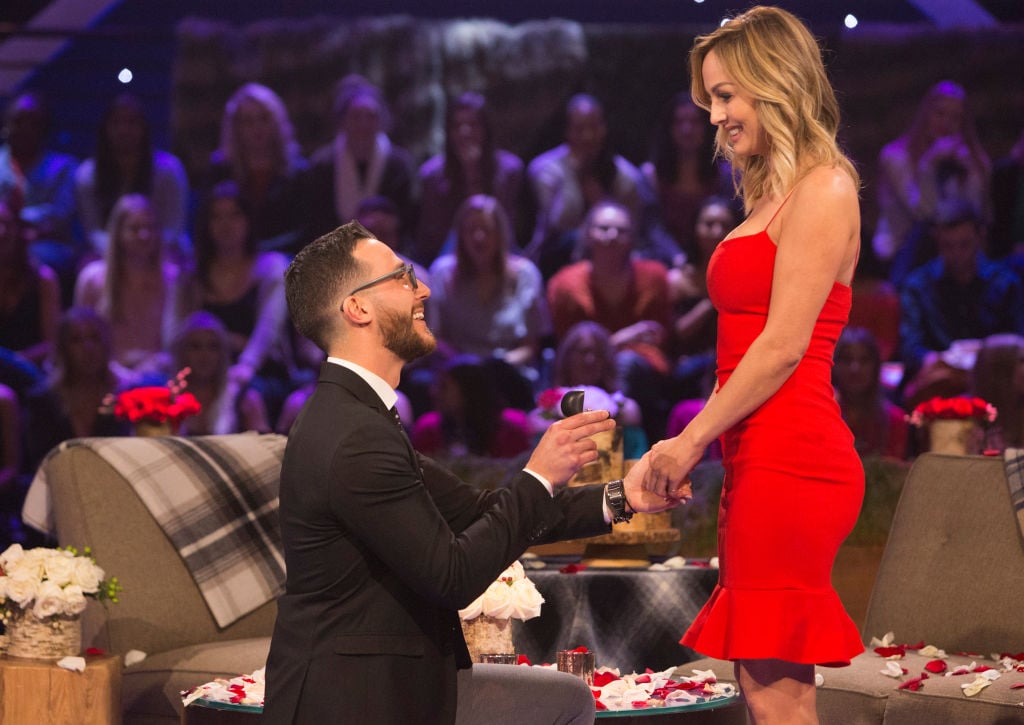 Some newer fans of the show might not remember or know who Crawley is, but she is a staple in the Bachelor world and has the heartbreaks to prove it.
Clare Crawley and Juan Pablo
We first met Crawley during Juan Pablo's season of The Bachelor in 2014. She was one of the final two women but Pablo ended up not choosing her. When they hugged goodbye, Pablo famously whispered something in her ear that caused her to absolutely go off on him.
"I thought I knew what kind of man you are," she said. "I lost respect for you. Because, I'll tell you what. I thought I knew what kind of man you were. What you made me go through, I would never want my children having a father like you."
Clare's 'Bachelor in Paradise' hookups
After getting her heart broken on The Bachelor, Crawley appeared on seasons one and two of Bachelor in Paradise. In the first season, she dated Robert Graham from Desiree Hartsock's season of The Bachelorette. She also dated Zack Kalter from the same Bachelorette season but ultimately left the show after some comments from AshLee Frazier made her uncomfortable.
She came back for season two of the show. She briefly dated Jared Haibon from Kaitlyn Bristowe's season of The Bachelorette but they had an argument after their date that ended the relationship. Crawley was sent home in week four when she wasn't given a rose.
Clare's 'Bachelor: Winter Games' romances
Crawley came back to television for The Bachelor: Winter Games. She immediately hit it off with Benoit Beauséjour-Savard of The Bachelorette Canada but then Crawley chose Christian Rauch of The Bachelorette Germany and Switzerland over him. Beauséjour-Savard then quit the show. Crawley's relationship with Rauch didn't work out and Crawley went home as well.
But all was not lost, Crawley and Beauséjour-Savard reconnected after the show and he proposed to her on the "After the Final Rose" special. Unfortunately, their engagement ended a few months later.
"It's with a heavy heart that we have mutually decided to end our relationship," Beauséjour-Savard wrote on his Instagram at the time. "We think the world of each other, and we were both hoping we could make this work. I'm sorry that this may not be what you want to hear, but it's our truth. Just know there are no negative feelings here, we are simply two people who believed in love, and were open enough to give it a chance. We still care for each other very deeply (That is why no hate or disrespectful comments will be tolerated about the other.)"
Now, Crawley will have the chance to find love once again, with over twenty new men. Best of luck, girl.